OLTP: Oracle Charbench "Calling Circle"
Operating System
Windows 2008 Enterprise RTM (64-bit)
Software
Oracle 10g Release 2 (10.2) for 64-bit Windows
Benchmark software
Swingbench/Charbench 2.2
Database Size
9 GB
Typical error margin
2-2.5%
In our last review, we included our first Oracle benchmark. In this review, we are happy to announce that we finally tamed the Oracle beast … somewhat. The first benchmark we tried (see our AMD Opteron 8384 2.7GHz review) was "Order Entry", but this benchmark is designed for Oracle Real Application Clusters and right now we could not make it scale above eight cores. Even the gains from four to eight cores were pretty small, despite many experiments (increasing the number of users and so on). With Calling Circle, we increased the database size to 9.5GB to make sure that once again locking contention was not completely killing off multi-core performance. To reduce the pressure on our humble storage system, we increased the SGA size (Oracle buffer in RAM) to 10GB and the PGA size was set at 1.6GB. A calling circle test consists of 83% selects, 7% inserts, and 10% updates.
The "calling circle" test runs for 10 minutes. The test is repeated six times and the results of the first run are discarded. The reason for discarding the first run is that the disk queue length is sometimes close to 1, while the second run and later have a DQL of 0.2 or lower. In this case it was rather easy to run the CPUs at 99% load. All configurations below are dual CPUs.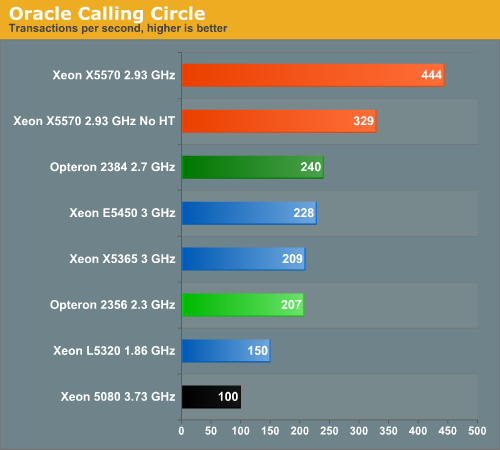 We have seen this picture before: the latest Opteron has no problem with leaving the older generations of Xeons behind. However, the newest Xeon is simply running circles around the rest of the pack. It is a mind blowing 95% faster than the Xeon 5472 and 85% than the Opteron 8384 2.7GHz. SMT is formidable weapon, as Oracle makes good use of the extra threads, and it provides a 35% performance increase.