Decision Support benchmark: Nieuws.be
Operating System: Windows 2008 Enterprise RTM (64 bit)
Software: SQL Server 2008 Enterprise x64 (64 bit)
Benchmark software: vApus + realworld "Nieuws.be" Database
Database Size: > 100 GB
Typical error margin: 1-2%
The Nieuws.be site is sitting on top of a pretty large database: more than 100 GB and growing. This database consists of a few hundred separate tables, which have been carefully optimized by our lab (the Sizing Servers Lab). We have described our testing methods here in more detail. As some of our readers suggested we upgraded from SQL Server 2005 SP3 to SQL Server 2008. This gave a boost of 29 to 38% (!) to the performance of our decision support database. All configurations use 2 sockets. Take a look at the MS SQL Server 2005 numbers: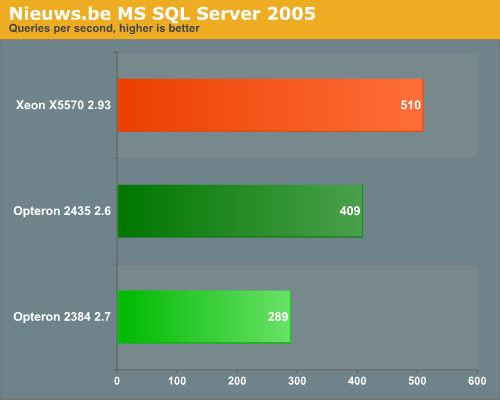 And compare with the numbers on SQL Server 2008.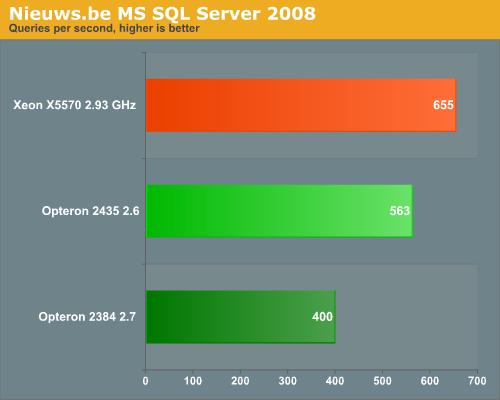 SQL Server 2008 is clearly better optimized for the complex queries that an OLAP database has to absorb.
Back to the hardware. In both cases, you can clearly see that this workload depends less on "uncore" factors (caches, memory bandwidth) than the OLTP test. The Opteron 2435 is a healthy 41% faster than the 2.7 GHz Opteron 2384. A 2.6 GHz quad-core Opteron would score about 385, which means that the scaling from 4 to 6 cores is excellent: 46%. That kind of scaling is very close to the theoretical maximum of 50%, but it is not enough to beat the newest Xeon, which sees its advantage shrink to a 16% lead. However, as the Opteron 2435 competes with 2.66 GHz Xeon and not the Xeon 2.93 GHz, this is the first benchmark where "Istanbul" is competitive. In sharp contrast with the quad-core "Shanghai", which does not have a chance against the Xeon X55xx armada.