Virtualization: To Be or Not to Be
Let there be no misunderstanding: how well a new Server CPU handles virtualization determines whether it is a wallflower or a blockbuster. Thanks to the superb feedback we got on our first attempt, we have continued to refine vApus Mark I. We are very happy that despite the insane timing, we managed to pull off both 4 VM and 8 VM on ESX 3.5 update 4 and ESX 4.0 (vSphere 4 build 164009). Since it is by far the most important market for the new six-core, we decided to spend most of our time and energy here.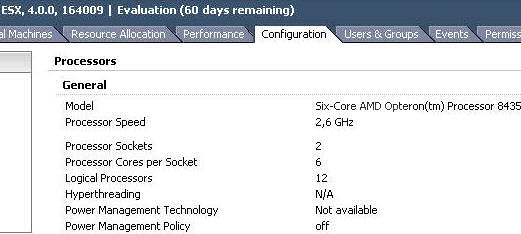 We have two benchmarks for you: VMmark and vApus Mark I. VMmark – which we discussed in great detail here - tries to measure a typical consolidation workload: a combination of a light mailserver, database, fileserver, website with a somewhat heavier java application. One VM is just sitting idle, representative of workloads that have to be online but which perform very little work (for example, a domain controller). In short, VMmark goes for the scenario where you want to consolidate lots and lots of smaller apps on one physical server.
There are no official VMmark scores yet, but a backup slide of AMD's presentation talked about 41% performance increase over the Opteron 2384, a "Shanghai" Opteron at 2.7 GHz. We can use that number to get a first, very unofficial idea where a dual six-core 2435 at 2.6 GHz will land. The best score for the quad-core Opteron is 11.28, so times 1.41 gives us 15.9.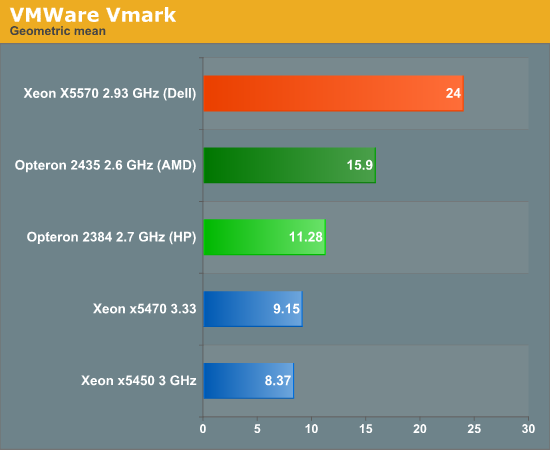 A 2.6 GHz quad-core would, roughly estimated, get a score of 10.9, which means that adding two cores results in a performance increase of 46%. That is pretty much almost perfect scaling, and it underlines that it is not hard to make a virtualized server scale with more cores, as long as you have enough memory capacity. According to our sources at different OEMs, Hyperthreading is good for about 30%. So that means that, in contrast with our previous benchmarks, the approach of adding extra cores has paid off more than adding hyperthreading. The Xeon X5570 reigns supreme, however, when it comes to VMmark. The best Xeon is still a very significant 50% faster than the best Opteron.