ASUS RS700D-E6/PS8
With the ASUS RS700 Duo, ASUS goes after Supermicro's popular Twin Server. Just like the Twin, ASUS has placed two servers in a 1U rack server. Unlike the Twin, each server has its own power supply. The advantage is that a PSU failure only takes down one server as opposed to two servers in the Supermicro Twin. However, Supermicro's Twin design with only one central power supply also has the advantage that the system never works at a very low load, which improves efficiency as power supplies are not very efficient at the lowest loads. In addition, in HPC clusters it does not matter whether one or two servers go down for a short period, as calculations are spread over a relatively large cluster. ASUS also feels virtualization is a key market, but we would like to have a fully redundant 1+1 PSU setup that feeds both server nodes for that kind of system.
We would add the ASUS server to our short list for HPC and load balanced web server applications. Virtualization, database, and other backend applications will require a redundant PSU.

With the exception of the non-redundant power supplies, ASUS made some very good choices. Just like the single node version, the ASUS RS700-E6 that we used for our Xeon Nehalem review, the server comes with an excellent 6-phase power CPU regulation and 3-phase power regulation for the DIMMs. We say excellent as ASUS uses high quality (5+ years at 86°C) solid capacitors. According to ASUS, this 6+3 phase power design has no trouble feeding 130W TDP CPU (the Xeon W5580 for example) and is thus more than capable of powering our 95W TDP CPUs.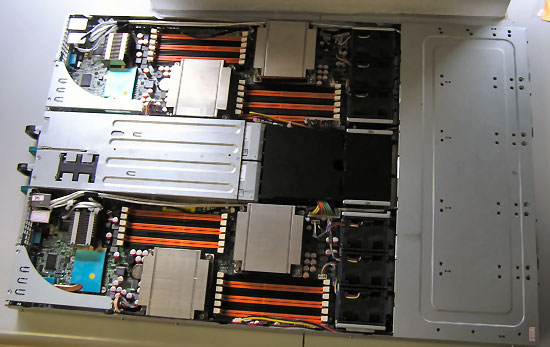 ASUS also went for the 24D instead of the 36D version of the Tylersburg chipset, also known as the 5500 chipset. This should shave a few watts off the total power consumption. ASUS' experience in designing notebooks is also applied in their servers; notice the clever heatpipe design to cool the chipset and other smaller chips.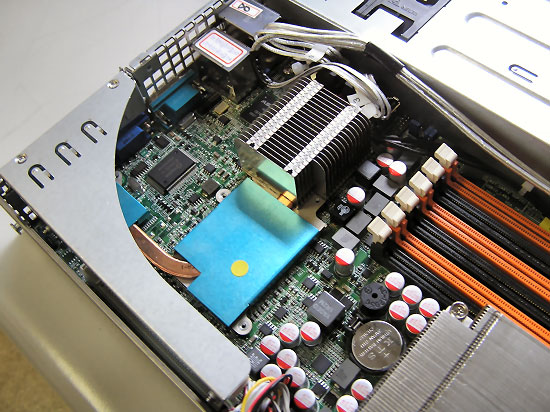 Overall, the ASUS Duo server is promising, but we miss the very clean and cableless design of the single node ASUS RS700-E6/RS4 server.
Chenbro/Intel Willowbrook
Intel sent us the Chenbro RM13204 server, based on their "Willowbrook" or "S5500WB" motherboard. This is a server board tuned for low power. Power consumption is optimized in several ways:
Optimized voltage regulator design for "Nehalem" Xeons up to 80W TDP. Intel claims that 95W Xeons should work too, but the server would not even start with our Xeon X5570.

"Spread core design": CPUs and memory are all placed in parallel to enable lower fan speeds. Typically, memory is placed after the CPU and system fans must blow harder to cool the DIMMs.

A special low power Intel 82576EB replaces the slightly older "Intel 82575 EB" dual Gigabit Ethernet controller

Only four DIMM slots per CPU instead of six or nine slots
That last power "saver" seems like a bad idea for the virtualization market, as it means that a dual CPU configuration is limited to 32GB. With expensive 8GB DIMMs, you can still reach 64GB. However, it seems like the "spread core" design leaves no space for extra DIMMs.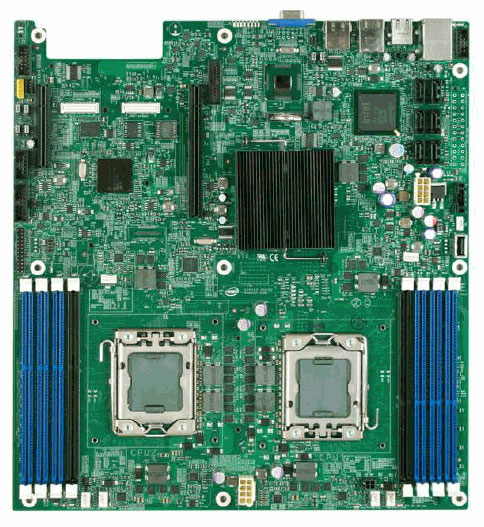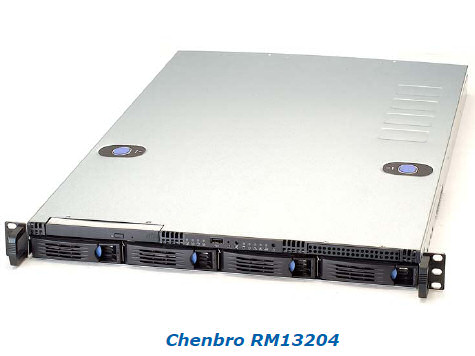 The Chenbro RM13204 is equipped with an 80+ Silver 450W Power Supply and four hot swappable 3.5" SATA drive bays. The Power supply is 90 to 91% efficient according to this report.