Expensive 2-Socket Servers
When it comes to expensive 2-socket servers, AMD positioning is cunning. In the midrange we will find servers with sixteen Opteron cores (2-socket x 2-quad-core die per socket) offering 8 memory channels and 24 DIMM slots. Performance will probably be "close enough" to the Westmere EP servers , which can only offer six memory channels and 18 DIMM slots. The extra amount of memory bandwidth might make a dual Opteron 6100 attractive to the HPC folks, while the higher amounts of DIMM slots together with a competitive price may very well convince the virtualization market.

Midrange and Budget 2-Socket Servers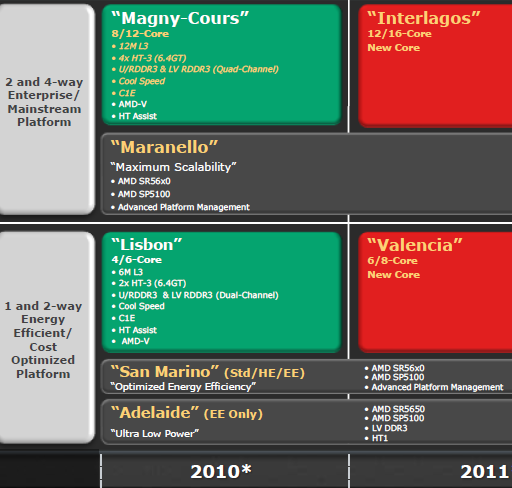 When it comes to the midrange of the 2-socket market, AMD has no choice: it must compete on price. There is no way an Opteron 4100 ("Lisbon", socket C32) is going to be competitive with Westmere-EP at the same clockspeed. As we noted before, the former will be a few percent faster than the current six-core Opteron "Istanbul", while the Westmere chip is at least 20% faster than it famous older brother. The fastest Lisbons are probably not even going to be able to keep up the low clocked six-core Westmere-EPs. So the Opteron 4100 and "San Marino" platform have only one mission: to be a lot cheaper than the low-end Westmere servers. To increase the performance/watt ratio, the San Marino servers do not support the 105-137W SE CPUs. This ensures that the server vendors do not have to overbuild the voltage regulators and PSU, which in turn lowers the overall power a server consumes when running with 75W ACP parts.
Ultra Low Power Server
AMD had some succes in the ultra low power market and clearly wants more. The "Adelaide" platform is the successor the power optimized "Kroner" platform. Low power memory and chipset, voltage regulators and PSUs that only support low power Opterons: every component is tuned for low power. Remarkably, the ACP of the Opteron 4100 EE is lowered to a very low 35W ACP, or less than 6W per CPU. AMD feels these CPUs offer an excellent alternative to the VIA Nano and Intel Atom based servers. Instead of running one small website on an Intel Atom based server, AMD hopes that ISPs will prefer to run 6 websites on a container based solution. So each website would get it's own 6 Watt core which is much more powerful than the best Intel Atom CPUs.
Upgrade to Bulldozer

AMD's C32 and G34 platforms will be upgradeable to the new Valencia and Interlagos CPUs which are both based on the Bulldozer core.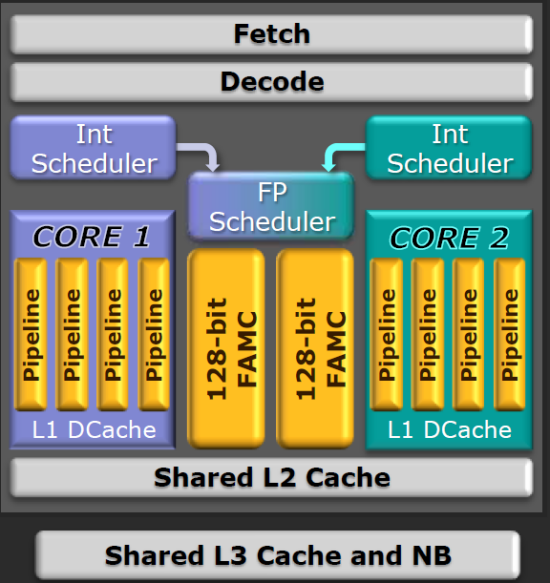 We will discuss this core in more detail but here are some extra tidbits we managed to find out:
• Two integer clusters share fetch and decode logic but have their own dedicated Instruction and Data cache
• Integer clusters can not be shared between threads: integer cores act like a Chip Multi Processing (CMP) CPU.
• The extra integer core (schedulers, D-cache and pipelines) adds only 5% die space
• L1-caches are similar to Barcelona/Shanghai (64 KB 2-way? Not confirmed)
• Up to 4 modules share a L3-cache and Northbridge
• Two times 4 Bulldozer modules (2 x 8 "cores" or 16 cores) are about 60 to 80% faster than the twelve core Opteron 6100 CPU in SPECInt_rate.
With Bulldozer, AMD finally seems to have designed an aggressive integer core. Since the introduction of the Intel Woodcrest in 2006, Intel's CPUs have been offering superior integer crunching performance per core. Since integer performance determines the performance of 90-95% of the server application out there, this is a big deal.
Conclusion
Intel has a very strong product lineup for each segment of the market: the massive octalcore Nehalem EX for the "mission-critical" high-end, the six-core Westmere-EP for the midrange and the "Lynfield" based Xeons for the low power market. But AMD doesn't roll over willingly: it breaks all market segment rules and shatters some (artificial?) boundaries. That will result in some very interesting opportunities for the server buyers in 2010.

So which products are worth watching or waiting for? The G34 Opteron 6100 will find a home in 48-core servers, and these servers should be a cheaper alternative to the 32-core Nehalem EX servers in the high-end. We are not completely convinced that performance and RAS features will be compelling enough to sway the typical Nehalem EX buyers (OLTP, ERP) towards an AMD Opteron server. That is our first impression, but we will give AMD the benefit of the doubt of course.

We are much more enthusiastic about AMD's highend 2-socket platform. The fact that you will be able to buy a relatively cheap (compared to 4-socket solutions) 2-socket server with two quad channel octal cores is very attractive and a great strategic move by AMD. A platform with 16 cores (or 24 if you like) and 24 DIMM slots might attract quite a lot of typical 2-socket "virtualization consolidation" server buyers.

The other really compelling offer to the market might be the Adelaide platform, depending on how high the premium is that AMD wants for its EE Opterons. AMD has been asking pretty high prices for it's lowest power Opterons, clearly targetting the "Facebooks" and "Googles" of the world. But if AMD is going after the Intel Atom server market, it may mean that it's going to offer some low power products in price ranges that are interesting to the rest of us.