Overview
So let's summarize what we have seen so far. First we look at system power.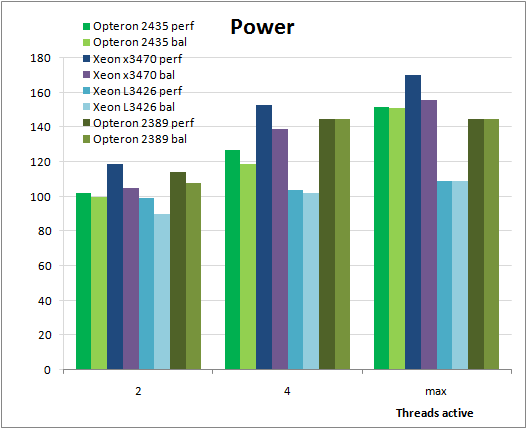 At the system level, the power savings of the Balanced power plan are pretty disappointing. Especially when benchmarking with two threads, we would have expected better power savings. Of course, we tested with only one CPU. The power savings should be better as you add more CPUs to the server. On the X3470 power savings are better, but the reason is not so much "SpeedStep" but more the fact that this turns off Turbo Boost. The most spectacular power savings cannot be seen in this picture: the automatic power and clock gating. As we have shown in this article, power and clock gating happen in both power plans and are responsible for some very significant savings, especially on the "Nehalem Lynnfield" Xeons. SpeedStep and PowerNow! are no longer very impressive for the following reasons:
Clock gating and "deep sleep" core C-states already save a lot of power

They are limited to frequency scaling; voltage scaling is only possible if all cores are running at a low P-state
In the case of Intel, frequency scaling is demoted to a pretty insignificant role: it is more important to power gate cores than to clock them down to a lower P-state.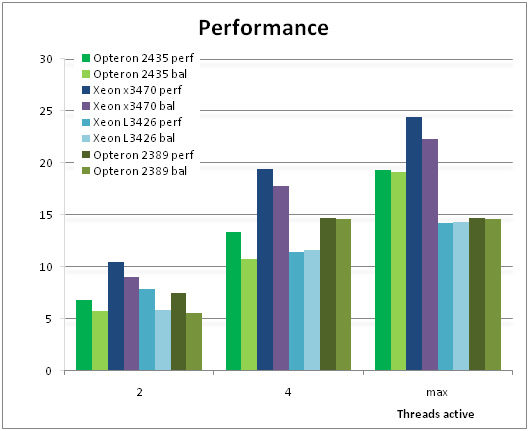 For AMD, P-state changes are still important, but their effect is dubious: performance is up to 20% lower. Even the specific AMD driver in Windows 2008 (amdppm.sys) is not capable of working optimally under low load. Cores frequently stay at 800MHz too long or only get to 1400MHz before a thread is moved to another core. Ideally our two thread benchmark should get at least two CPU cores to quickly ramp up to 2.6GHz and stay there, but that's not what happened in our tests.
We'll make a simple performance/watt calculation by multiplying the performance numbers by 1000 and dividing them by our power numbers.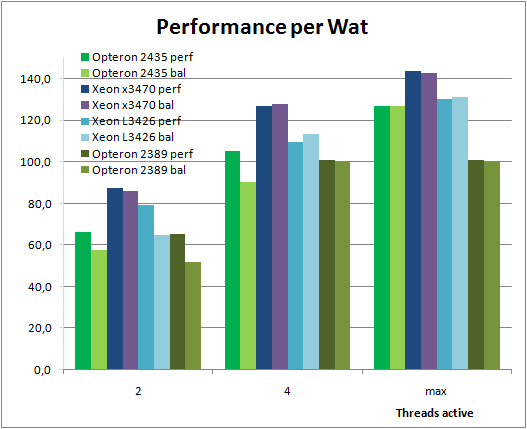 Look at the green bars of the AMD Opteron processors: performance/watt is clearly lower when running in Balanced mode. This is of course not the case when we run four threads on the quad-core and six threads on the six-core Opteron. In that case the operating system gets very few chances to drop the power. Still, it is important to note that PowerNow! results in a significant performance loss, a performance loss that is not justified by the meager power savings. The result is that the six-core Opteron in Performance mode offers the best performance/watt ratio when we focus on the Opteron family. It is a shame that the Windows 2008 CPU driver does not adapt better: the six-core Opteron is pretty competitive in performance/watt.
The situation is a lot more complex in the Intel Xeon family. With low thread counts, the Xeon is capable of using Turbo Boost. From a "system power" perspective, power is only a bit higher, while performance goes up by a third. But with low TDPs, there is little wiggle room, and Turbo Boost is quickly put out of action. With more than two threads, the L3426 never clocks above 1.86GHz. With "normal" Xeons, there is no significant difference between the two power plans.