Intel has seen a sudden surge in demand for its CE41xx chips in the media streaming set top box market. Boxee was the first to bring a device based on the CE4100 to the market in the Boxee Box. At CES 2011, Syabas announced that the future generation of NMTs would be based on the CE41xx series. Boxee also made its way into some CE4100 based products such as the Iomega NAS boxes and some Viewsonic TV models. In the meanwhile, A.C.Ryan also announced their Fluxx media streaming STB based on the highest end product in the CE41xx lineup, the CE4150.

The main advantage of the CE4150 over its lesser cousins is the overclocked PowerVR SGX535 graphics engine which chugs along at 400 MHz compared to the 200 MHz of the CE4100 and CE4130. In addition, it also has an AV input which the CE4100 doesn't have.
The AV input in the CE4150 translates to a HDMI-In port on the Fluxx. This port serves two purposes. On one hand, users may opt to record the raw video coming over the link (as long as it is not HDCP protected). This, however, is not something of much interest to most users as the raw video is usually of very high bandwidth ( > 1 Gbps for 1080p30 video ) and it would take up too much disk space. That said, it does duplicate some of the functionality currently existing in products like Blackmagic Design's Intensity Shuttle (which itself is targeted towards professional video editors). The second functionality of the HDMI-In port is similar to the feature available in the Logitech Revue (acting as a passthrough / PiP functionality). This would also make it an interesting feature for game and widget developers who can dream up more fun / functional apps.

The CE4150 is the same chip which is being used in the Logitech Revue (Google TV) box. However, the markets targeted by these two products have very little overlap. A.C.Ryan is hoping for a premium set top box experience, with more frills added to the experience provided by the PlayOn! HD series. After having looked at both the Boxee Box and the Fluxx in operation, it is evident that the premium graphics engine in the Fluxx does lead to snappier and more pleasing UI.
There are features in the Fluxx which make it a 'social connected media player', but, thankfully, those features can be turned off. Facebook and Twitter widgets aren't ones I would particularly like on my media player / streamer, but I would definitely like to hear from readers as to whether it is a feature they would want. The processing power of the Atom SoC also makes it possible to have in-built scraping for media libraries and a Flash enabled web browser. Support for multiple DRM methods should make content providers happy.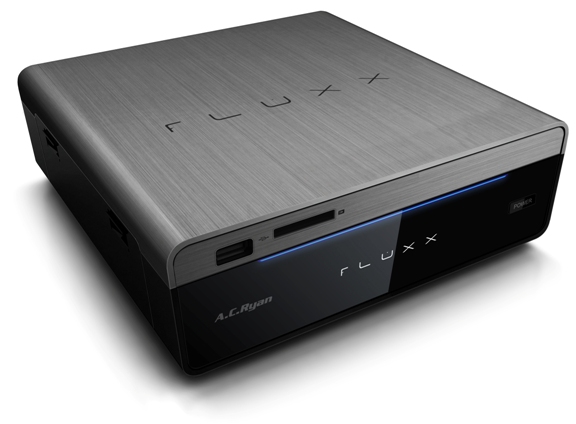 Priced at $249 for the model without storage, it can't be categorized as an impulse buy. However, if it is able to get the capabilities of the Roku boxes while also delivering the local media capabilities of the Dune series, the Fluxx might well turn out to be worth the cost. A.C.Ryan tells us that they have a tie up with Samsung to provide drives for the internal hard drive included models without any markup. The 500 GB model comes in at $279, while the 1 TB, 1.5 TB and 2 TB models are priced at $299, $319 and $339 respectively.

A point to note is that A.C.Ryan doesn't believe in saddling consumers with the cost of 3D capable STBs. We completely agree with their decision, considering that 3D has really not been able to take off as a mainstream feature yet. There are lots of features which are yet to be perfected by media streamers in the 2D world itself!

The Fluxx model comes in at 200x190x62 mm, and is definitely an imposing player. It was much bigger at first glance than I expected it to be. The top of the streamer is made of aluminium, and acts as a heat sink. The motherboard itself is passively cooled, as can be seen in the picture below.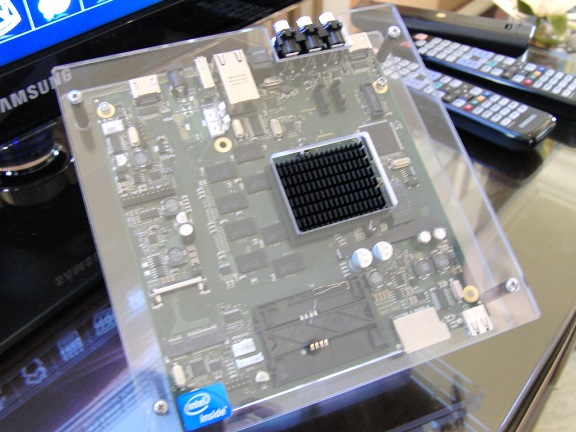 The system, however, still has a low RPM fan in order to facilitate air movement and apparently needs to be kept on even if no hard disk is placed inside the unit.

The Fluxx has all the oft-request features from media streamer users such as auto frame rate, extensive codec and subtitle support and an interface which can rival XBMC in usability as well as appearance. It has NFS/SMB/AFP and FTP support. DLNA and uPnP are also supported in client and server forms. The full spec list is linked here for your convenience. The backlit QWERTY IR remote also has an exhaustive set of dedicated buttons for various media control functions. We also have support for USB keyboards and mice.

Over the last few months, we have found that media streamer manufacturers are very willing to listen to user feedback (particularly, feedback from us at AnandTech). A.C.Ryan has a positive history of listening to users, and we believe any software features requested / issues reported by users will be attended to promptly.

We do have some concerns about the Fluxx product for the US market. The main problem is that none of the premium content providers have been linked to it. Netflix is slated to come in sometime after the launch in March 2011. Talks are ongoing with the other content providers. Our other concern is the absence of full BD menu support in the product. Given the price point, we would have liked full BD support like what is present in the Netgear NTV550. Without that, we would have gladly given up AACS / protected commercial BD playback if we could get full BD-ISO menu support for unprotected images. Full BD-ISO menu support apparently doesn't require a BDA / AACS license, but only a Java license for the BD-J implementation. We believe most media streamer users don't care for BD-Live, and would gladly give that up as long as they have BD-J menus working properly. However, the Fluxx doesn't have a Java license as of now. A.C.Ryan tells me that they are exploring the possibility of getting some of the above licenses, but they are not planned as part of the product right now.

In essence, A.C.Ryan is betting upon premium video services to entice users rather than providing advanced local media capabilities. Right now, it looks like they have a lot of work left to do. We will be keeping a close watch as the product nears the launch date (March 2011).