Internal Design and Components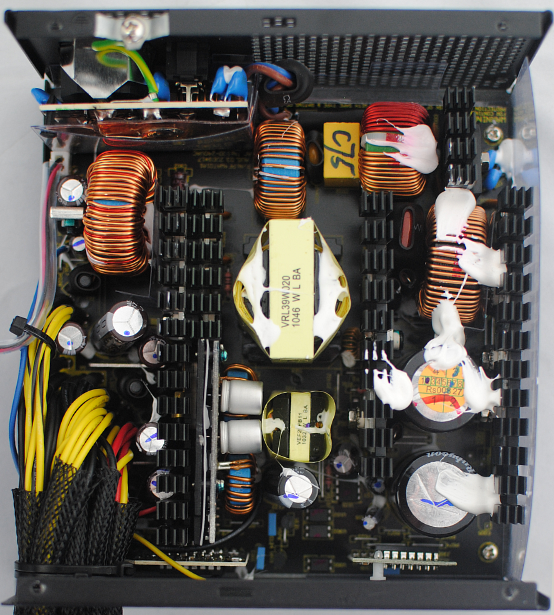 The interior has many indicators that this is a Seasonic-made power supply. First, there is only one DC-to-DC PCB for +3.3V and +5V instead of two. We saw this in the M12D 850W. Furthermore, the filtering behind the entrance is almost identical to the S12D design.
Interesting to note are the two different solder points for +12V. At one point we can find yellow and black cables and a "12V2" silkscreen on the PCB—just like the S12D design. That means this isn't a real single-rail PSUm and in fact most PSUs aren't multi-rail designs. Instead, they share the current between more than one output rail. That makes the design a modern version of the S12D layout. The heatsinks are smaller and the main caps as well as the DC-to-DC VRM are displaced, but otherwise they're very similar.
Transient filtering starts behind the AC inlet and continues on the mainboard. There are two X-capacitors, three coils (one is a current-compensated version), and six Y-capacitors. Six caps sounds very helpful here but we have to keep in mind that the leakage current on ground shouldn't get too high. Otherwise, we get a "dirty ground" contact that can create issues; remember that EMC doesn't necessarily equate with safety. You'll want to look at the impedance of the disturbing source, the type of problem, and the input characteristics of your power grid to choose the right components. Quantity can only be effective in combination with precision. Ultimately, having six Y-capacitors isn't a guarantee that a PSU is good PSU, but they are very good against common mode interferences. Let's move on to the power factor pre-regulator.
Here we find two GBU806 (GBU case, 8A forward) for rectifying and two very large Rubycon caps. Like nearly all modern PSUs, the TX750 has active PFC. All transistors have very common ratings so there is nothing special needed to reach 80 Plus Bronze. In the secondary circuit we find the usual five diodes in a TO-220 housing. Again there's no need for anything unusual like synchronous rectifying. The controlling circuit, incidentally, is located at the bottom of the picture, which is another modification of the M12D design. Some of those larger capacitors lean but most components are fixed well.