Random/Sequential Read & Write Performance
To start with, let's look at how the Corsair Force F40 and Intel SSD 311 stack up. Remember that the F40 is based on SandForce's SF-1200 controller, meaning it gains its high performance by using real-time compression and deduplication techniques to reduce what it actually writes to NAND. Data that can easily be compressed is written as quickly as possible, while data that isn't as compressible goes by much slower. As a cache the drive is likely to encounter data from both camps, although Intel's SRT driver does filter out sequential file operations so large incompressible movies and images should be kept out of the cache altogether.

Peak sequential write performance is nearly double that of Intel's SSD 311. Toss incompressible (fully random) data at the drive however and it's noticeably slower. I'd say in practice the F40 is probably about the speed of the 311, perhaps a bit quicker in sequential writes.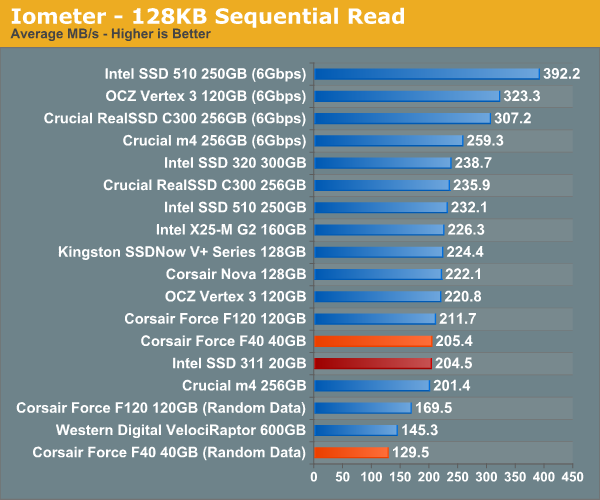 For only having five NAND devices on board, Intel's SSD 311 boasts extremely high sequential read performance. At best the F40 equals it, but in reality the sequential read performance is likely a bit lower.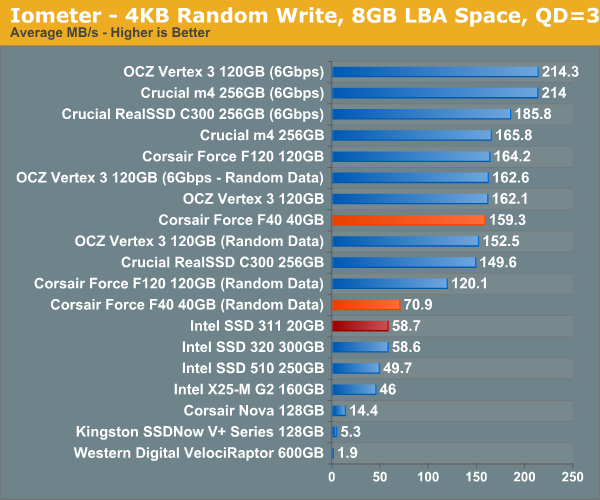 Random write performance is higher across the board, even with incompressible data. Random read/write performance is incredibly important for a cache, especially if most sequential data is kept off the cache to begin with. Things could be quite good for the F40 drive here.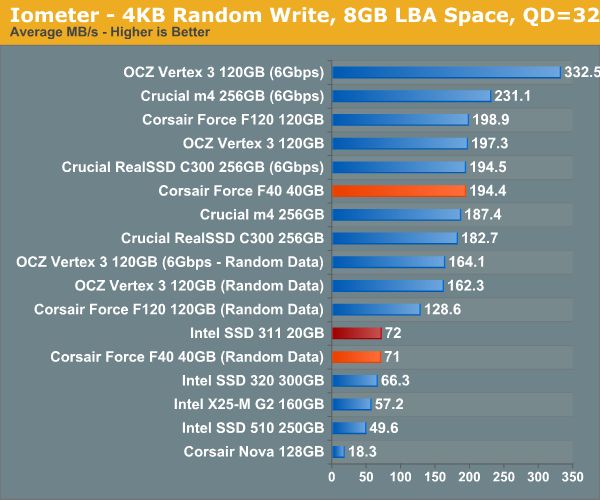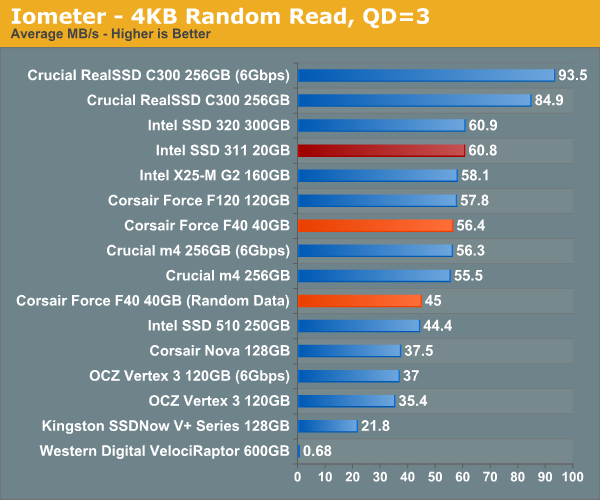 Random read performance unfortunately doesn't look as good for the F40. Again, Intel's SSD 311 performs a lot like a X25-M G2, which happens to do very well in our random read test. At best the F40 is an equal performer, but at worst it's about 75% of the performance of the SSD 311.
Without a clear victory here, we'll likely see mixed results in our storage benchmark suite.