Random Read/Write Speed
The four corners of SSD performance are as follows: random read, random write, sequential read and sequential write speed. Random accesses are generally small in size, while sequential accesses tend to be larger and thus we have the four Iometer tests we use in all of our reviews.
Our first test writes 4KB in a completely random pattern over an 8GB space of the drive to simulate the sort of random access that you'd see on an OS drive (even this is more stressful than a normal desktop user would see). I perform three concurrent IOs and run the test for 3 minutes. The results reported are in average MB/s over the entire time. We use both standard pseudo randomly generated data for each write as well as fully random data to show you both the maximum and minimum performance offered by SandForce based drives in these tests. The average performance of SF drives will likely be somewhere in between the two values for each drive you see in the graphs. For an understanding of why this matters, read our original SandForce article.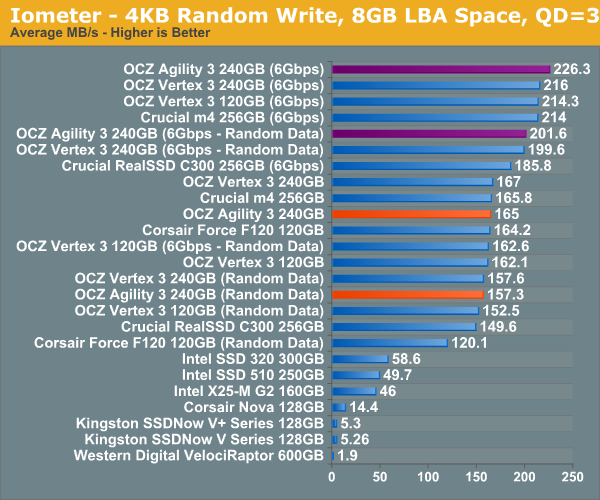 Random write performance looks extremely good on the Agility 3, even with incompressible data (at least at low queue depths). Like the original Agility, it's impossible to tell the performance difference between it and the Vertex 3 here.
Many of you have asked for random write performance at higher queue depths. What I have below is our 4KB random write test performed at a queue depth of 32 instead of 3. While the vast majority of desktop usage models experience queue depths of 0 - 5, higher depths are possible in heavy I/O (and multi-user) workloads: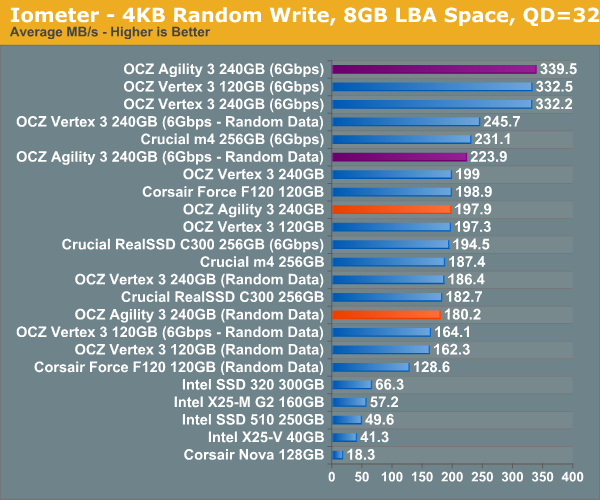 Even as we ramp up queue depth in Iometer, the Agility 3 sticks to the performance of the Vertex 3. It's only with incompressible data that we see the first hint of a performance deficit, but even that isn't much.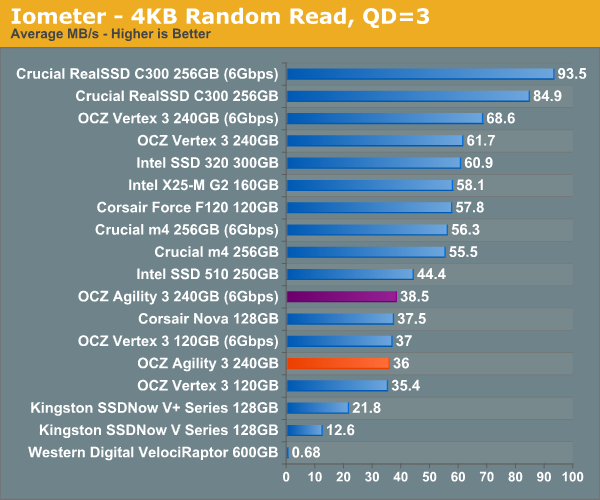 Random read performance is unfortunately limited to 120GB Vertex 3 levels. It's unclear to me whether this is an asynchronous NAND issue or an artificial firmware cap.
Sequential Read/Write Speed
To measure sequential performance I ran a 1 minute long 128KB sequential test over the entire span of the drive at a queue depth of 1. The results reported are in average MB/s over the entire test length.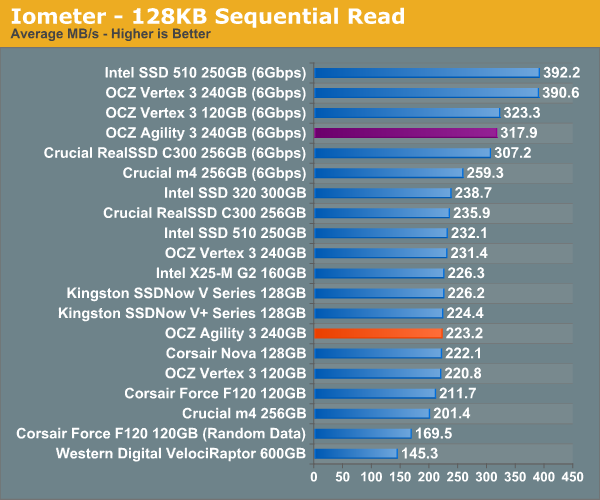 Sequential read performance is lower than the Vertex 3. The 240GB Agility 3 performs more like a 120GB Vertex 2 than its 240GB sibling.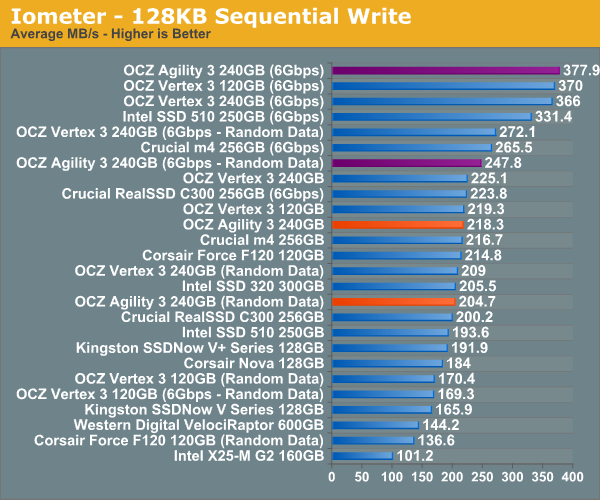 Sequential write speed is competitive but generally not better than the Vertex 3.