Assembling the Corsair Obsidian 550D
Despite my misgivings with some of Corsair's design decisions (which could easily be argued as tradeoffs), there's one thing that Corsair's engineers have down pat by now: ease of assembly. I've said before that assembling a Corsair enclosure is like a vacation for me, and the 550D was no exception.
Once again Corsair includes standoffs for the motherboard built right into the tray, although our refreshed testbed's new motherboard is Micro-ATX and thus required me to add a couple of standoffs. That said, installing the board was relatively painless, and I appreciated being able to plug the exhaust fan's 3-pin header directly into the motherboard.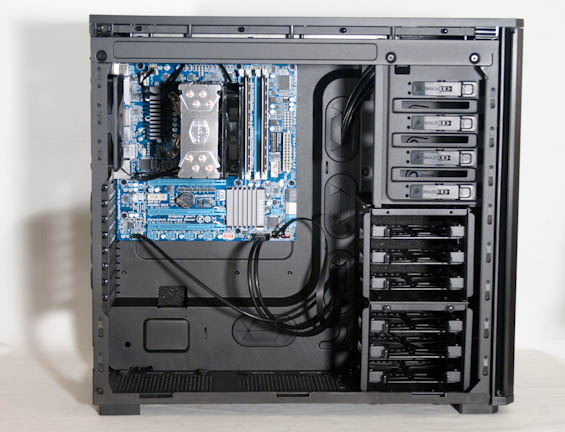 Speaking in all honesty, it's nigh impossible to find any real point in the assembly that's worth mentioning as a standout, at least in terms of difficulty. Corsair has, over time, gradually assuaged every remaining issue I've had with building systems in their cases. The drive sleds now allow me to install a 2.5" drive without removing any of the pins, and a 3.5" drive snaps in perfectly neatly. Popping out the 5.25" drive bay cover was a little bit of a struggle, but barely worth mentioning.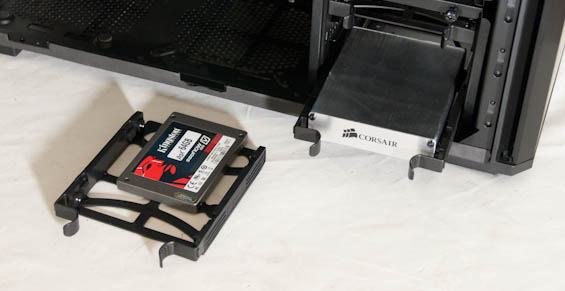 Depending on your perspective, you could argue that cabling is a bit easier with the 550D. The recessed area surrounding the motherboard tray proper only further highlights how well Corsair's engineers guide assembly within their enclosures; it's essentially a subtle suggestion that says "cables go here." And while I'm concerned about the long term use of the side panel release mechanism, it must be said that getting that rear panel back on to the 550D doesn't require the same kind of elbow grease some other cases do: there's enough space to fit your cables back here without too much trouble.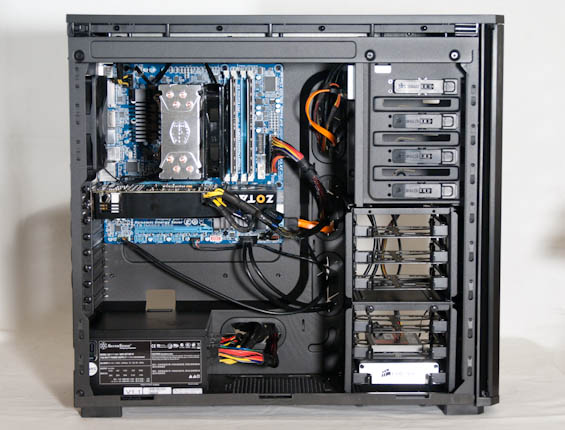 The biggest problem I had in assembly was getting the AUX 12V line to connect, but that's not necessarily something you can fault Corsair for so much as a problem that's par for the course when dealing with this kind of ATX enclosure design. The AUX 12V line on our new motherboard is lower than it was on the old one, and as a result the modular cable that was included with our new testbed power supply couldn't make the journey properly. Thankfully SilverStone uses the same connects for all of their modular power supplies (a convenience Corsair should take to heart) and once I found a longer cable, everything was fine.
Thus, as I said, there's very little to report in the way of assembly. Corsair somehow continues to get the placement of the cable routing holes in the motherboard tray just right, and I can continue to recommend cases from the brand as a whole as being excellent choices for consumers just learning how to build their own machines.