New PSU: Corsair AX1500i Digital ATX PSU
Over recent years Corsair's PSU business has been booming, at least in terms of how often I find them mentioned in new builds in online forums. Newegg and Amazon both have a wealth of reviews showing that Corsair has established itself as one of the main players. In recent quarters the push in the PSU market has been towards the digital – being able to manage and monitor how the power supply responds to load, as well as keeping logs of temperatures and how each rail and voltage line is performing are the new features. In order to bolster their digital AX line, currently occupied by the AX760i, the AX860i and the AX1200i, Corsair is releasing a higher end model – the AX1500i, rated at 1500W for 80 PLUS Platinum: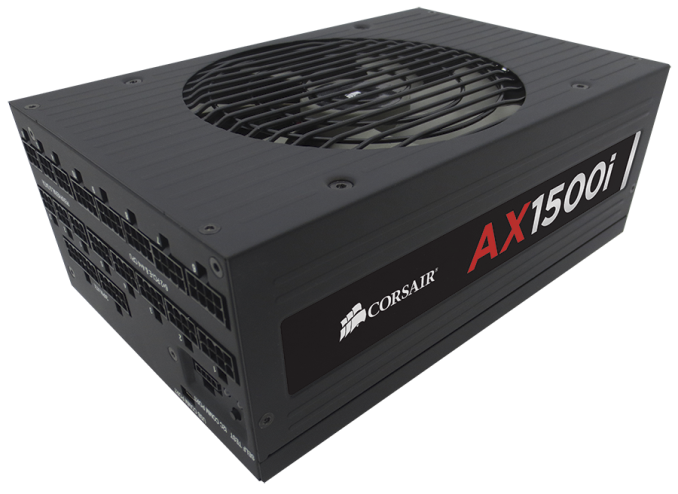 Corsair claims this is the world's most technologically advanced and efficient PSU for PC enthusiasts, and that the unit will perform beyond the 80 PLUS Platinum standard – stating that if the Titanium standard for 230V (Europe and others) was available for 115V today and this unit was tested for it, it would receive that award instead (the spec is currently being drafted).
1500W is clearly a lot and most builds need not apply. I remember when testing a dual Xeon 32-thread workstation and four 7970s that drew 1550W when overclocked – that is the market that this power supply is aiming for. The AX1500i comes fully modular, and is configurable in both multi-rail and single rail format (users can set their own overcurrent protection limits) via Corsair Link. The PSU also uses a zero RPM fan mode, such that the power supply will not even spin its fan until the power draw exceeds 450W.
Aside from the 150 x 86 x 225mm dimensions and the 7-year warranty, the AX1500i will be available in Q2 at an MSRP of US$450.
New Keyboard and Mouse: Raptor K40 and Raptor M45
Many of the more traditional component manufacturers are coming out with their own line of peripherals – what used to be the home of companies like Logitech are now filled with GIGABYTE and Corsair-like brand wanting a piece of the action. This is all a good thing for consumers – competition breeds innovation, and for gamers, having the right equipment is only one piece of the puzzle. In that gamer element, after the PC, there are several other items that deserve a $50-$200 investment apiece: gaming mice, gaming keyboards, gaming mouse mats, gaming headsets, gaming chairs, gaming glasses, or even more expensive gaming monitors and so on.
To add to their Raptor lines, Corsair is 'unleashing' a new keyboard and mouse at CES.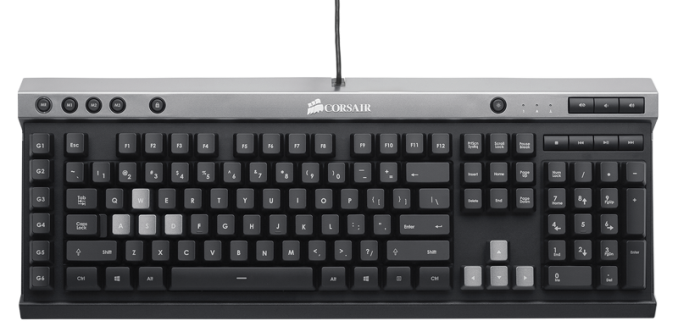 The Raptor K40 is a non-mechanical (rubber-dome) keyboard with onboard macro storage, full-key rollover on USB, and the main selling point is the 16.8 million color customizable backlighting. This is a whole motherboard backlighting, rather than the per-key backlighting we saw with the Cherry MX RGB which allowed users to customize their gaming experience on a per-game basis. The macro features give six keys on the left hand side of the keyboard and three separate bank keys to adjust as necessary. The WASD and arrow keys are also in grey to differentiate from the rest of the black keys. Corsair are saying the K40 will be available in January with a two-year warranty and an MSRP of $80.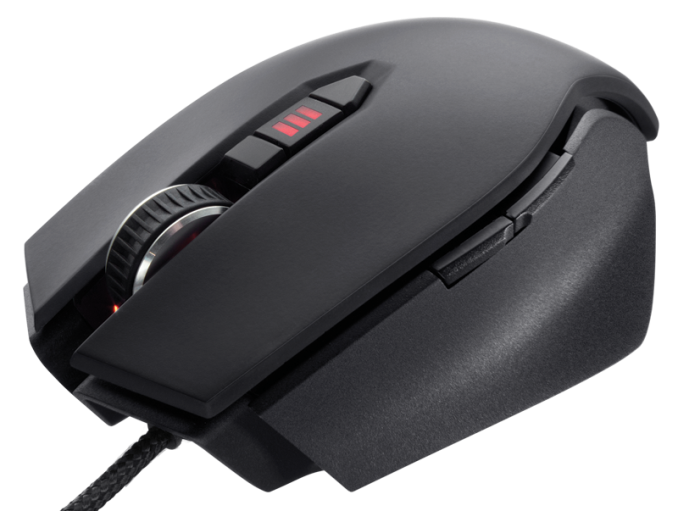 The gaming mouse debate is a long and exhaustive one – wired or wireless, large grip or small grip, adjustable DPI, optical or laser, how many macro keys, and so on. Back when I was clan gaming, I ran a wireless gaming mouse – I could not stand the wire being caught on the side of the table. Each to their own of course and this is why there are plenty of models in the market to cater for everyone: now the M45 from Corsair, continuing on from their M65 and M60, is coming out to play.
The right handed M45 starts with a Pixart PMW3310 5000 DPI optical sensor with a high-mass scroll wheel in a soft-touch housing. The rear has large PTFE glide pads and an adjustable weight system in order to get the responsiveness a user needs for their type of gaming. The buttons on the side are macro buttons, configurable through software, and the DPI is adjustable on top. The wired M45 should be available in January with a two-year warranty and an MSRP of $60.