Silverstone Milo ML04 Overview
Silverstone's packages are usually simple and straightforward and the packaging of the Milo ML04 is no different. It is a plain brown box with the basic features of the case printed on it. The bundle however is thoughtful for a case of this price range. Aside from the necessary screws and hardware, Silverstone also provides a 120mm fan filter, cable management straps, and a cable gooseneck lock. There is also a plastic key for the faceplate. Unfortunately, only one key is provided and these things are easily misplaced; however, the shape and size of the key is identical to a 2.6mm triangular screwdriver bit, which is relatively easily found and may be used as a crude replacement it if it comes to that.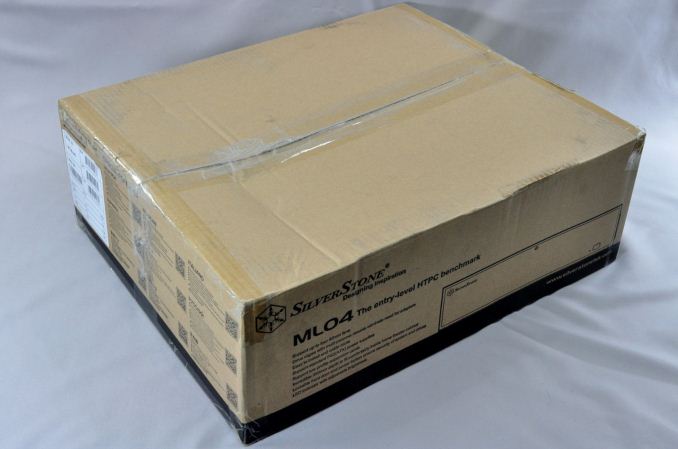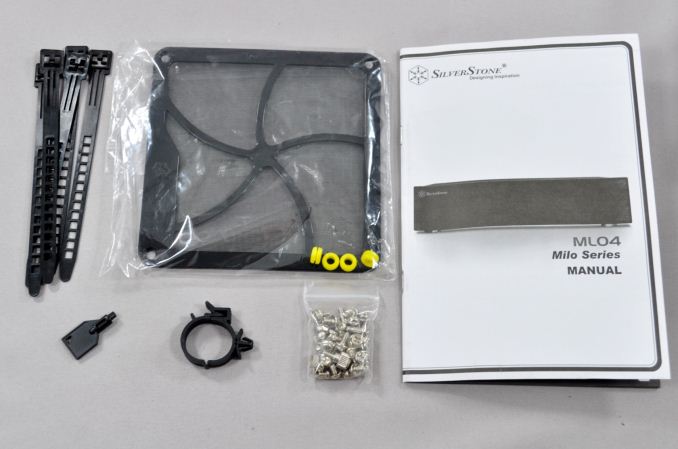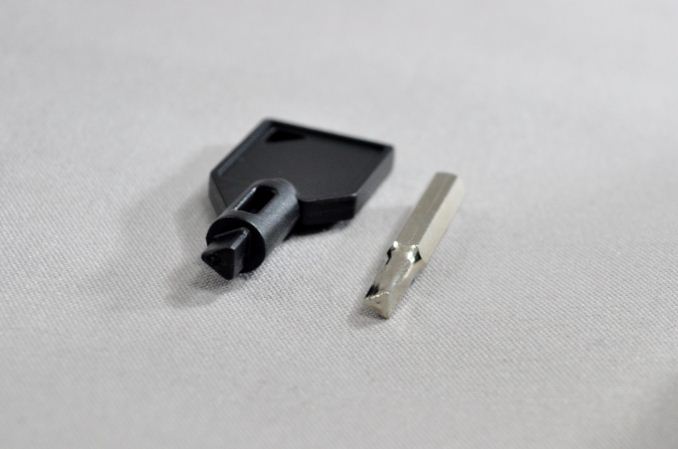 As the expected environment for such a case is some kind of home theater / entertainment console, Silverstone focused on what really matters: the faceplate. The faceplate of the Milo ML04 is a large, thick plastic door with an anodized aluminum cover, creating a minimalistic, clean aesthetic design. The company logo, perhaps a bit oversized for the relatively compact case, is printed on the top left corner of the faceplate and a rectangular metallic power button can be seen at the lower right corner of the door. The door is held closed by a magnet, which feels a bit weak but it's actually just as strong as it should be for the smooth opening and closing of the door.
Behind the faceplate, there is a visible 5.25" device tray, two USB 3.0 ports, headset audio jacks, and the power and reset buttons. It is interesting to note that even though the power button is accessible from the outside of the faceplate, it is possible to lock the exterior button and require the door to be opened in order to access it. Alongside the rudimentary lock, this is a very good feature for families with children. When the door is open, a significant aesthetic flaw becomes apparent: there is a large gap between the plastic faceplate and the metallic chassis, which is normally masked by the closed door. This isn't a major concern as we expect most users will keep the door closed, but it does detract from the overall design.
The chassis of the Milo ML04 is simple SECC Steel and just 0.8mm thick. Visually, the difference between the faceplate and the steel body is significant, but Silverstone obviously bet that it will be hidden by furniture or other equipment. Large areas are perforated, such as the entire right side panel, the area above the CPU, and nearly 40% of the left side panel. As there is virtually no space at the rear of the case for a vent, Silverstone is using perforated, reusable expansion slot covers.