The Reserator 3 Max Dual AIO CPU Cooler
In terms of design, the Reserator 3 Max Dual certainly stands out from the crowd. Zalman ditched the classic two-pass radiator for a unique tube-based design, which appears to be based on the style of their "flower-type" air coolers. It is an all-copper design, with the tube making multiple passes across each fin array. The copper makes the Reserator 3 Max Dual a heavy construct, tipping our scales at 1470 gr, increasing the overall weight of a system by quite a bit.
In order to prevent corrosion, Zalman chromed all of the metallic parts. A semi-transparent plastic frame protects the metallic parts and holds the two 120 mm fans. The company and product logos can be seen at the sides of the assembly, but they are printed upside down for some peculiar reason.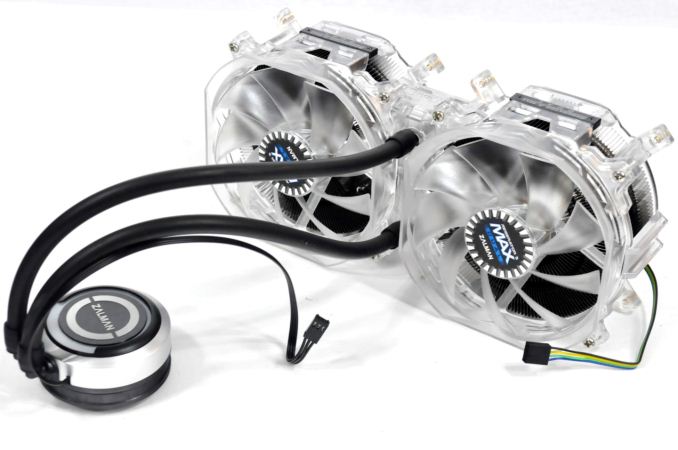 Another unique characteristic of this design is that the entry and exit points are at the middle of the assembly. Overall, it is a very nice looking but also very thick assembly; with a height of 74 mm, it is the thickest all-in-one cooler radiator that we have tested to this date. For this purpose, Zalman includes installation brackets that will help the cooler to clear the motherboard and RAM modules by creating an offset, assuming that your case is wide enough as well.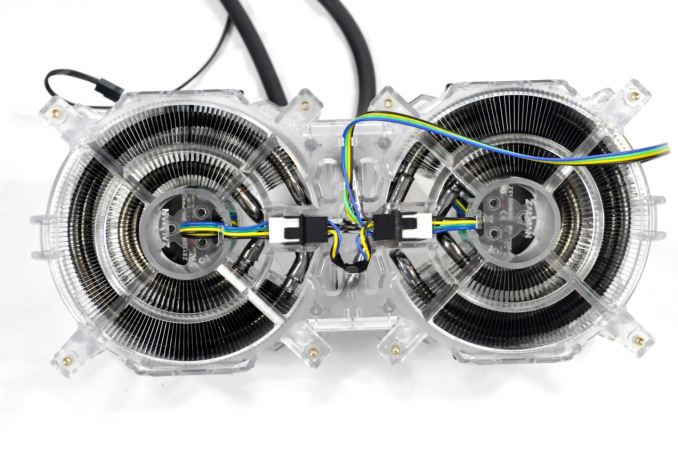 The circular block assembly sports an elegant, attractive design based on geometric shapes and metallic colors. It has a very well made copper base, free of imperfections. The pump is powered via a typical 3-pin header, as if it was a CPU cooler fan. When powered, a blue LED ring lights up at the top of the block assembly, creating a nice visual effect.
The two cooling fans also feature LED lighting, but they do not have the usual side-firing LEDs, with the soft lighting coming from the center of the fan. Both fans are PWM-controlled and can be powered from a single 4-pin motherboard header. They have a theoretical maximum speed of 2300 RPM and a "long life bearing", for which we could not find detailed information, but it appears to be a form of a fluid dynamic bearing.