Samsung Galaxy S2
The Galaxy S2 was and still is a great phone. In fact, it's the only Galaxy S phone that ever shipped with an RGB strip AMOLED. Of course, this was necessary in order to have acceptable resolution for a 4.3" display without increasing resolution past WVGA. Just like the Desire HD, the resolution is still clearly quite poor on close examination, but the odd artifacting from PenTile is gone. This definitely helps with perceived sharpness and resolution. Unlike the Desire HD, the viewing angles are great. The RGB stripe also seems to result in almost no color shifting with viewing angle changes.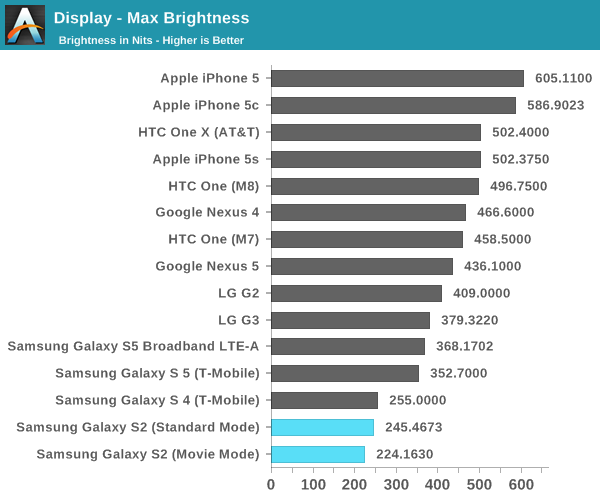 Unfortunately, it seems that peak luminance dropped significantly from the Galaxy S to the S2. Presumably this was due to the subpixel layout change, but even with the sunlight brightness boost feature the Galaxy S2 just isn't as good as the Galaxy S in this regard. I recorded a maximum of 258.7 nits in movie mode and 282.2 nits in standard mode. Contrast is relatively similar and extremely high.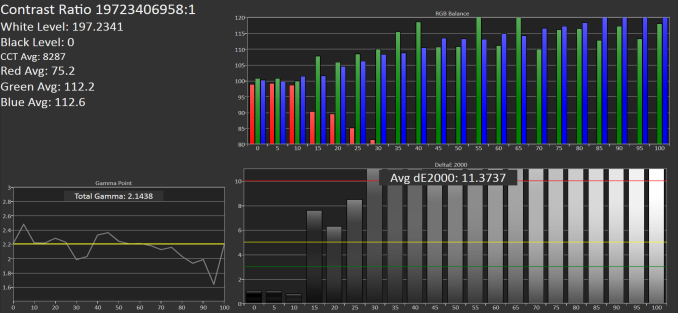 In standard mode, the Galaxy S2 isn't much better than the original Galaxy S. Definitely better, but barely. Far too much blue and green, far too little red, there's not much else to talk about here.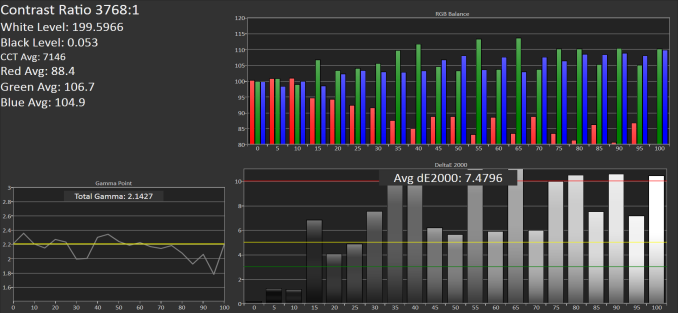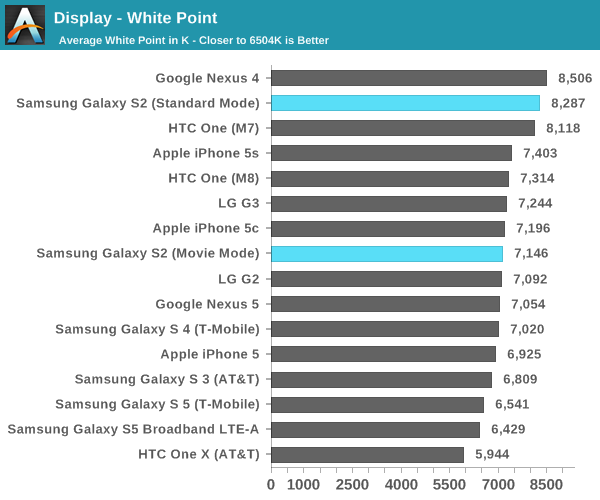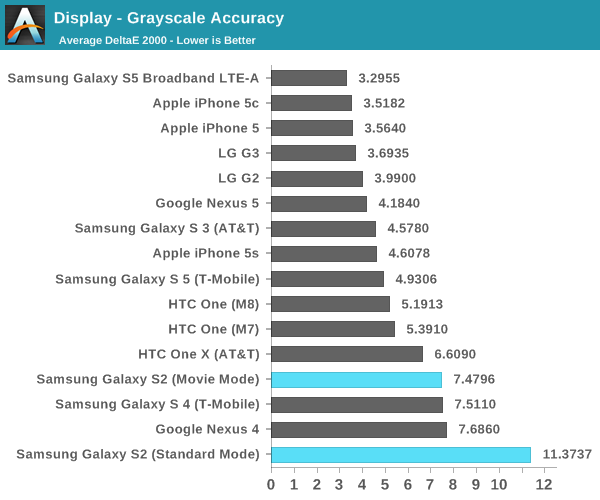 Turning on movie mode definitely helps quite a bit as evidenced by the significantly lower average error score. There's still too much blue and green, especially as we approach white, but it's far better than standard mode.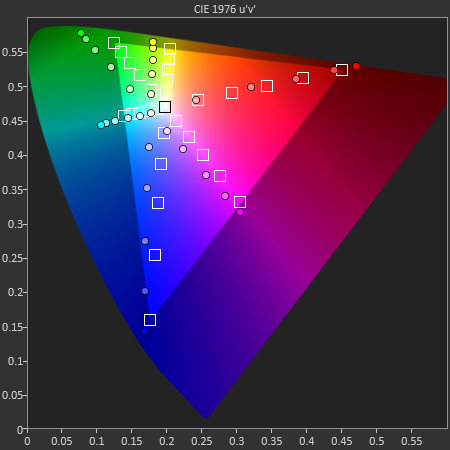 In the saturation sweep, Samsung has managed to outdo themselves in standard mode by regressing from the original Galaxy S. There's too much wrong with the calibration of this display to really pick at any particular issue in this mode.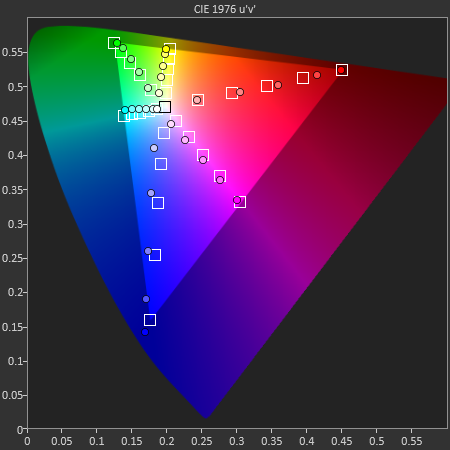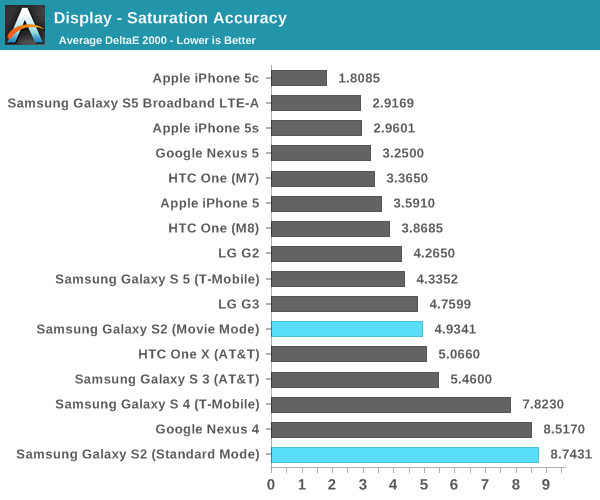 Fortunately, movie mode tightens things up significantly, although blue is noticeably oversaturated, as is red, although to a lesser extent.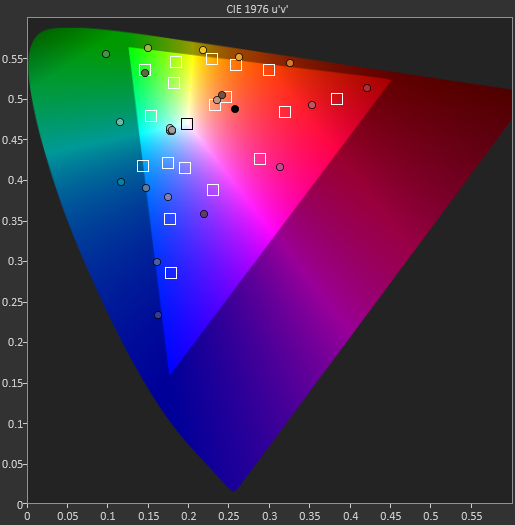 The same story can be seen in the ColorChecker for standard mode, with unacceptable inaccuracy. Many of the readings are outside of the gamut triangle entirely.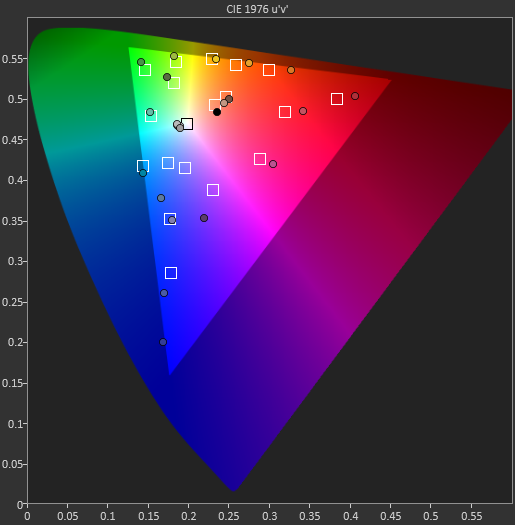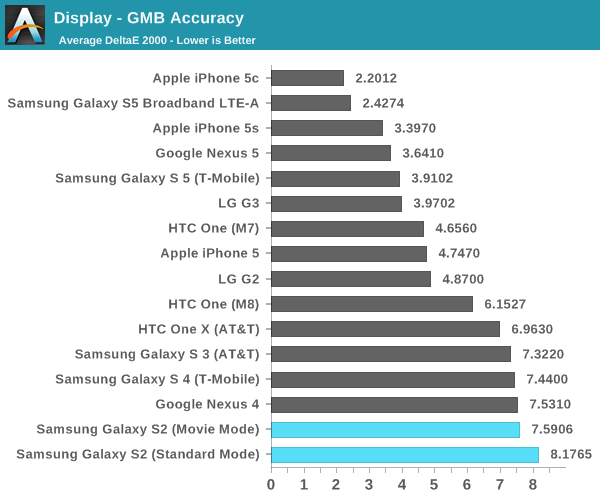 Things are much better with movie mode, but the result is still not the greatest. At this point, Samsung still has a ways to go before we get to the accurate AMOLED panels of today.