AMD Instinct
In a brief note posted to its investor relations portal this morning, AMD has announced that they will be holding a special AI and data center-centric event on June 13th. Dubbed the "AMD Data Center and AI Technology Premiere", the live event is slated to be hosted by CEO Dr. Lisa Su, and will be focusing on AMD's AI and data center product portfolios – with a particular spotlight on AMD's expanded product portfolio and plans for growing out these market segments. The very brief announcement doesn't offer any further details on what content to expect. However, the very nature of the event points a clear arrow at AMD's forthcoming Instinct Mi300 accelerator. MI300 is AMD's first shot at building a true data center/HPC-class APU...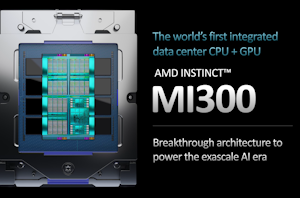 Alongside AMD's widely expected client product announcements this evening for desktop CPUs, mobile CPUs, and mobile GPUs, AMD's CEO Dr. Lisa Su also had a surprise up her sleeve...
38
by Ryan Smith on 1/5/2023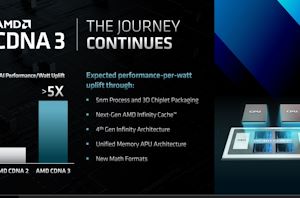 Alongside their Zen CPU architecture and RDNA client GPU architecture updates, AMD this afternoon is also updating their roadmap for their CDNA server GPU architecture and related Instinct products...
16
by Ryan Smith on 6/9/2022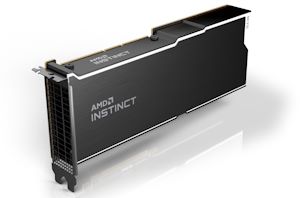 With both GDC and GTC going on this week, this is a big time for GPUs of all sorts. And today, AMD wants to get in on the game...
39
by Ryan Smith on 3/22/2022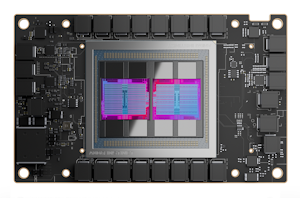 AMD today is formally unveiling their AMD Instinct MI200 family of server accelerators. Based on AMD's new CDNA 2 architecture, the MI200 family is the capstone AMD's server GPU...
61
by Ryan Smith on 11/8/2021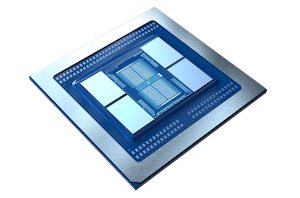 One element to the recent pandemic has been the number of organizations banding together to unite for specific research into SARS-CoV-2 and COVID-19. We are in an era now...
20
by Dr. Ian Cutress on 4/16/2020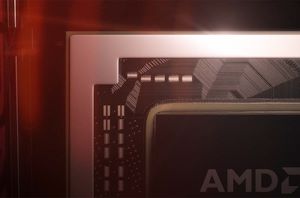 AMD's 2nd Generation EPYC processors have gained a strong recognition among cloud computing companies, and today numerous instances are powered by AMD's latest server CPUs. By contrast, however, the...
19
by Anton Shilov on 3/18/2020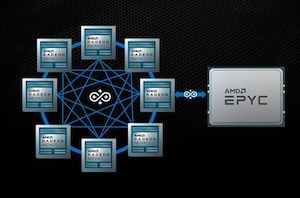 Another element to AMD's Financial Analyst Day 2020 was the disclosure of how the company intends to evolve its interconnect strategy with its Infinity Fabric (IF). The plan over...
18
by Dr. Ian Cutress on 3/5/2020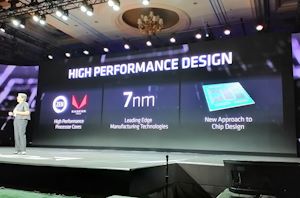 Today AMD is announcing some realignment of its executive team along with some promotions. The idea behind the changes boils down to AMD wanting to focus its efforts on...
85
by Ian Cutress on 1/25/2019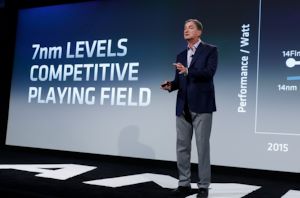 At AMD's Next Horizon event this week, the company disclosed for the first time the layout of its next generation EPYC processor, the new Vega Radeon Instinct datacenter compute...
59
by Ian Cutress on 11/12/2018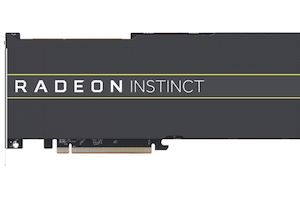 As part of this morning's Next Horizon event, AMD formally announced the first two accelerator cards based on the company's previously revealed 7nm Vega GPU. Dubbed the Radeon Instinct...
26
by Ryan Smith on 11/6/2018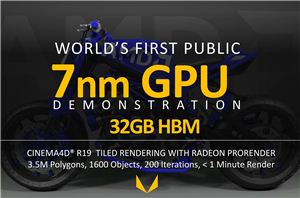 In a fairly unexpected move, AMD formally demonstrated at Computex its previously-roadmapped 7nm-built Vega GPU. As per AMD's roadmaps on the subject, the chip will be used for AMD's...
29
by Anton Shilov on 6/6/2018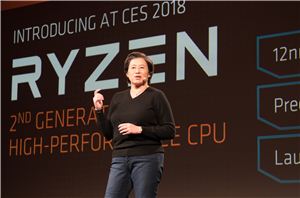 In what is becoming an annual tradition, during AMD's Tech Day here at CES we were given the opportunity to spend some time with Dr. Lisa Su, AMD's CEO...
65
by Ian Cutress on 1/24/2018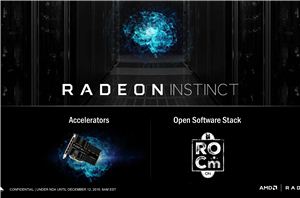 With the launch of their Polaris family of GPUs earlier this year, much of AMD's public focus in this space has been on the consumer side of matters. However...
39
by Ryan Smith on 12/12/2016