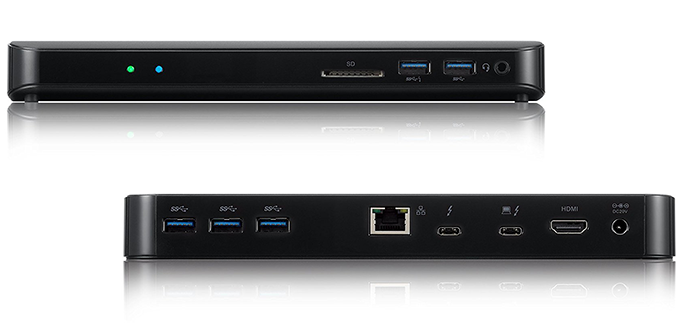 Promise has introduced its first Thunderbolt 3 dock designed primarily for Apple's latest MacBook Pro laptops, but also compatible with any systems featuring a TB3 header. The Promise TD-300 dock carries a variety of modern ports and targets media professionals (who also happen to use Promise's external storage solutions), but can also satisfy needs of mainstream users as well.
Nowadays a lot of people replace desktops with laptops and use them accordingly: plug in external displays, keyboards, storage systems, various peripherals, even external graphics cards. Therefore, when Apple launched its latest generation MacBook Pro notebooks with only four Thunderbolt 3 ports, many of such people were upset with the absense of popular USB Type-A connectors. Apple promised them that upcoming docking solutions would solve their needs, but it has taken developers a little less than a year to design solutions that would offer something more than a couple of USB Type-A headers, a GbE and a DisplayPort. Recently OWC launched its 13-in-1 'one dock to rule them all' solution and this week Promise releases its 9-in-1 dock.

When it comes to general ports that are used by everyone, the Promise TD-300 (DOCK1TB3US) is equipped with five USB 3.0 connectors (one supporting 5V/1.5A charging) — two on the front and three on the back. Docks with five USB headers are rather rare, but since there are people with loads of external USB peripherals (a keyboard, a mouse, a printer, a scanner, and a spare one for a USB drive), demand for such adapters clearly exists. People who use laptops for stationary work obviously prefer the fastest and the most stable Internet connection possible, so the TD-300 has a GbE port, which will be handy in business/corporate environments as well.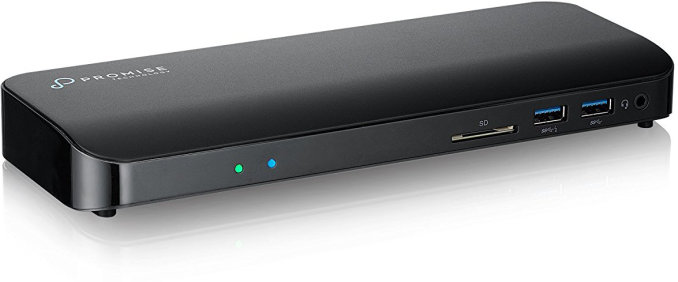 Moving on to more specific I/O connectors, we notice that the TD-300 comes with an SD 3.0 card reader, a feature that will be greatly appreciated by professional photographers, which happen to be among Promise's regular clientele. To display photos or videos, the TD-300 has an HDMI 2.0 connector and another TB3 header that carries two DP 1.2 streams (the header can be used to daisy chain other TB3 devices too). HDMI ports are rare guests on TB3 docks because manufacturers need to install DP-to-HDMI bridges to enable them (adding to BOM), so Promise deserves a credit for installing one. Meanwhile, the TD-300 lacks basic DisplayPort connectors, possibly because of design complexity. Keeping in mind that most high-end displays usually feature both HDMI and DisplayPort inputs, the lack of DP is hardly a problem. Meanwhile, if someone needs to plug two monitors to the TD-300, they will have to use an HDMI output and a TB3-to-DP cable that costs from $10 to $20. Jumping from video to audio, the TD-300 also has 2.1-channel-supporting TRRS connector that can be used to plug in speakers, a headset and other audio equipment.

To add convenience, the Promise TD-300 can deliver up to 60 W of power using its Thunderbolt 3 input cable to the laptop, eliminating any need to use the notebook's own charger. Larger and more powerful PCs (such as Apple's MacBook Pro 15") will charge slower because they are designed for more powerful chargers (85 W in case of the MBP).
One interesting thing to note about the Promise TD-300 is its design. Unlike most of Thunderbolt 3 docks out there, this one does not match design of the latest MacBook Pro computers. It is black, its front side is tapering, it even has two LEDs (one indicates power, another indicates TB3 connection). In fact, Promise aims its TD-300 primarily at its own customers, including those who use the Pegasus3 TB3 external storage solutions or other products, so it wanted to match its own devices on the first place. Furthermore, black just fits well in any home or office environment.
The Promise TD-300 will be available for $249 from November 22 directly from Promise, from Amazon as well as from other retailers. The TD-300 comes with a 0.5-meter Thunderbolt 3 cable and is covered by a two-year warranty.
Related Reading:
Source: Promise