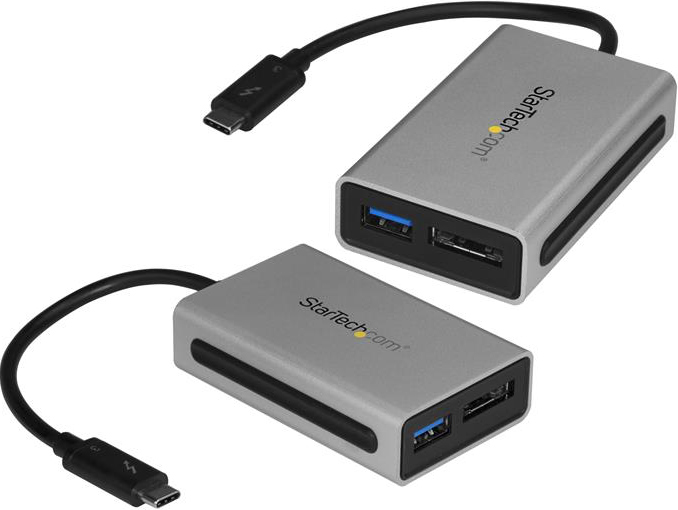 Alternative headline: StarTech's New Adapter Weds MacBook Pro and eSATA Storage
StarTech has expanded its lineup of Thunderbolt 3 adapters with a rather extravagant solution that features an eSATA port and a USB 3.1 Gen 2 connector. The dongle allows attaching previous-gen DASes to modern laptops, extending their life, and protecting their owner's investments.
As the name suggests, Startech's Thunderbolt 3 to eSATA and USB 3.1 Adapter (TB3ESATU31) has an eSATA port and a USB 3.1 Gen 2 Type-A connector. The eSATA header supports up to four eSATA drives through a port multiplier, allowing to use various external storage devices with new PCs. The dongle requires a standard TB3 port, meaning one that can supply up to 15 W of power and features bandwidth of at least 20 Gbps.
The Thunderbolt 3 to eSATA and USB 3.1 adapter is based on the Intel Alpine Ridge TB3 controller as well as the ASMedia ASM1061 PCIe-to-eSATA bridge. Judging by dimensions of the unit, its internal architecture is hardly very complex. The addition of the USB 3.1 port makes a lot of sense as it makes life easier for owners of products like the LaCie Rugged eSATA that use power from a nearby USB port. Meanwhile, owners of advanced eSATA DAS devices, such as storage arrays with multiple HDDs inside, will keep using their regular power bricks.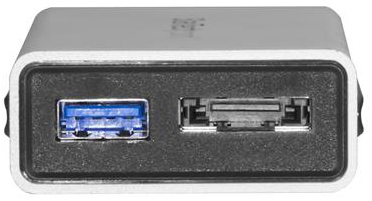 StarTech.com's Thunderbolt 3 to eSATA and USB 3.1 dongle is available for $98.99 from Amazon and for $134.99 from StarTech.com, a price of an external hard drive (keep in mind that some of them are SMR-based and their performance is unpredictable at times). The MSRP may not be exactly a disadvantage of the product. The eSATA standard has never gained much traction outside of the market of professional-grade storage devices. Therefore, most of the eSATA storage that people would like to keep are likely professional-grade storage arrays. If someone is satisfied with performance of such an array and want to keep using it with their shiny new laptop (perhaps, not even for everyday work, but for archival purposes), they are unlikely to be concerned about the price of the Thunderbolt 3 to eSATA dongle.
Related Reading:
Source: StarTech