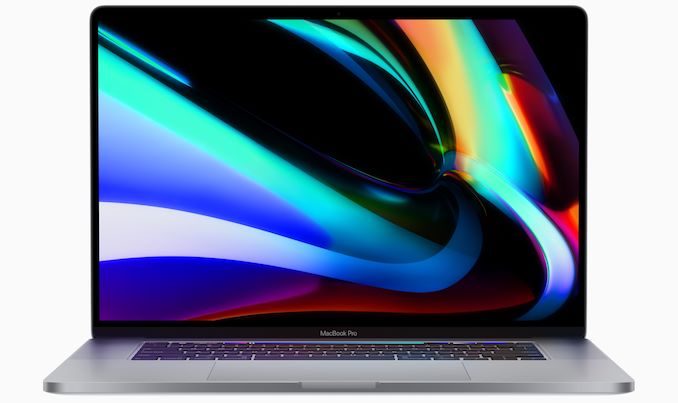 With rumors swirling for the last few months a new high-end MacBook Pro laptop from Apple, the company this morning is making those rumors a reality, announcing and launching the 16-Inch MacBook Pro. Replacing Apple's 15-inch model, the new laptop is a half-step of sorts for Apple to improve their flagship professional laptop, addressing some long-simmering critiques about the laptop, but not radically overhauling the unibody-built, Touch Bar-equipped laptop design that Apple has used since 2016. The end result is a laptop that's an incremental improvement over the 15-inch models, with Apple making the new laptop a bit larger, a bit more powerful, and significantly overhauling their problematic Butterfly Switch keyboard.
Apple's MacBook Pro lineup of course needs no introduction. The company pioneered a lot of the design elements that have become common-place across the industry in premium laptops, including the ultrabook-like thin & light design, high-DPI (Reinta) displays, and more. However the most recent generation of models have been received with less enthusiasm, as Apple's continued focus on thinness and soldering down components has run headlong into traditional expectations for what a "professional" laptop should entail. And while Apple is not one for mea culpas, I don't think there's any doubt that the 16-inch MacBook Pro design is an effort to respond to some of the biggest criticisms about the previous 15-inch design.
Overall then, the new 16-inch MacBook Pro is not a radically departure from the 15-inch in terms of the design. There are a few tells in the design – small changes that you'll spot if you know what to look for – but externally Apple has kept to the same unibody design that we've seen since the first wave of Touch Bar notebooks in 2016. So from the outside, the 16-inch laptop looks like an ever-so-larger version of the 15-inch model.
And indeed, the laptop's larger footprint sounds bigger than it actually is. While Apple called their previous laptop the 15-inch MacBook Pro, the actual screen was 15.4-inches diagonal, while this one is 16-inches flat. So with just a 0.6-inch increase in screen size and some slightly smaller bezels, the footprint of the 16-inch model is only 5% larger than the 15-inch model. So it's just enough to not be the same size as the previous MacBook Pro, but also not substantially larger ala the long-retired 17-inch model. Meanwhile the new model has bulked up just a bit in weight and height as well; at 2kg, it's 0.17 kg heavier, and Apple has added another 0.7mm to the height, bringing it to 16.2mm. Overall this means that although the new laptop is decidedly not identical to the 15-inch laptop it replaces, it's very much a similar successor that's meant to fit in to the same role as the earlier model.
MacBook Pro 15 & 16-Inch (Base Models)
Model
2019 (16-inch)
2019 (15-inch)
2018 (15-inch)
2017 (15-inch)
CPU
2.6 GHz
Core i7-9750H
6 CPU Cores
(Coffee Lake-R)
2.6 GHz
Core i7-9750H
6 CPU Cores
(Coffee Lake-R)
2.2GHz
Core i7-8750H
6 CPU Cores
(Coffee Lake)
2.8GHz
Core i7-7700HQ
4 CPU Cores
(Kaby Lake)
GPU
Intel UHD Graphics 630 + AMD Radeon Pro 5300M (4GB)
Intel UHD Graphics 630 + AMD Radeon Pro 555X (4GB)
Intel HD Graphics 630 + AMD Radeon Pro 555 (2GB)
Display
16" 3072 x 1920 IPS LCD
P3 Gamut
True Tone
15.4" 2880 x 1800 IPS LCD
P3 Gamut
True Tone
15.4" 2880 x 1800 IPS LCD
P3 Gamut
Memory
16GB DDR4-2666
16GB DDR4-2400
16GB LPDDR3-2133
SSD
512GB PCIe SSD
256GB PCIe SSD
Touch Bar
Yes
I/O
4x Thunderbolt 3 (supports DP1.2 & USB 3.1 Gen 2 modes),
3.5mm Audio
Battery Capacity
100 Wh
83.6 Wh
76 Wh
Battery Life
11 Hours
10 Hours
Dimensions
1.62 cm x 35.79 cm x 24.59 cm
1.55 cm x 34.93 cm x 24.07 cm
Weight
4.3 lbs (2.0 kg)
4.02 lbs (1.83 kg)
Price
$2399
$2399
$2399
$2399
Headlining the new laptop is of course its 16.0-inch display. The 0.6 longer diagonal nets an 8% gain in total screen real estate, and Apple has scaled up the display resolution accordingly. The resulting 3072 x 1920 resolution panel is just a bit denser than the old 15-inch panel – offering 226 PPI versus 220 PPI – however in practice I don't expect the difference to be noticeable (if Apple were really looking to increase their density, they would have needed to go to 4K or beyond). Otherwise the display is similar to the last generation, using an IPS panel with support for the P3 color space, and a maximum brightness of 500 nits.
The Magic Keyboard: Butterfly Out, Scissor Back in
Going under the hood, even the small increase in the laptop's volume is still enough to make a big difference throughout the laptop, as Apple has essentially rolled back some of the changes they've made in previous generations to slim down the laptop. The biggest of which is, of course, the keyboard. While I remain a fan of the butterfly keyboard, there's no getting around the fact that, despite Apple's best efforts, it developed long-term reliability concerns, particular with dust ingress. Even after 3 revisions, the issue apparently wasn't entirely resolved, and so Apple is rolling back the butterfly mechanism entirely.
Replacing the butterfly is a more traditional switch mechanism, which is what Apple eliminated in the first place. Unfortunately, unlike with the butterfly switch's launch, the company isn't providing any handy diagrams of the new switch, so it's hard to say just how "traditional" it really is. A big part of the reason Apple stopped using switch style in the first place was that they weren't happy with the stability of the keys, so I would assume they've found another way to address that issue.
At any rate, the new Magic Keyboard offers a whole lot more key travel than the previous butterfly mechanism. According to Apple, the newest keyboard offers a full 1mm of key travel, which is almost double the 0.55mm the older, butterfly-based keyboard offered. So reliability concerns aside, for anyone who wasn't happy with the shallow key travel of the recent MacBook Pro models, the new keyboard may be more up your alley.
Apple is also using the occasion to (thankfully) make a couple of other key-related changes to their keyboard. First off, the new keyboard marks the return of a physical Escape key, shortening the Touch Bar just slightly to accommodate the key. The lack of a physical key has been one of the longstanding critiques about the Touch Bar MacBook Pro models, as it's a heavily used key in some application environments. Meanwhile the arrow keys have been harmonized; Apple is now using a more traditional inverted-T setup, making all four keys half-height, rather than having the left and right keys being full-size keys while the up/down keys were half-height.
Battery Size & Cooling
The other big change under the hood is total battery capacity. For their latest MacBook Pro, Apple is shipping the laptop with a 100 Watt-hour battery, which for practical purposes is the absolute largest battery they can even ship in a laptop – any larger and special permission is required to bring them on airplanes. Prior to this, Apple had shipped batteries as large as 99.5 Whr in the last revision of the 3rd generation MacBook Pro, however Apple cut the battery size beginning with the Touch Bar models, and has slowly been increasing it since then. Overall, the new battery is 16.4 Whr (~20%) larger.
The net result of the new battery is that Apple's official battery life figures are being bumped up an hour, from 10 hours on the 15-inch MacBook Pro to 11 hours on the 16-inch laptop. Which, as I'm sure some of our readers will have noted by now, is a smaller change than you'd expect for a 20% jump in battery capacity. And to answer why that is, let's talk about cooling.
Further taking advantage of their extra volume, Apple has refined their cooling design for the new laptop. While Apple's previous design was arguably no slouch, it was definitely tuned to size and volume over performance; a sensible decision in 2016, but less so in 2019. Without recapping the entire history of Intel CPUs, in the last 4 years Intel has doubled the number of cores in their chips while only making moderate improvements in their power efficiency, and as a result the amount of power required to run the entire chip during heavy workloads has been creeping up. So the MacBook Pro hasn't entirely kept up with the needs of a now 8 core processor running at full tilt.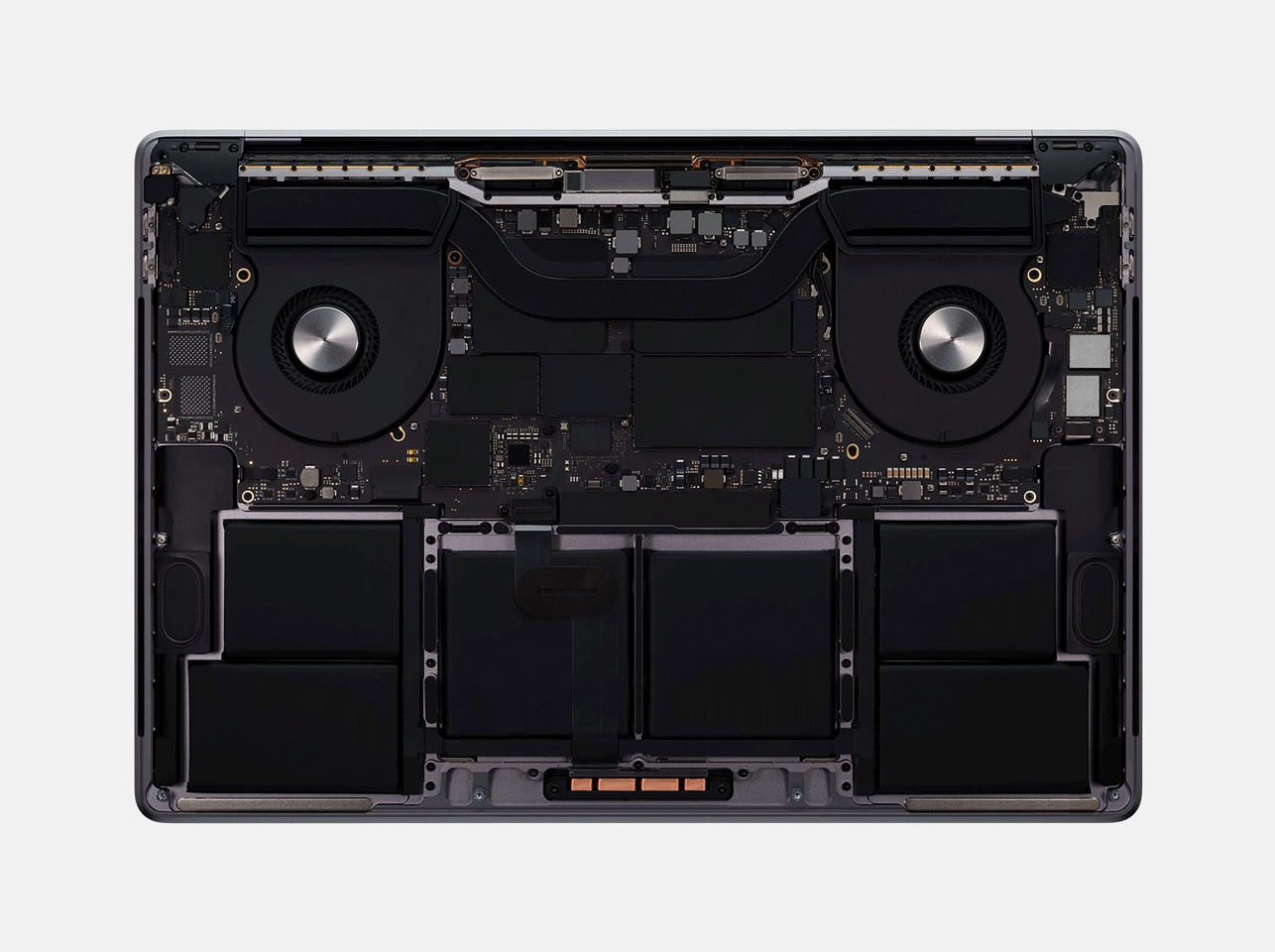 To that end, Apple's revised cooling design incorporates more of everything: more heatsink mass, more heatsink surface area, and more airflow running through those heatsinks. As a result, the 16-inch MacBook Pro can sustain 12 more watts of thermal dissipation, according to Apple. Unfortunately the company doesn't quote the previous generation figure, so we don't know what the total is, but 12 more watts is still significant in a 15/16-inch laptop, and should go a long way towards allowing the CPU and GPU to stay at higher turbo clockspeeds for longer.
Intel Inside & AMD GPUs Too
And for the moment at least, Apple's CPU cooling needs won't be changing. The company refreshed their 15-inch MacBook Pro just this summer with Intel's latest 6 and 8 core chips, ranging from the Core i7-9750H up to the Core i9-9980HK. These are still Intel's best chips for high-end (45W TDP) laptops, so these are the same CPUs that are going into Apple's newest hardware.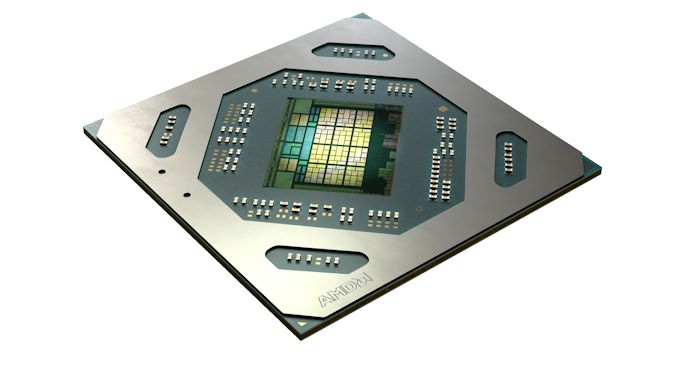 A much more significant change, however, is on the GPU side of matters. The new laptops continue to use discrete mobile GPUs, and for their new laptop Apple is tapping AMD's newest Radeon Pro 5300M and Radeon Pro 5500M mobile GPUs. These are based on AMD's 7nm RDNA architecture, offering significant gains in performance and power efficiency over the Radeon Pro 500 (Polaris) chips that they replace.
AMD Radeon Mobile Specification Comparison
AMD Radeon Pro 5500M
AMD Radeon Pro 5300M
AMD Radeon RX 5500M
AMD Radeon Vega Pro 20
CUs
24
20
22
20
Boost Clock
~1300MHz
~1250MHz
1645MHz
1300MHz
Throughput (FP32)
4.0 TFLOPs
3.2 TFLOPs
4.6 TFLOPs
3.3 TFLOPs
Memory Clock
12 Gbps GDDR6
12? Gbps GDDR6
14 Gbps GDDR6
1.5 Gbps HBM2
Memory Bus Width
128-bit
128-bit
128-bit
1024-bit
Max VRAM
8GB
4GB
4GB
4GB
Architecture
RDNA (1)
RDNA (1)
RDNA (1)
Vega
(GCN 5)
GPU
Navi 14
Navi 14?
Navi 14
Vega 12
Launch Date
11/2019
11/2019
Q4 2019
10/2018
As these are Apple-specific SKUs, AMD doesn't offer a whole lot of details about the new chips, but the specifications are similar to AMD's Radeon RX 5500M, which was announced last month. Notably, Apple's Radeon Pro 5500M SKU has 2 more active CUs than the open market Radeon RX 5500M; however overall throughput is lower, as Apple surely running their SKUs at lower TDPs. Joining this is also the Radeon Pro 5300M, which is the base SKU for the new MacBook Pro. On paper, this chip offers around 20% lower performance than the 5500M. Meanwhile Apple is also segmenting their GPU options by VRAM; while the 5300M comes with just 4GB of GDDR6 memory, the 5500M is available with both 4GB and a rather unique to Apple 8GB of VRAM.
Overall, Apple is claiming that the new GPUs offer a significant improvement in performance over Apple's previous generation 15-inch laptop. The Radeon Pro 5300M should be 120% faster than the Radeon Pro 555X used in the last-generation base models, while the Radeon Pro 5500M is said to offer 80% more performance than the outgoing Radeon Pro 560X.
More Memory, More Storage, More Profit
Shifting gears, Apple is also further ramping up their memory and storage capacity options for the new notebook. After moving to DDR4 and adding a 32GB option on the last-generation notebook, for the new 16-inch model Apple is doubling the DRAM options again, with the new top-end SKU now offering 64GB of DRAM. Better still, memory speeds are being increased slightly, from DDR4-2400 to DDR4-2667, so the new laptop gets 11% more memory bandwidth. Do note, however, that the base models still only come with 16GB of RAM, so that much hasn't changed.
Apple is thankfully also increasing their storage options across the board. The base configuration for the MacBook Pro 16-inch includes 512GB of flash, up from 256GB in the last generation. Meanwhile the high-end has increased by the same increment as well, and as a result Apple is now offering laptops with a whopping 8TB of storage. While I don't expect Apple to be alone here for too long, for practical purposes this is a new record for laptop storage; the only other laptops I know that come close are large laptops that are RAIDing together two SSDs. This, I suspect, is Apple flexing its muscles on the chip and integration front; producing their own SSD controller (as part of the T2) means they aren't reliant on component suppliers in the same way that other vendors are.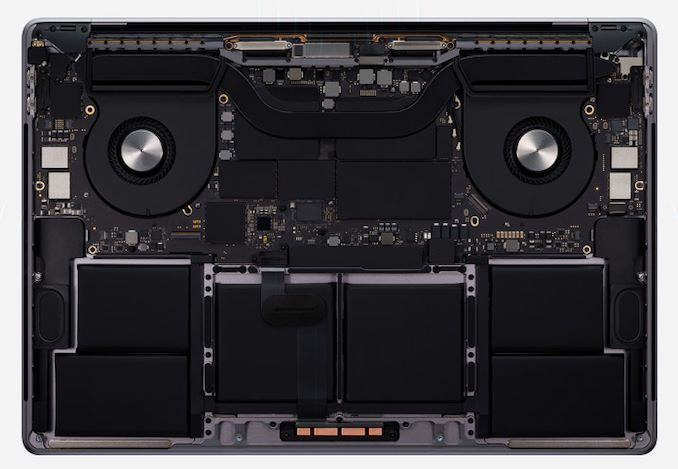 But the extra RAM and storage options will set your wallet back significantly. Apple is charging $400 to go from 16GB to 32GB of RAM, and another $400 on top of that to make it 64GB. Meanwhile the 1TB of storage upgrade runs for $200, and 8TB of storage is a $2400 upgrade – the cost of a whole 16-inch MacBook Pro to begin with. So it goes without saying that Apple's upgrade pricing remains ridiculously steep; Apple is charging around 3x to 4x what the DRAM and NAND cost in the spot market. Unfortunately everything is still soldered down as well, so potential MacBook buyers will have to decide up-front how much RAM and on-board storage they wish to pay for.
Rounding out the package, Apple has also given their audio system an upgrade. The embiggened laptop now incorporates a 6 speaker setup, as well as what Apple is calling "force‑cancelling woofers" to minimize the vibrations caused by their speakers. The platform has also added support for Dolby Atmos audio. Meanwhile, according to the company's press release, they've also improved the triple microphone array to reduce hiss by 40% and improve the overall signal to noise ratio. Apple's spec sheets also specifically mention beamforming, but it's not clear how much of this is new and how much of it is simply something Apple wasn't previously disclosing.
What's Not Changing
For all of the changes big and small in the 16-inch MacBook Pro, there are also several elements that aren't changing from the previous 15-inch laptop; or at least aren't changing enough for Apple to even bother noting the change in their specifications. As I noted towards the start, this laptop is something of a half-step forward, so not everything has received the same focus as the keyboard and cooling system.
The biggest surprise to me is that Apple hasn't upgraded their wireless capabilities at all; the 16-inch MacBook Pro still ships with 802.11ac (Wi-Fi 5) wireless. For a long time, Apple was on the cutting-edge of wireless support, being among the first vendors to add support for new wireless technologies and standards. So it's a surprise that a high-end laptop being launched by the company in late 2019 isn't going to ship with Wi-Fi 6, which Apple already made available in their phones a bit earlier this year.
Meanwhile don't expect any new wired I/O options either. Apple has retained the same 4 port Thunderbolt 3 setup, with 2 of the TB3-enabled USB-C ports on either side of the laptop. This is joined by a 3.5mm combo jack. Admittedly the internal plumbing of these laptops hasn't changed – Apple would still need more PCIe lanes for more TB3 ports – but including just 4 USB-C ports has remained a friction point with some Apple users.
Don't expect a better camera, either. Apple is still shipping the same 720p FaceTime HD camera as they have been for the past several years.
Pricing & Availability
Wrapping things up, the launch of the 16-inch MacBook Pro is a hard launch for Apple. The company is taking orders now, with delivery dates as soon as this week. Meanwhile the laptop will be available at brick & mortar stores a bit later, which judging from Apple's past launches is usually a week or two of lag time.
Pricing starts at $2399 for the base model, and $2799 for the upgraded model. Further build-to-order options go as high as $6099.