I had a lot of stuff come in this morning. First the iPad 3G, then Zotac's next-generation ION box and a bunch of NDA'd CPUs. A little earlier in the week however I got a delivery of a few new SSDs that I've been diligently working on. While the point of This Just In was to catalog parts as they come in so you could see what I'm working on, one particular SSD was too interesting to not start testing right away.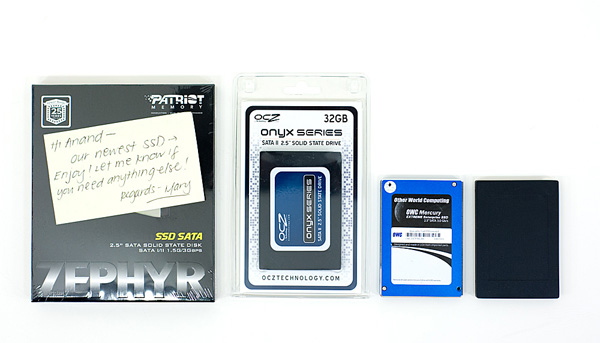 Starting at the very left we have Patriot's Zephyr, a JMicron JMF612 based value drive. Next to it we have the long awaited OCZ Onyx, a $99 Indilinx Amigos based SSD (Amigos is literally half a Barefoot in terms of channel count). Number three is OWC's Mercury Extreme SSD. This is the same product we reviewed a while back but it's been updated to use a SF-1200 controller instead of the original SF-1500/SF-1200 hybrid it used. I asked for it to confirm the controller used inside. The final item on the list is the exciting one. Note that it has no label, it doesn't even have a product name at this point. It may be something new entirely or carry an existing brand. I'll leave you all to speculate as to what it is, but I've hinted at it in a recent SSD piece. It's nothing earth shattering but it is an option I was curious about.
Expect to see some of these reviews crop up over the coming days!