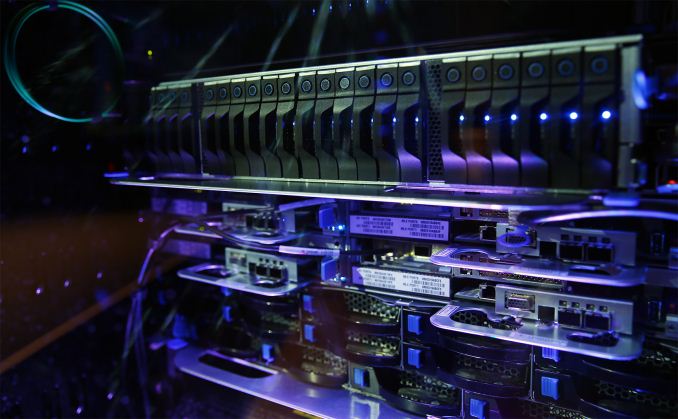 Through financial channels, Intel this week announced that it would hold a datacenter-related event for financial analysts, technology, analysts and the tech press next week in Santa Clara. There is potential for the company may make several important announcements regarding its datacenter products at the conference.
Intel's Data-Centric Innovation Summit will be held on August 8 at Intel's headquarters in Santa Clara. Key presentations from the event will be webcast, so people around the world will be able to see all the announcements and understand Intel's vision concerning next-generation datacenters.

What to expect from Intel's Data-Centric Innovation Summit is an interesting question. Since datacenters today solve different problems, from streaming movies over the Internet to processing financial transactions to solving complex mathematical tasks, we expect Intel to talk about its different technologies that enable datacenters for various purposes and success stories. However the meaty bit should be if anything is announced, or roadmaps are confirmed.
In particular, it is possible that Intel will talk about its forthcoming CPUs and FPGAs for mainstream as well as HPC servers. The chipmaker will also likely talk about its Optane products featuring 3D XPoint memory, though it is unclear whether it is going to touch upon next-generation 3D XPoint which was recently revealed in a roadmap. In fact, storage in general is gaining importance in the datacenter, so it will probably be a part of the conversation, given that the Flash Memory Summit conference is also happening at the same time.
From last week's leak about Intel's Cooper Lake-SP and Ice Lake-SP processors we also know that Intel considers various AI/DL/ML solutions as integral parts of its datacenter strategy, so it is highly likely that we are going to hear something about these products too. Besides, Intel could talk about its upcoming quantum computing efforts (e.g., Tangle Lake test chip) as the era of quantum computing is coming closer (not that it is ready for prime time though).
Intel's Data-Centric Innovation Summit to a degree will be a substitute for the server-related sessions we used to have at the Intel Developer Forum tradeshow, which was usually held around this time of the year but discontinued back in 2017. Keep in mind that in addition to this event there will be two important conferences this month: Flash Memory Summit on August 7 – 8 as well as Hot Chips on August 19 – 21. Being a big company, Intel will be at both events, but at present we cannot tell you what exactly to expect from the company and whether anything exclusive will be revealed at HC and FMS. At Hot Chips, Intel has a talk titled 'Intel's High Performance Graphics solutions in thin and light mobile form factors', and you can follow our live blog on AnandTech as it happens.
Related Reading
Source: Intel