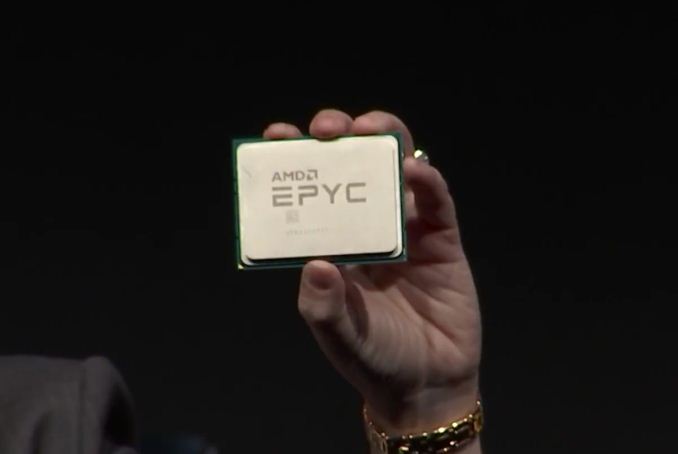 The process of AMD ramping up its EPYC efforts involves a lot of 'first-step' vendor interaction. Having been a very minor player for so long, all the big guns are taking it slowly with AMD's newest hardware in verifying whether it is suitable for their workloads and customers. The next company to tick that box is Oracle, who is announcing today that they will be putting bare metal EPYC instances available in its cloud offering.
The new E-series instances will start with Standard E2, costing around $0.03 per core per hour, up to 64 cores per server, Oracle is stating that this pricing structure is 66% less than the average per-core instance on the market. One bare metal standard instance, BM.Standard E2.52, will offer dual EPYC 7551 processors at 2.0 GHz, with 512 GB of DDR4, dual 25GbE networking, and up to 1PB of remote block storage. Another offering is the E2.64 instance, which will offer 16 cores by comparison.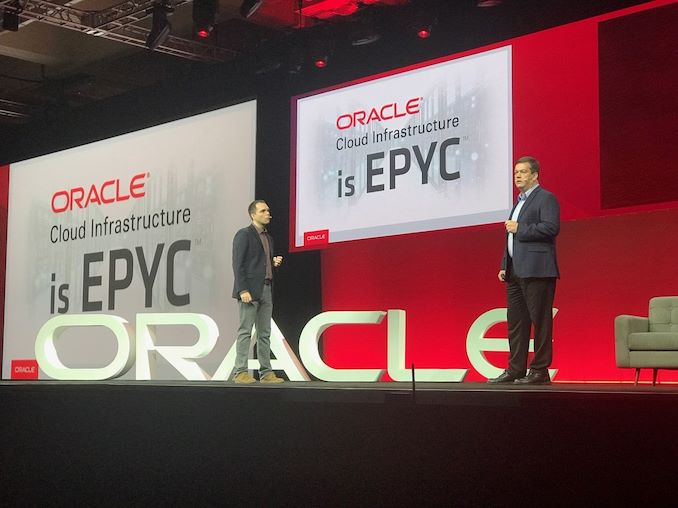 As well as the bare metal offerings, VM shapes from one to eight cores are also available, essentially occupying up to one of the zeppelin dies per CPU. Oracle cites AMD's ties with Hadoop as an ideal workload, such as Cloudera, Hortonworks, MapR, and Transwarp, as well as Oracle's ties to HPC, such as weather modelling, computational fluid dynamics, simulation/crash analysis, and oil and gas exploration.
Rollout of the new EPYC instances will start with the US East-Ashburn region from today, rolling out to London by the end of the month and other US/Europe locations by the end of the year. No word on Asia.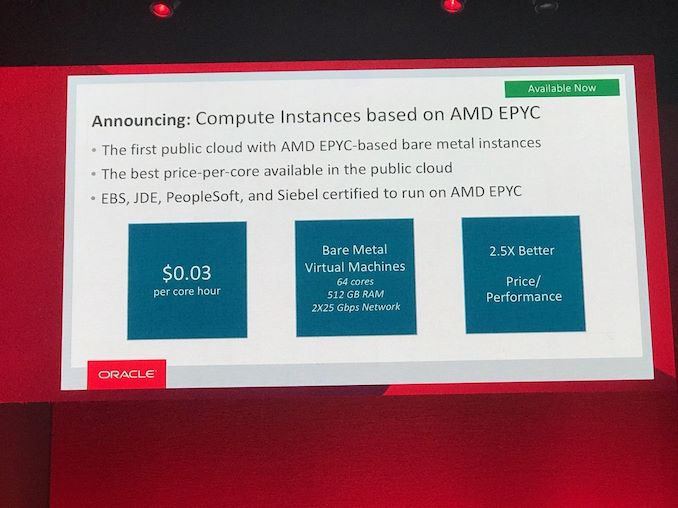 Snapping up Oracle means that AMD has another cloud provider in its cap, alongside Microsoft and Baidu that were announced last year. AMD has stated that they are playing with most (if not all) of the big cloud players in the business, and it will take time for the various companies to deploy EPYC systems either for public or private customers. There are several eyes on the future of AMD's portfolio, such as the next generation parts, but also the level of expansion this market is seeing recently with Intel unable to meet demand while still making processors at the same rate. AMD's goal to regain market share and re-energize its bottom line will depend significantly on vendor relationships, such as this one with Oracle, and execution of its new products.
Related Reading