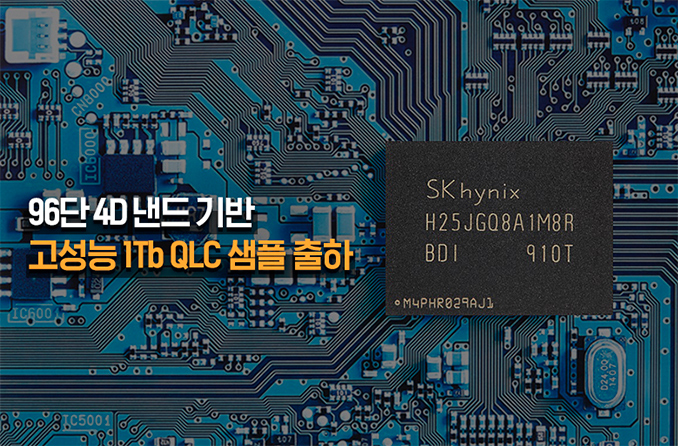 In a press release sent out this week, SK Hynix announced that it has started sampling the company's long-awaited 1 Tb 96-layer QLC NAND flash memory The new 1 Tb chip will enable SSD makers to build even higher capacity drives, taking advantage of QLC's higher bit density to bring down storage costs. Silicon Motion has already started development of turn-key SSDs featuring the new type of memory, whereas SK Hynix itself is working on its own datacenter drives based on QLC. SSDs using the new devices will be available sometime next year.
SK Hynix's 1 Tb 3D QLC is based on charge trap flash (CTF) design with a peripheral circuits under cells (PUC) architecture that places logic (address decoding, page buffers, etc.) under the memory layers to reduce the memory's die size. The manufacturer says that usage of this architecture enabled it to reduce die area of the chip by over 10% when compared to competing 1 Tb 3D QLC NAND devices. Officially, SK Hynix calls its CTF + PUC NAND "4D NAND".
Like other SK Hynix 3D-V5 devices, the 1 Tb 3D QLC chip uses a 1.2 Gbps Toggle 3.0 I/O interface, which is faster than SK Hynix's 72L 3D-V4 generation products. Meanwhile the chip also features a 64 KB page size (the smallest area of the flash memory that can be written in a single operation) and an 18 MB block size (the smallest area of the flash memory that can be erased in a single operation), which will further speed up performance of the new 3D-V5 devices compared to its predecessors. Finally, the memory device uses a quad-plane architecture.
Silicon Motion says that samples of SK Hynix's 1 Tb 3D QLC NAND device met client SSD product requirements and that the company was "impressed" by the NAND's performance, which is a strong indicator that SMI's work on a platform featuring the said flash memory is well underway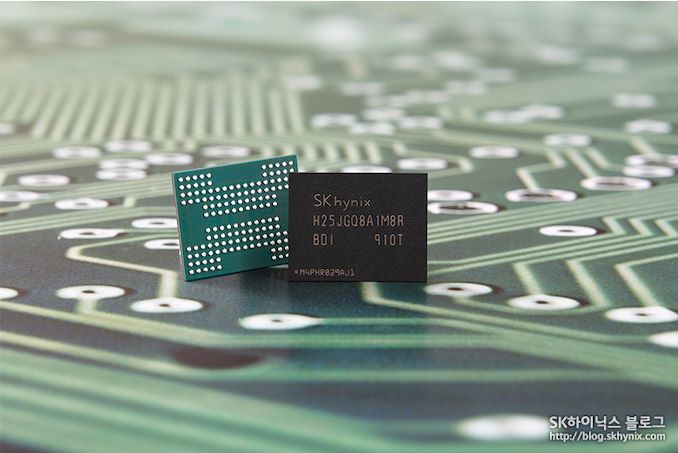 SK Hynix itself is also developing its own enterprise-grade SSDs based on 3D QLC NAND as well as an in-house designed controller/firmware. The company isn't providing additional details, but expects to release these drives sometimes next year. SK Hynix believes that its eSSDs powered by 3D QLC NAND will compete against high-capacity HDDs in datacenters.
"We plan to launch our own QLC-based SSD from next year when demand for enterprise QLC NAND is expected to become meaningful," said Han Joo Na, SK Hynix VP and head of NAND development strategy office. "In particular, we intend to establish a solid position in the market for high-density eSSD, which is replacing hard disk drives (HDD), with NAND Flash solutions as large as 16TB (terabytes) or larger."
Related Reading:
Source: SK Hynix