A week after I previewed OCZ's IBIS and the HSDL interface, SandForce revealed the specs of its next-generation enterprise SSD controller. The specs for the SF-2000 series call for up to 500MB/s sequential reads and writes, nearly saturating the newly introduced 6Gbps SATA bus. It should be no surprise that OCZ is very interested in moving away from SATA.
We met OCZ's first PCIe based SSD two years ago with the Indilinx based zDrive. Take four Indilinx Barefoot controllers, RAID them together on a PCIe card and you've got a zDrive. The first SandForce based PCIe solution actually took a step backwards: the OCZ RevoDrive only used two SandForce SF-1200 controllers.
Performance was of course much better than the old zDrive. SandForce has all but put Indilinx out of our minds (and systems). But the recently announced IBIS and the suspicious unpopulated connector on the original RevoDrive made it clear that there was room for more performance.
Meet the RevoDrive x2: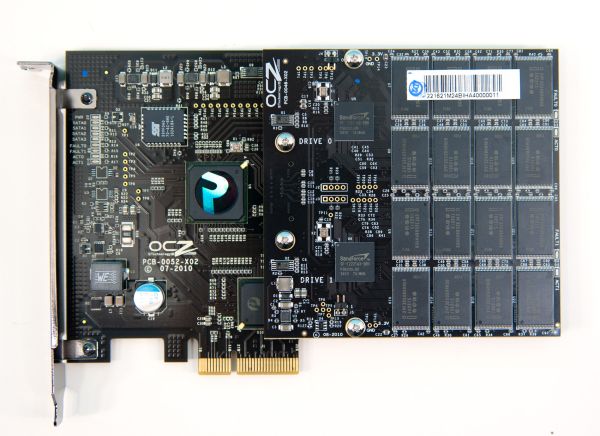 Identical to the original RevoDrive in every way, the x2 adds a second PCB complete with two more SF-1200 controllers. With a total of four SF-1200s on board, running in RAID-0, you should get IBIS-like performance without the HSDL interface.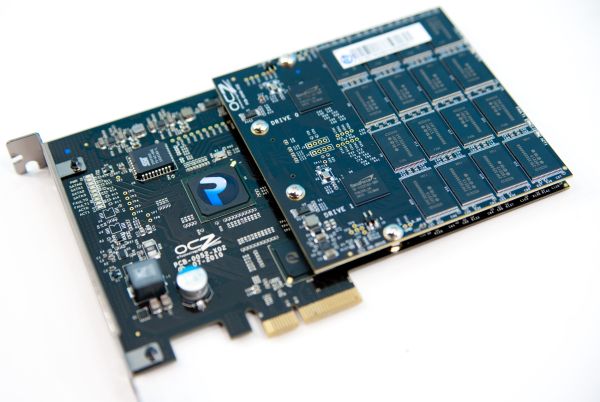 The architecture remains unchanged. To save on costs OCZ uses a PCI-X based RAID controller: the Silicon Image 3124. The 3124 has four independent SATA ports, each one connects to a SF-1200 controller.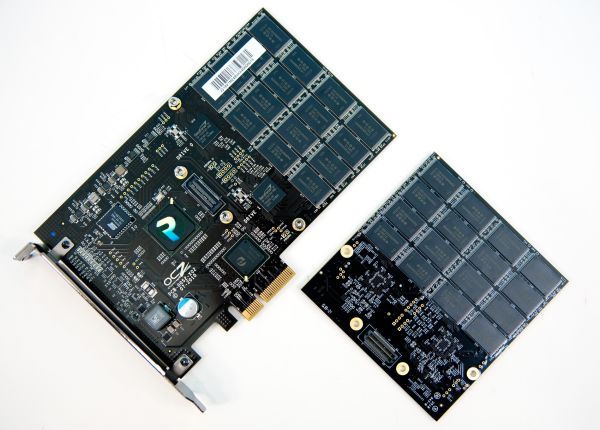 Between the Sil3124 and the PCIe x4 interface is a Pericom PCI-X to PCIe bridge. It converts the parallel PCI-X signaling into serial PCIe. The Sil3124 can deliver 1GB/s of bandwidth to the Pericom bridge, as can the 4 PCIe lanes (1GB/s in each direction) so there are no interface bottlenecks here. A quartet of SF-1200 controllers can't realistically push more than 1GB/s of data.
As with all RAID enabled solutions, there's no TRIM support but you do get idle garbage collection.
There's no performance advantage over you running four of your own SF-1200 based SSDs in RAID-0. The RevoDrive x2 is pretty much a four drive SF-1200 SSD on a stick for those who want simplicity.
The previous RevoDrive was supposed to be cost competitive with a two drive RAID array. Today, looking at pricing, a 240GB RevoDrive sells for $519 while a pair of 120GB Vertex 2s will set you back $480. You pay a premium for the simplicity but performance is identical to rolling your own SSD RAID setup.