The host of accessories, as well as the size of the main unit, make the Fusion HD package box pretty big.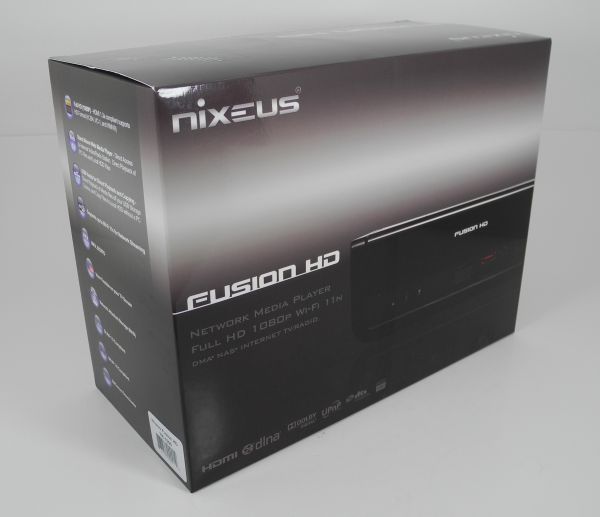 Inside the box, we have the following components:
Nixeus Fusion HD main unit
30W power adapter
IR remote with batteries
Wireless N USB dongle
AV cable (3.5mm)
Ethernet cable
Screws for internal hard disk mounting
Setup guide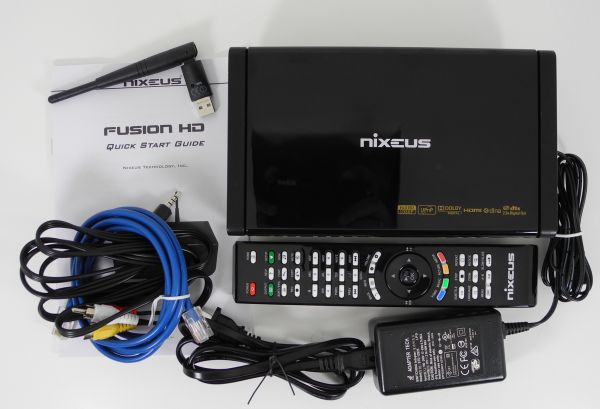 The main unit has a length of 7.25", width of 5.375" and height of 3.125". The USB Wi-Fi dongle comes bundled with the unit. With support for Wi-Fi Protected Setup (WPS) using Push Button Configuration (PBC), getting the device connected to the wireless network is a breeze. The remote is nothing to write home about, and is of the same quality as those found in other media streamers like the AC Ryan PlayOn HD2. The buttons on the remote feel cheap, but this is nothing out of the ordinary for almost 90% of the streamer units out there.
The front of the main unit has 3 LEDs to indicate the power status, hard disk activity and IR command reception. We have the IR receiver and 1 USB 2.0 host port along with the power switch on the extreme right. In addition to these, we also have eSATA and mini USB 2.0 slave ports which can help the media player act as a DAS (direct attached storage).
The two sides of the unit have ventilation slots and one of them also has a small fan behind it (made necessary due to the internal hard disk capability).
On the rear side, we have the power adapter connector, RJ-45 100 Mbps port, another USB 2.0 host port (best used for the Wi-Fi dongle), optical and coaxial SPDIF, 3.5mm composite video out and the HDMI 1.3 port.
Let us wrap up this section with a table summarizing the A/V and data connectivity options of the Nixeus Fusion HD
Nixeus Fusion HD
Feature
Nixeus Fusion HD Config
HDMI
Yes (v1.3)
Component
No
Composite
Yes (with Audio)
VGA
No
SPDIF
Yes (Optical and Coaxial)
Stereo
No
Optical Disk Drive
No
USB
Yes (2 x 2.0 Host, 1 x 2.0 Slave)
eSATA
Yes (Client)
LAN
Yes (100 Mbps)
Internal HDD
Supported (3.5", Not Included)
WiFi
Yes (300 Mbps Wireless N USB Dongle)
Card Reader
No