First Impressions, Design, and Specifications
For most people seeking accurate color reproduction and wide viewing angles, IPS has been the screen technology of choice for years now. The main issues against IPS have typically been response time for gamers, a higher black level than VA technologies, and more prominently cost. More and more vendors have been introducing e-IPS displays, which is a more transparent version of IPS that allows for the use of lower powered backlights, lowering the cost to consumers. The tradeoff is that this does have a negative effect on contrast shifts in the panel when viewed at an angle, though color shifts still are not present.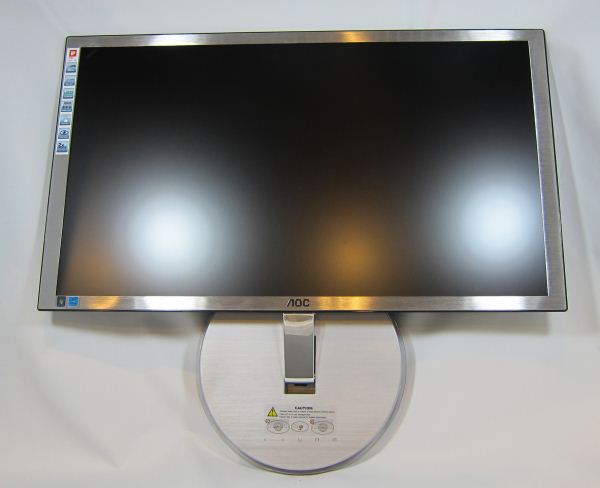 The other change is that many of these e-IPS panels have actually been 6-bit panels with Advanced Frame Rate Control. Much like a TN panel, it can't produce a full 8-bits of dynamic range for each color and instead for shades that it cannot produce it will cycle between two different shades that would result in the desired shade. For some people this effect isn't visible and they will gladly take the benefits of IPS for this side effect, but for graphics professionals the lack of true color resolution makes it a side effect they can't live with.
There was a bit of chatter this past fall when AOC introduced the i2353 display, which is an LED backlit IPS panel with an MSRP under $200. Had the prices of IPS panels and components finally fallen to the point where they would be able to start forcing companies to transition to them away from TN for their affordable monitor lines? To find out if the AOC monitor was still able to offer a good level of performance at this price point we requested a review sample, which they quickly provided.
Once the AOC was unpacked from its box and upright on its integrated stand, I have to say I thought it looked pretty good. They've used the LED backlighting to create a very nice, thin display with a plastic trim that looks like brushed aluminum. The integrated stand contains a Dsub input, dual HDMI inputs, and a headphone output. At first I couldn't even see the buttons for power and the OSD, which are barely labeled on top of the base, but I eventually located them. The feeling of the buttons is not really one of high quality, as you seem to need to press in on the entire base to trigger them, but they were responsive overall.
The downside to this setup is the lack of flexibility in ergonomic adjustments, as well as mounting options. The integrated base offers only a tilt control for the display, and that itself is very tight and hard to adjust. This integrated base also means that there are no VESA mounting holes on the display itself. There are your standard 100mm VEGA holes on the bottom of the base, and as you can fold it to lay perfectly flat with the monitor, this would allow you to still mount it to the wall; however, it would still make an aftermarket stand with height and other adjustments an impossibility.
A welcome touch is that both the bezel and screen are a matte finish so I had no real issues with glare from the lights in my room. The very edge of the bezel does reflect a bit of light, but overall it was much better than many other monitors. On the whole, I really liked the design of the AOC as it looked very nice on my desk, and the level of adjustment was in line with other models in the price range. From a purely superficial perspective, the AOC looks like a good choice for a mainstream LCD.
AOC i2353Ph
Video Inputs
1x Dsub, 2X HDMI
Panel Type
eIPS, 6-bit + AFRC
Pixel Pitch
0.265mm
Colors
16.7 million
Brightness
250 nits
Contrast Ratio
1000:1
Response Time
5ms GTG
Viewable Size
23"
Resolution
1920x1080
Viewing Angle
178 H/178 V
Backlight
LED
Power Consumption (operation)
45 Watts Maximum
Power Consumption (standby)
0.1 Watt
Screen Treatment
Matte
Height-Adjustable
No
Tilt
Yes (-4 to 14 degrees)
Pivot
No
Swivel
No
VESA Wall Mounting
Yes
Dimensions w/ Base (WxHxD)
21.6" x 15.3" x 7.3"
Weight
5.5 lbs.
Additional Features
Headphone Jack, 2 x 2W speakers
Limited Warranty
3 Years
Accessories
VGA cable, PSU and power cable, CD with drivers and software
Price
Online for $190 (as of 1/24/2012)
Viewing angles were also good on the AOC as you can see in the gallery below. At the very edges you start to lose some contrast, but colors remain very good and no one is likely to work at the angles where those shifts start to appear anyway.