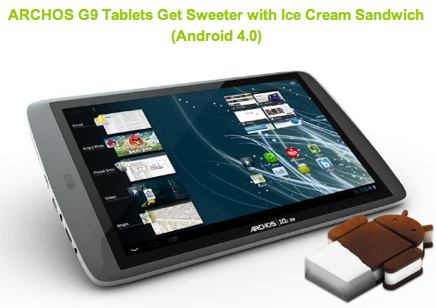 We saw a preview build at ICS and now it's here. Archos announced today a worldwide rollout of its Android 4.0 (Ice Cream Sandwich) update for the G9 line of tablets. We've been waiting expectantly for the Archos G9 Turbo editions, with their TI OMAP4460 SoC's tuned to 1.5GHz, since the line was first announced last fall. We still haven't seen one so tuned, but the current edition uses TI's OMAP4430 clocked at 1.2GHz, so performance should match the Galaxy Nexus, which also uses TI's OMAP44x0. Archos promises their build will leverage the GPU for excellent video output of their usual panoply of codecs and containers, and all at 1080p, with HDMI output.
Much has been made about the slow roll-out of Ice Cream Sandwich to devices, and user's frustration is palpable. The developer community has worked tirelessly to squeeze Android 4.0 on to every manner of device, and yet only a few updates have been rolled out by big OEMs; and a seemingly shrinking list of updates is planned over the coming months. Archos, either through luck or foreknowledge, based their product on the development platform for ICS, giving them a slim advantage over competitors with tablets based on alternate SoCs. Possibly more crucial is that Archos applies all its development know-how to adding media functionality, versus designing and executing on a thorough UI reskin and layers of widgets and services.
Compared to their competitors products, though, Archos doesn't have the prettiest chassis's, nor the highest quality screens. But with storage options up to 250GB and a history of providing excellent media playback their products become ever more compelling. Our biggest concern, though, is their ability to execute on hardware; it's been 8 months since the line was announced, and the 1.5GHz variants are still scarce. We'll try to get some phone time with Archos representatives to see if we can get more details, and maybe some hints at what's next. In the meanwhile, anyone looking for a speedy Android slate, running the most current software revision should seriously consider the G9 line, starting at just $269, it could be a real steal.