The last significant redesign of the iPhone platform came in 2010 with the iPhone 4. It was an update that literally touched all aspects of the device, from SoC to display to baseband and of course, chassis. Last month's launch of the iPhone 5 is no different in magnitude. The sixth generation iPhone makes some of the biggest changes to the platform since its introduction in 2007.
Visually the device begins by evolving the design language of the iPhone 4/4S chassis. From the launch of the iPhone 4 it was quite obvious that Apple had picked a design it was quite proud of. Thus it's not too surprising that, from a distance, the iPhone 5 resembles the previous two iPhone models. We'll get into material differences shortly, but what make the iPhone 5 design such a radical departure is its larger display.
All previous iPhones have maintained the same 3.5-inch, 3:2 aspect ratio display. With the rest of the world quickly moving to much larger displays, and with 16:9 the clear aspect ratio of choice, when faced with the decision of modernizing the iPhone platform the choice was obvious.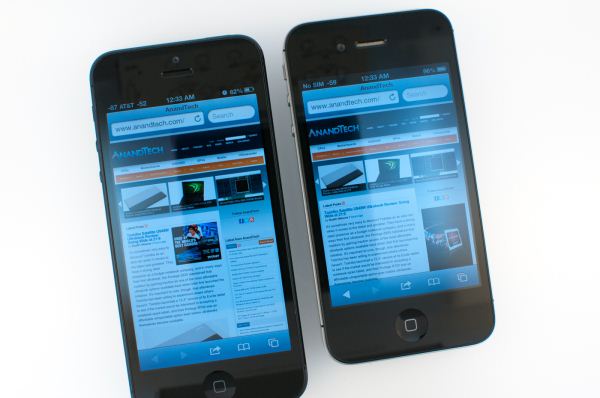 The iPhone 5 embraces a taller, 4-inch, 16:9 1136 x 640 display opting to lengthen the device instead of increasing its area in both dimensions. The result is a device that is distinctly an iPhone, albeit a modern one. The taller display doesn't do much to make desktop web pages any easier to read as a result of the width staying the same. Those longing for an HTC One X or Galaxy S 3 sized device running iOS are out of luck. Reading emails and typing are both improved though as there's now more room for lists and the keyboard no longer occupies as much of the display. The taller device can be more awkward to use if you have smaller hands, but the added screen real estate is honestly worth it. Once you get used to the iPhone 5's display, going back to the older models is tough.
The taller chassis went on a diet as well. The iPhone 5 is now considerably thinner and lighter than its predecessor, which is yet another factor that contributes to it feeling more modern.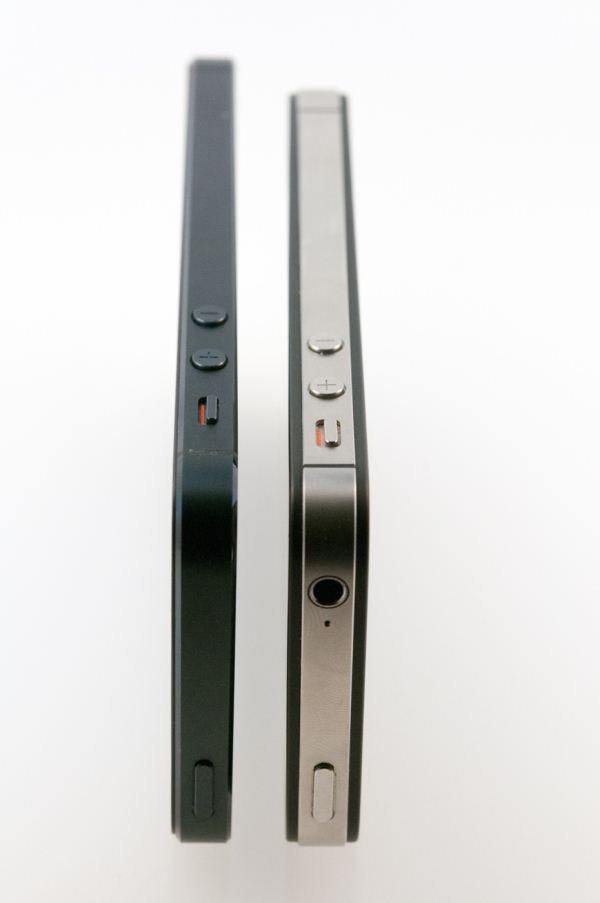 Internally the device changes are just as significant, if not more, than those on the outside. The iPhone 5 includes LTE support, which in areas where LTE networks are deployed can be enough reason alone to warrant an upgrade.
The iPhone 5 also includes a brand new SoC from Apple: the A6. For the first time since the introduction of the iPad, Apple has introduced a major branded SoC on an iPhone first. The iPhone 4 used the A4 after it debuted on the iPad, and the 4S picked up the A5 months after the iPad 2 launched with it. The A6 however arrives first on the iPhone 5, and with it comes two of Apple's first, custom designed CPU cores. We've always known Apple as a vertically integrated device and software vendor, but getting into CPU design takes that to a new level.
Physical Comparison
Apple iPhone 4S
Samsung Galaxy S 3 (USA)
HTC One S
Apple iPhone 5
Height
115.2 mm (4.5")
136.6 mm (5.38" )
130.9 mm (5.15" )
123.8 mm (4.87")
Width
58.6 mm (2.31")
70.6 mm (2.78")
65 mm (2.56")
58.6 mm (2.31")
Depth
9.3 mm ( 0.37")
8.6 mm (0.34")
7.8 mm (0.31")
7.6 mm (0.30")
Weight
140 g (4.9 oz)
133g (4.7 oz)
119.5g (4.21 oz)
112 g (3.95 oz)
CPU
Apple A5 @ ~800MHz Dual Core Cortex A9
1.5 GHz MSM8960 Dual Core Krait
1.5 GHz MSM8260A Dual Core Krait
1.3 GHz Apple A6 (Dual Core Apple Swift)
GPU
PowerVR SGX 543MP2
Adreno 225
Adreno 225
PowerVR SGX 543MP3
RAM
512MB LPDDR2-800
2 GB LPDDR2
1 GB LPDDR2
1 GB LPDDR2
NAND
16GB, 32GB or 64GB integrated
16/32 GB NAND with up to 64 GB microSDXC
16 GB NAND
16, 32, or 64 GB integrated
Camera
8 MP with LED Flash + Front Facing Camera
8 MP with LED Flash + 1.9 MP front facing
8 MP with LED Flash + VGA front facing
8 MP with LED Flash + 1.2MP front facing
Screen
3.5" 960 x 640 LED backlit LCD
4.8" 1280x720 HD SAMOLED
4.3" 960x540 Super AMOLED
4" 1136 x 640 LED backlit LCD
Battery
Internal 5.3 Whr
Removable 7.98 Whr
Removable 6.1 Whr
Internal 5.45 Whr
There's a lot to talk about when it comes to the new iPhone. Whether it is understanding the architecture of the A6 SoC or investigating the improved low light performance of the iPhone 5's rear facing camera, we've got it here in what is easily our most in-depth iPhone review to date. Let's get started.