Introducing the Lenovo IdeaCentre A7
As we mentioned in our recent review of Dell's enterprise-class all-in-one, the OptiPlex 9010 All-in-One, balancing the needs of an all-in-one system and making it feel like a solid alternative to a conventional desktop is a difficult process. By potentially grafting an entire computer to the back of a display, you immediately reduce the thermal headroom of the hardware by a substantial degree. You're also dealing essentially with most of the trappings of a notebook in a much, much bigger body.
On hand today is Lenovo's consumer-grade IdeaCentre A7 all-in-one, and it's a surprisingly solid offering in a product category that seems to be continually struggling to find its true niche and identity. When you buy an Apple iMac, it's because that's the only desktop Mac in that price class, but an all-in-one PC must contend with discrete desktops in its category and offer a reasonable value proposition. Did Lenovo produce a solid offering, or are they offering an answer for a question nobody asked?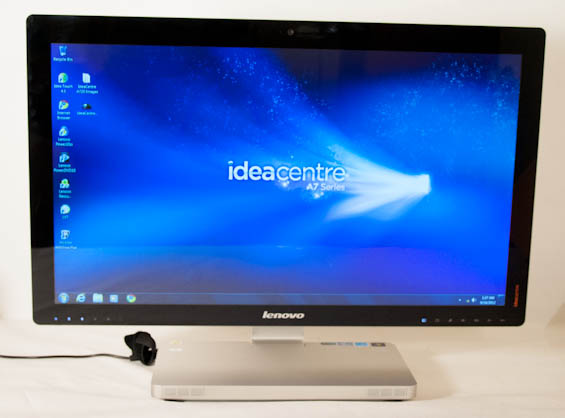 Evaluating all-in-ones is a tough call, and vendors have to make them appealing enough to outweigh their flaws. They're essentially notebook computers with giant screens but without batteries, sealed up about that tightly. It's true that very few people outside of enthusiasts upgrade their processors or motherboards, but video cards have become increasingly relevant even for regular users, and that's a sacrifice the informed shopper has to consider. There's also the fact that when the computer half of an all-in-one ages and isn't as great as it used to be, you wind up potentially tossing a quality monitor in the process. An all-in-one's lifespan could very well become severely truncated compared to a garden variety desktop, so the all-in-one has to provide a distinct enough experience and justify itself enough to warrant the loss in longevity.
Lenovo's ThinkCentre A7 may very well have done that.
Lenovo ThinkCentre A7 Specifications
Processor
Intel Core i7-3610QM
(4x2.3GHz, Hyper-Threading, 3.3GHz Turbo, 22nm, 6MB L3, 45W)
Chipset
Intel HM76
Memory
2x4GB Micron DDR3-1600 SODIMM (Max 2x4GB)
Graphics
NVIDIA GeForce GT 630M 2GB DDR3
(96 CUDA cores, 800MHz/1600MHz/1.8GHz core/shader/memory clocks)
[Ed: NVIDIA's control panel reports the wrong clocks on the GT 630M]
Display
27" LED Glossy 16:9 1920x1080 IPS panel
Hard Drive(s)
Western Digital Scorpio Blue 1TB 5400-RPM SATA 3Gbps HDD
Optical Drive
Blu-ray/DVDRW combo (HL-DT-ST CA30N)
Networking
Realtek PCIe Gigabit Ethernet
Realtek RTL8188CUS 802.11b/g/n
Bluetooth 3.0
Audio
Realtek ALC272 HD Audio
Stereo speakers
Headphone and mic jacks
Front Side
Webcam
Speakers
Right Side
Optical drive
SD/MMC card reader
Power button
Left Side
Vent
USB 3.0
HDMI in
HDMI out
Back Side
TV tuner antenna
Headphone and mic jacks
USB 3.0
2x USB 2.0
Power
Ethernet
Kensington lock
Operating System
Windows 7 Home Premium SP1 64-bit
Dimensions
25.6" x 18.9" x 8.7"
650mm x 480mm x 220mm
Weight
25.6 lbs
11.6 kg
Extras
Webcam
Flash reader (MMC, SD/Mini SD, MS/Duo/Pro/Pro Duo)
USB 3.0
10-point multitouch screen
TV tuner
Warranty
1-year parts and labor
Pricing
$1,495
All-in-ones continue blurring the line between notebooks and desktops by often incorporating a mixture of notebook and desktop-class hardware with varying degrees of success. For what it's worth I generally prefer the use of notebook-class hardware as with Sandy Bridge and now Ivy Bridge, the CPUs are typically fast enough. NVIDIA also has a big winner with the Kepler-powered GK107, but unfortunately Kepler isn't making an appearance here as Lenovo has gone with last generation's less powerful (and ultimately less efficient) Fermi architecture.
The Intel Core i7-3610QM may be the entry level of Intel's mobile quad cores, but that doesn't mean it's underpowered. As a quad core processor running at a nominal 2.3GHz on Intel's Ivy Bridge microarchitecture it offers plenty of performance on its own, but it's also able to turbo up to an impressive 3.1GHz on all four cores. Unfortunately Lenovo made what I consider a substantial gaffe with their graphics hardware.
It may have a current-generation moniker, but the GF108 GPU powering the GeForce GT 630M is three generations old now, and dumping 2GB of DDR3 on it doesn't take any of the stank off of it. With just 96 CUDA cores it's underwhelming, but the clocks are actually quite good at 800MHz core/1600MHz shader. (Note that NVIDIA's own control panel System Information utility incorrectly reports what would be an embarassingly low 475MHz core clock/950MHz on the shaders.) Even so, the GT 630M is underpowered and unworthy of being in what's essentially a flagship consumer all-in-one, as GK107 is faster and uses less power. Unfortunately the 630M isn't leveraging Optimus either; while Optimus is substantially less relevant in a desktop system, not enabling it also results in losing access to Intel's HD 4000 IGP and with it, the very useful QuickSync hardware video encoder.
Unfortunately the rest of the hardware doesn't get too much better. While I'm fond of Lenovo's decision to go all-mobile with the A7, a 5400-RPM hard drive in a $1,500 all-in-one seems frankly cheap. They've also opted for all Realtek on the networking hardware instead of at least including an Intel Centrino wireless adapter, and the wireless connectivity is strictly 1x1 b/g/n. There's a TV tuner included, but I'm dubious as to its value.
Thankfully things do pick up when it comes to the display. While Lenovo is still using a 1080p panel at this 27" form factor, it's an IPS panel with multi-touch built in, making it ideal for when Windows 8 drops.