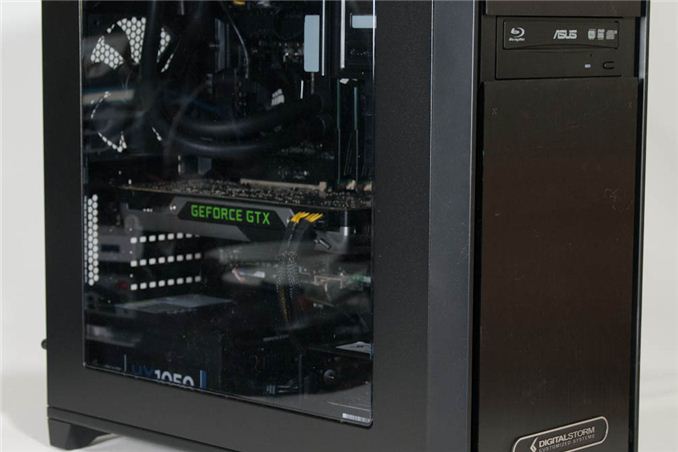 Introducing the DigitalStorm Virtue
One of the biggest benefits of doing system reviews from boutiques like DigitalStorm is the chance to see what talented builders do with brand new hardware once it's released into the wild. Single consumers/enthusiasts get used to and understand the range of performance typically available in overclocking retail kit, but boutiques have to contend with overall performance potential of a range of products on a larger scale. Whether or not you get a decent overclock on your i7-4770K isn't a huge deal; you bought the chip, you're good to go. But for a boutique it becomes a more serious issue, defining their advertising and ultimately helping us all paint a fairly broad picture of what we can expect or at least hope for from new kit.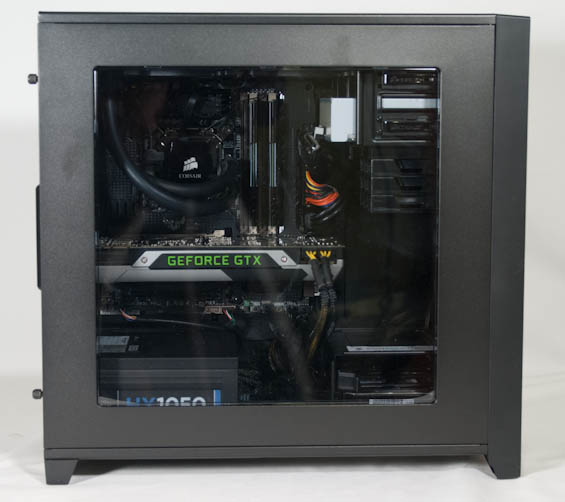 If you're like me, you were probably incredibly underwhelmed by initial reviews of Haswell. Ivy Bridge proved to be a decent overclocker, but Intel's miserly switch from fluxless solder to thermal paste as a thermal interface material in their chip packaging put a hard limit on what we could really do with it, and they're continuing that aggavating trend with Haswell. One of the most frustrating results is a flattening of the overclocked performance curve from Sandy Bridge to Ivy Bridge, and thankfully we can at least test and see today if Haswell does anything to change things.
With the recent refresh of our benchmarking suite (I carry over notebook benchmarking to the desktop and then add a surround test), I realized we had a perfect opportunity to test just how much progress we've made from one generation to the next. One of the perks of working in the industry is access to high end kit; my personal desktop workstation isn't just fun to have, it also serves as an extremely useful reference platform that I can now pit DigitalStorm's attractive new micro-ATX mid-tower, the Virtue, against.
DigitalStorm Virtue Specifications
Chassis
Corsair Obsidian 350D
Processor
Intel Core i7-4770K
(4x3.5GHz, Turbo to 3.9GHz, Overclocked to 4.4GHz, 22nm, 8MB L3, 84W)
Motherboard
ASUS Gryphon Z87
Memory
2x8GB A-Data DDR3-1600 (maximum 4x8GB)
Graphics
eVGA NVIDIA GeForce GTX 780 3GB GDDR5
(2304 CUDA Cores, 862MHz/901MHz/6GHz core/boost/RAM, 384-bit memory bus)
Hard Drive(s)
Corsair Neutron GTX 120GB SATA 6Gbps SSD

Western Digital Caviar Black 1TB SATA 6Gbps SSD
Optical Drive(s)
ASUS BC-12B1ST BD-ROM/DVD+-RW
Power Supply
Corsair HX1050 80 Plus Silver PSU
Networking
Intel I217-V Gigabit Ethernet
Audio
Realtek ALC892
Speaker, line-in, mic, and surround jacks
Front Side
Power button
Reset button
2x USB 3.0
Mic and headphone jacks
Optical drive
Top Side
-
Back Side
4x USB 2.0
DVI
HDMI
Optical out
4x USB 3.0
Gigabit ethernet
Mic, line-in, headphone, and surround jacks
2x DVI (GTX 780)
1x HDMI (GTX 780)
1x DisplayPort (GTX 780)
Operating System
Windows 8 64-bit
Extras
80 Plus Gold PSU
240mm Corsair H100i CPU Cooler
Warranty
3-year limited parts and labor, lifetime customer support
Pricing
Starts at $1,403
Review system configured at $2,563
DigitalStorm has four configurations for the Virtue, starting at $1,403. The entry level offers a basic quad core Haswell with no overclocking and a GeForce GTX 650 Ti Boost; it's adequate for gaming, but informed consumers will want the second level model featuring an i5-4670K and GeForce GTX 770 for $1,735. Worth mentioning, though, is that DigitalStorm offers a 120GB Corsair Neutron GTX SSD and 1TB HDD minimum, across the board, in all configurations of the Virtue. The highest end model bumps the SSD capacity up to 240GB and the GPU to a GeForce GTX Titan.
There isn't too much to say about the Virtue as we have it, though. DigitalStorm was able to eke out a healthy 4.4GHz overclock on the i7-4770K, but the overclock range they offer is just 4GHz to 4.4GHz, which is underwhelming to say the least. That's not their fault, though; iBuyPower only goes up to about 4.2GHz, ~4.5GHz if you're using one of their signature custom liquid cooling systems. CyberPowerPC offers roughly the same "20% overclock" which works out, again, to about 4.2GHz. DigitalStorm's overclocking options are also essentially in line with AVADirect and other boutiques; Haswell just doesn't have a whole lot of headroom. Meanwhile, DigitalStorm does offer performance tuning on their graphics cards, but the GTX 780 in our review unit is left at stock.
Representing the best and brightest of the last generation is my own custom workstation which will be referred to in charts as the "Reference PC." This is, in my humble opinion, about as good as it can get before you switch over to a custom cooling loop.
Reference PC Specifications
Chassis
Nanoxia Deep Silence 1
Processor
Intel Core i7-3770K
(4x3.5GHz, Turbo to 3.9GHz, Overclocked to 4.6GHz, 22nm, 8MB L3, 77W)
Motherboard
Gigabyte GA-Z77X-UD5H
Memory
4x8GB Crucial Ballistix Sport Extreme Low Profile DDR3L-1600
Graphics
NVIDIA GeForce GTX 680 2GB GDDR5 modified with Arctic Cooling Accelero Hybrid
(1536 CUDA Cores, 1264MHz/6.6GHz core/RAM, 256-bit memory bus)
Hard Drive(s)
Plextor PX-M5S 256GB SATA 6Gbps SSD

Samsung SSD 840 500GB SATA 6Gbps SSD
Power Supply
Rosewill Capstone 750W 80 Plus Gold PSU
Audio
Realtek ALC899
Operating System
Windows 8 Professional 64-bit
Extras
Case modified with Noctua fans
CPU cooled by Swiftech H220
GPU cooled by Arctic Cooling Accelero Hybrid
When you get to the benchmarks, you'll see this is really about as fast as a last generation, single-GPU configuration with a mainstream CPU was going to get. 4.6GHz is healthy for Ivy Bridge, and the Arctic Cooling Accelero Hybrid allowed the GeForce GTX 680 to not only settle on a high boost clock, but maintain it consistently throughout prolonged gaming sessions. This is with the stock GTX 680 BIOS; a modified BIOS with higher voltage might have been able to push the silicon further, but I've heard exactly enough about modified BIOSes burning out GK104 to not tempt fate