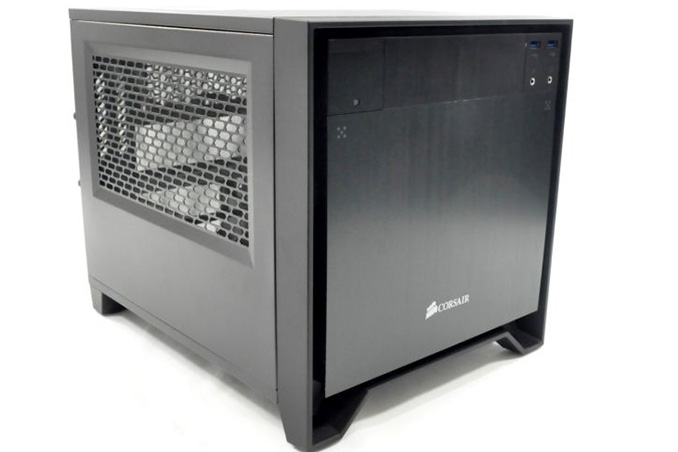 Ed: As this is his first review, we'd like to quickly introduce E. Fylladitakis. E. is taking over Cases & Cooling coverage as our newest editor, so this is the first of many articles you will see from him over the coming months
Corsair is a very well-known manufacturer among technology enthusiasts, and the company has been a supplier of premium memory modules for decades. During the past several years however, the company has successfully diversified into many segments of the market and today offers numerous products: computer cases, power supply units, air and liquid CPU coolers, solid-state drives, and gaming peripherals can all be found in Corsair's product ranks.
With the recent announcement of the Obsidian 250D, the company chose to start 2014 by joining the Mini ITX case fever, something most other large case designers and manufacturers have done recently. The Obsidian 250D however has not been designed with minimum proportions in mind; despite the Mini ITX format, it can still house very powerful gaming systems and advanced cooling solutions. The specifications of the case can be seen in the following table.
Corsair Obsidian 250D
Motherboard Form Factor
Mini-ITX
Drive Bays
External
1 × 5.25"
Internal
2 ×2.5" 2 × 3.5"
Cooling
Front
1×200 / 140 mm (140 mm included)
Rear
2×80mm
Top
-
Side
2 x 120 mm (1 × 120 mm included)
Bottom
-
I/O Port
2x USB 3.0, 1x Headphone, 1x Mic
Power Supply Size
ATX
Clearances
HSF
≈145 mm
PSU
-
GPU
≈295 mm
Dimensions
350 mm ×277 mm ×290 mm(D × W × H)
Weight
≈5kg
Prominent Features
Aluminum front fascia and thick steel construction Top window for component visibility Thumbscrew backplate removal for PSU and hard drive access Easily removed dust filters on all intakes Simultaneously fit two 3.5"/2.5" drives, two 2.5" drives, one 5.25" drive, a full sized PSU, a 290mm long GPU, and a 240mm radiator Innovative three panel removal for sides and top panel, with thumbscrews Tons of cable routing tie downs for easy cable maintenance Tool free installation of all drives
Price
≈ 70 EUR / 89.99 USD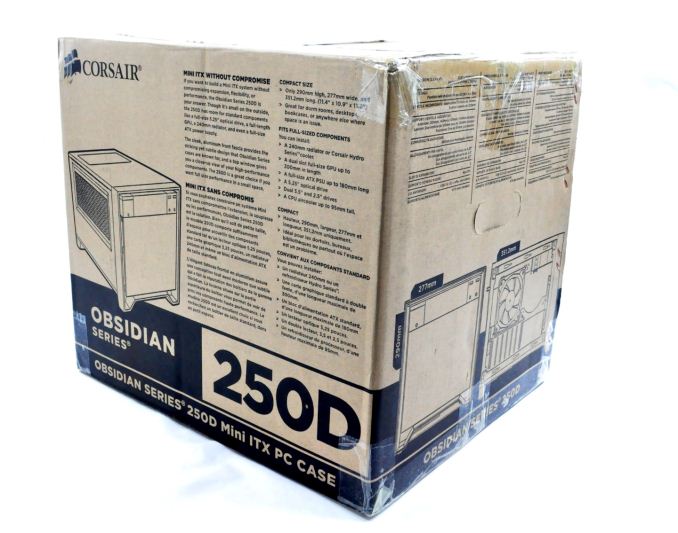 We received the Obsidian 250D inside a short, simple cardboard box that hints at the cubic shape of the case. Inside the box, we found the case packed between thick Styrofoam slabs and wrapped in a nylon bag, which is more than ample shipping protection for the small, lightweight case.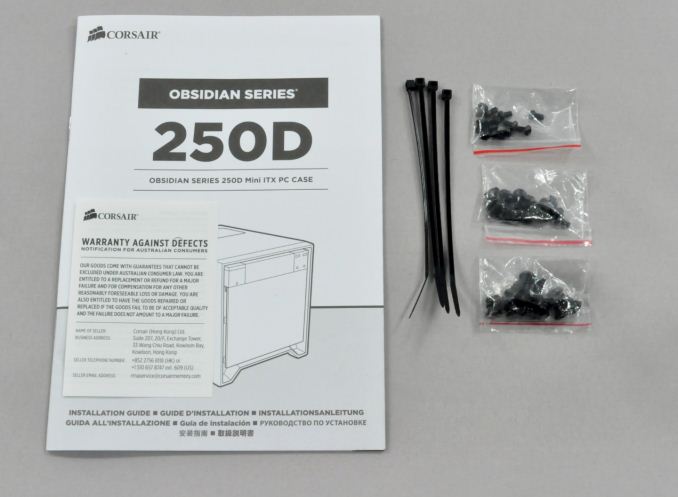 The bundle of the Obsidian 250D is sparse, with Corsair supplying only the absolutely necessary parts needed to fully assemble a system. We only found a manual, three small bags with black screws and a few black cable ties. At least some more cable ties and perhaps a couple of cable straps would be a nice addition. The bundle may be found in a cardboard box secured into one of the 3.5" trays.