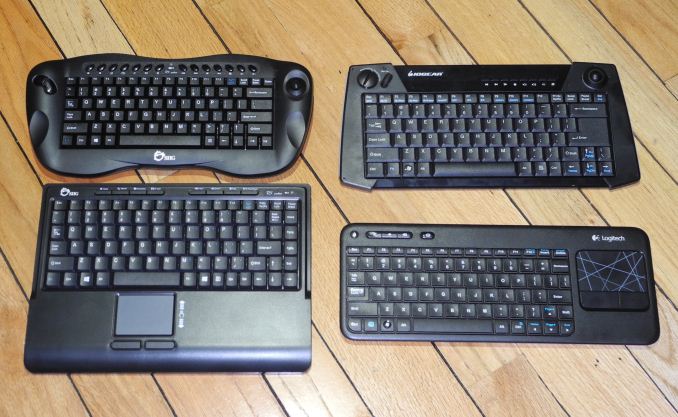 Introduction
The cord-cutting trend has made streaming STBs (set-top boxes) and HTPCs (home theater PCs) popular. Remotes are bundled with all OTT (over-the-top) boxes and Android media streamers, and Media Center remotes are common for HTPCs. However, as media consumption becomes more interactive (for example, consumers explicitly searching for a movie to play on Netflix), the use of remotes with limited functionality becomes cumbersome.
Last year, we visited some vendors at CES to look at the options on display for interacting with HTPCs. Our criteria for paying attention to a device included the following:
The device should be wireless and optimally sized (neither the mini- varieties which make typing with large fingers difficult, nor the full-sized combos which come with separate keyboard and mouse units)
The device should come with either an integrated touchpad or a trackball
Ergonomics and ease of use with a layout as similar as possible to a traditional keyboard while also allowing for short-term single handed operation common in HTPC scenarios
Be adaptable for the occasional prolonged typing / computer interaction task with properly sized keys
Some of the other desirable features include prolongation of battery life by going into sleep mode (either automatically, or through an explicit toggle switch), 5 GHz communication frequency (to avoid the crowded 2.4 GHz spectrum) and an integrated rechargeable battery with a charging dock. It would also be nice to have ease of use with Windows 8.x (in terms of replicating touchscreen functionality on a touchpad). Obviously, features have to be traded off to hit an acceptable price point. So, the options we want to look at might not hit any of the desirable features too.
I have been using a Logitech K400 for more than a year, and it has managed to become the mainstay in my HTPC setup. Frequently available for less than $30, its feature-to-price ratio is simply unparalleled. Unfortunately, the keyboard does have a few drawbacks with respect to ergonomics and key placement, making it challenging to use it for extended typing duties. With a better budget, would it be possible to improve the HTPC interaction experience? That is what we hope to answer with our 'Interacting with HTPCs' series.
In today's piece we will be looking at three different wireless HTPC interaction solutions with MSRPs ranging from $50 to $70:
IOGEAR GKM561R 2.4GHz Multimedia Keyboard with Laser Trackball and Scroll Wheel
SIIG JK-WR0412-S1 Wireless Mini Multimedia Trackball Keyboard
SIIG JK-WR0312-S1 Wireless Multi-Touchpad Mini Keyboard
We will first take a look at the features offered by each of these keyboards in detail along with some usage impressions. This will be followed by the comparison of the pros and cons of each of these units on a single page. Note that most of the aspects presented in keyboard reviews are subjective and dependent on test environment. For example, even the wireless range may vary from one test location to another because the 2.4 GHz channel being used might exhibit interference issues under certain conditions. This could result in improper functioning and range issues. All the three units we are covering today operate in the 2.4 GHz band and have an advertised range of 33 ft (under ideal conditions). We will not be covering the range factor any further in this review.