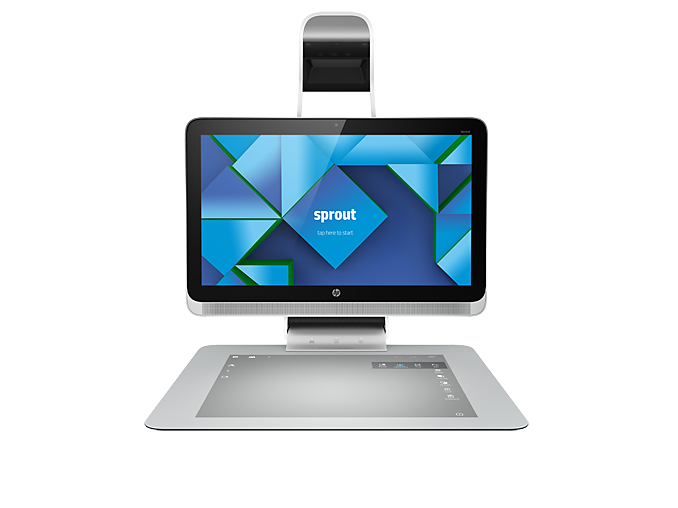 The newly formed HP Inc took the wraps off a fairly unique PC. The Sprout is a traditional all-in-one computer that has been coupled with a 3D camera system, a 20-point touch mat, and a DLP projector to form a new PC system to "unleash your creativity like never before." This unique combination allows a person to experience what HP is calling "Blended Reality." The Sprout is the first product available in HP's Blended Reality ecosystem, and is also backed up by a new 3D printer from HP Inc.
First off is the all-in-one PC, which features a 23" 1920x1080 display. Behind the screen is the Intel Core i7-4790S CPU, which is a four core, eight thread 65 watt Haswell part, and 8 GB of memory. Graphical duties are handled by the Intel HD 4600 integrated GPU as well as the NVIDIA GeForce GT 745A with 2 GB of DDR3, which is a fairly low end GPU. It almost makes no sense as to why the GPU is even in there, but it is for graphic-intensive tasks like gaming according to HP. It will be better than the integrated GPU but it would be nice to see a more powerful GPU or at least the 745M which has much more memory bandwidth to run games at the native resolution of the panel. Storage for the all-in-one is handled by a 1 TB hybrid drive, which only has 8 GB of flash acceleration. The Sprout features both 1000 Base-T Ethernet and 802.11n 2x2:2 dual band wifi. As just an all-in-one, there would be little to talk about here, but the Sprout is more than that.
HP Blended Reality
HP Sprout All-In-One
CPU

Intel Core i7-4790S (4 core, 8 thread, 3.2 GHz to 4.0 GHz, HD 4600 GPU, 65 W TDP)

GPU

NVIDIA GeForce GT 745A (GK107 MXM, 384 Stream Processors, 128 bit bus, 2 GB DDR3)

RAM

8GB PC3-12800 DDR3-1600 SDRAM memory 2x4GB (expandable to 16GB)

Storage

1TB SATA 6G Solid State Hybrid Drive with 8GB SSD cache

Display
23" 1920x1080 w/10 point touch
Network
10/100/1000 Base-T Network and Integrated Bluetooth® 4.0 and Wireless LAN 802.11a/b/g/n featuring Dual-band (2.4GHz and 5GHz) 2x2 MIMO technology
HP Illuminator

HP Illuminator, powered by the HP DLP Projector, the HP High-Resolution Camera with up to 14.6 megapixel resolution and the Intel® RealSense™ 3D Camera for instant capture of 2D and 3D objects, along with an LED desk lamp

HP Touch Mat

20" diagonal, 20-point touch-enabled touch mat with an ultra-resistant top coating

Web Camera

HP High Definition 1MP Webcam

Stylus

Adonit Jot Pro stylus to write and draw. It can be attached magnetically to the upper-right side of the Sprout display.

OS
Windows 8.1
Sound
DTS Sound
The first part of the Sprout which differentiates it from a normal all-in-one is the camera system, which combines a scanner, a depth sensor, and a 14.6 MP camera, and utilizes Intel RealSense 3D Camera technology to allow the Sprout to capture 3D objects and allow the user to manipulate them after the fact. Once scanned, the Sprout can display the object on the computer display, or it can use the built in DLP projector to display the object on the 20" 20-point touch-enabled mat as seen in this video from HP:
Also included is an Adonit Jot Pro stylus, which can be used to write or draw with on the mat. The stylus can be magnetically attached to the side of the Sprout display when not in use.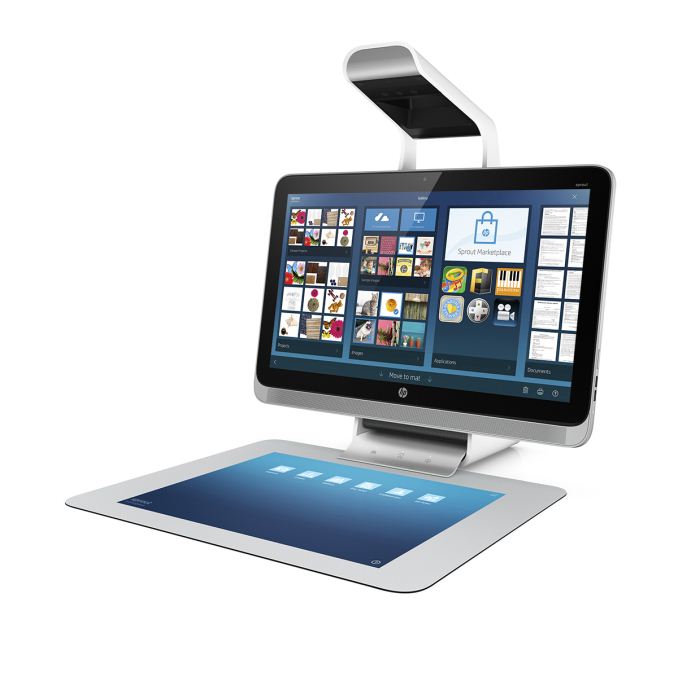 While not an ultra-powerful PC, you can certainly see some use cases for a device like this. Many creative professionals already use stylus and touch enabled pads, such as the ones from Wacom. The Sprout adds to this with the DLP projector so that you can directly manipulate the items on the pad, rather than use the pad in an abstract way. HP also adds to the experience with custom software to enable this hybrid approach for object manipulation in the digital space. HP is advocating the Sprout Marketplace, which will allow for easier discovery of applications which are optimized for the platform.
HP is committing to the Blended Reality ecosystem, with the Sprout as only the first device in the line. To further flesh out the ecosystem, they are also announcing the HP Multi Jet Fusion 3D printer. They are claiming that the output of the new printer has better overall strength, accuracy, resiliency, and finish than that of other 3D printers in the price range, as well as the HP version being up to ten times faster. As well, the Multi Jet Fusion printer will also allow for full-color 3D print solutions.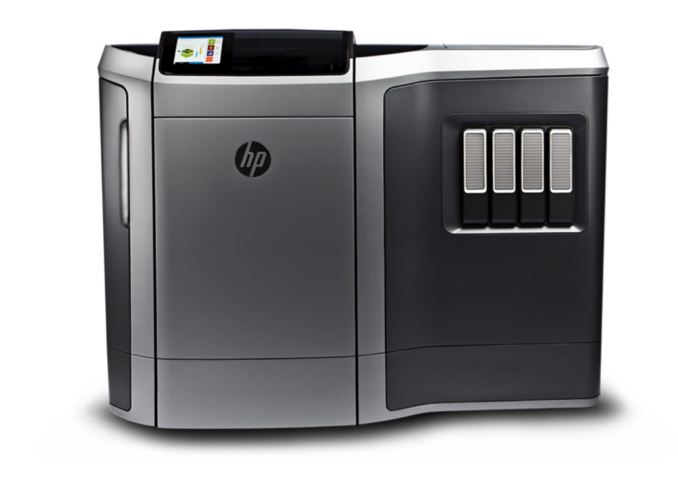 Is Blended Reality going to be a new buzz word? It is too early to tell, but certainly this is a fairly unique take on a creative focused personal computer. The combination of the DLP projector, touch pad, and all-in-one computer may be a compelling integrated solution for some. The Sprout is available for pre-order now starting at $1899, with availability scheduled for November 9th. The new 3D printer is not currently listed and no price was given, other than it would be more affordable that similar devices on the market today.
Source: HP Inc