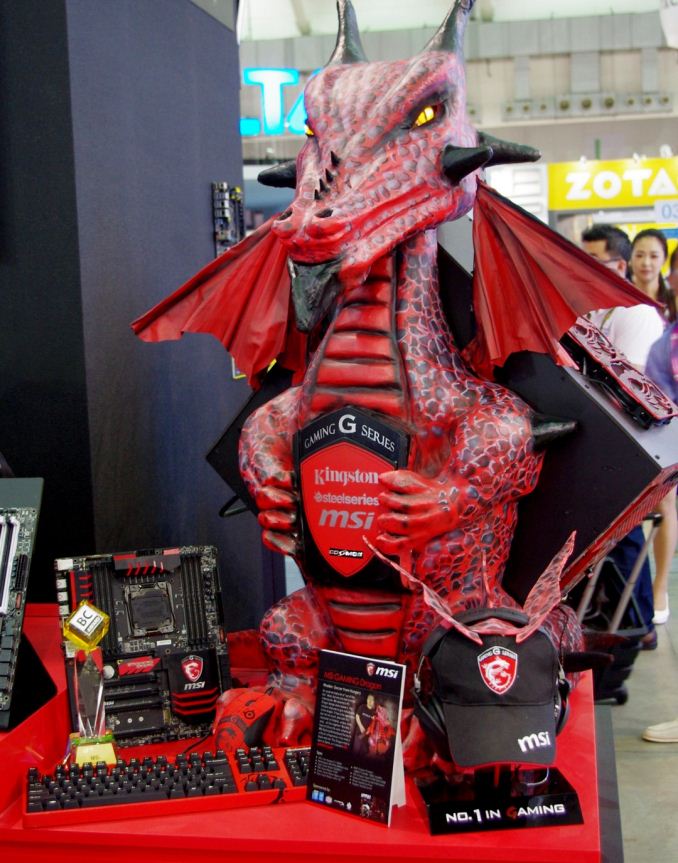 It has been held as fact that for the past couple of years, gaming is helping to prop up a slowly decreasing desktop PC market. While many casual PC users have transitioned to tablets, laptops or 2-in-1s, the gaming community, and particularly the rise of eSports, has been accredited as filling that void. MSI's current raison d'être across almost all of its product range is towards the gamer, and I was given an extensive tour of the products on display.
(I must apologize for the delay in this article. A combination of pre-planned holiday and confirmation of details led to this, along with our Podcast from the event, being published later than planned.)
Motherboards
Standing front and center in MSI's motherboard repertoire is the new MSI X99A Godlike Gaming (or GODLIKE GAMING, officially) motherboard. An insight into the naming reasons behind the X99A Godlike is apparently from old-school Unreal Tournament and many titles since - when scoring successive kills in a round without dying, a user will achieve many awards:
Killing Spree – 5 kills
Rampage – 10 kills
Dominating – 15 kills
Unstoppable – 20 kills
GODLIKE – 25 kills
WICKED SICK – 30 kills
The idea is that the X99A Godlike is at the pinnacle of gaming. By virtue of the list above, perhaps the phrase 'godlike' is more user friendly as a worldwide moniker than 'wicked sick' or the equivalent sounds for successive kills in a short time period (monster kill, holy ****).
Naming aside, the purpose of this motherboard is to introduce several new features to MSI's high end range. Some of these will be seen as gimmicks, while others have a valid usage scenario. Despite the bad lighting at the booth, here's what it looks like: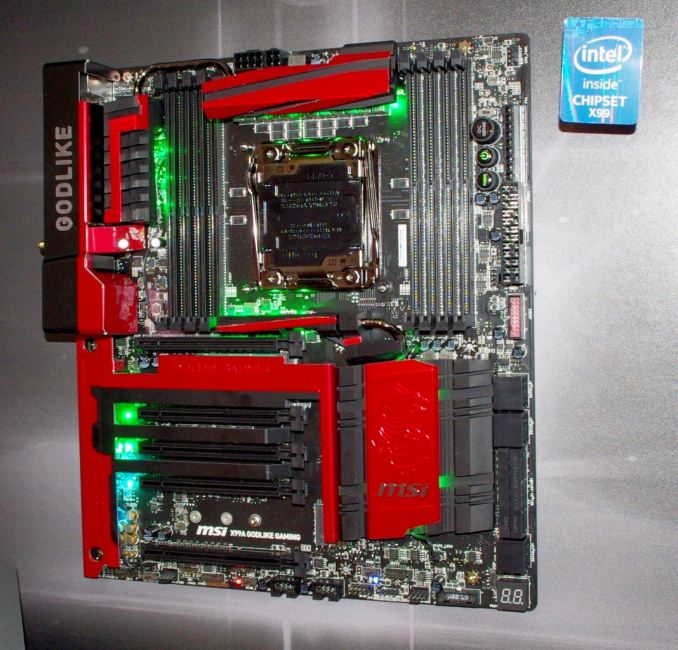 The most obvious element on the motherboard is the LED lighting. Luckily we're not fixed on green here – these LEDs are RGB to the tune of 256 colors, and use an onboard controller that provides a Bluetooth connection to the controls. This allows the LEDs to be controlled through an Android application, and the system will either implement a variety of effects, a fixed color system or can/will respond to music played on the Android device (after a quick analysis of the music track). It is worth noting that despite the Bluetooth module external to the main WiFi card, the LEDs are switched off when in a deep sleep mode and thus only active when machine is actively working.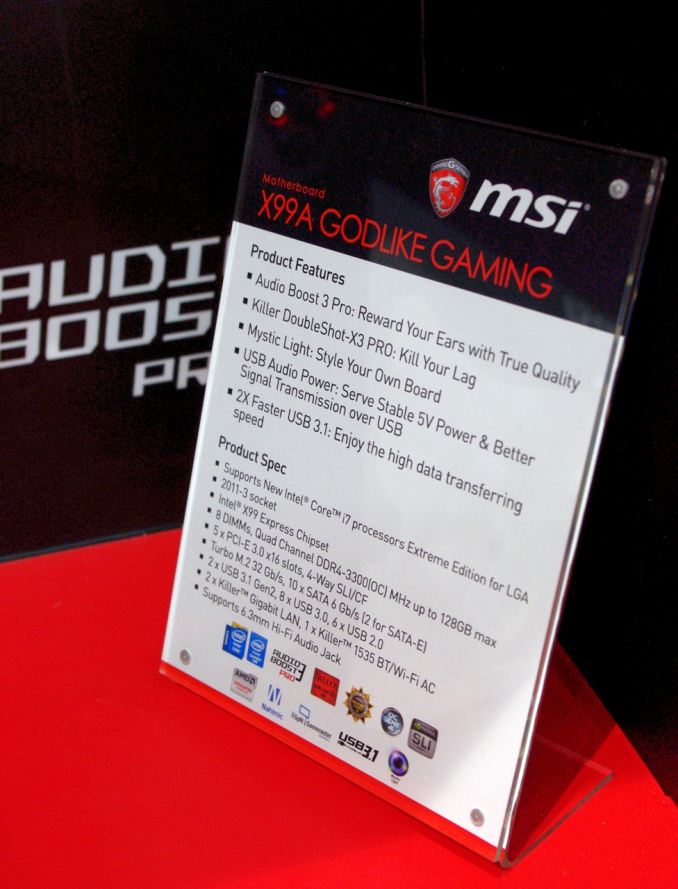 Aside from the LEDs, the extensive heatsink arrangement covering the rear IO, acting as an EMI shield for the audio and moving towards the chipset is a relatively new application for MSI. This is more for aesthetics than pure cooling, but as MSI wants to push that red and black color theme over almost anything, we get an extension here. Within the rear IO, MSI has used a special EMM codec and paired it with a 6.35mm TRS headphone jack, specifically for driving more professional audio equipment without an adapter.
The audio side of the X99A Godlike Gaming (and other gaming motherboards, as well as gaming laptops) will get an enhancement to the software side for audio in the form of the Nahimic audio interface. Nahimic is a French company with roots into military fighter training simulations, and the claim with Nahimic's software is that it has the power to enhance gameplay through adjusting the audio through their algorithms.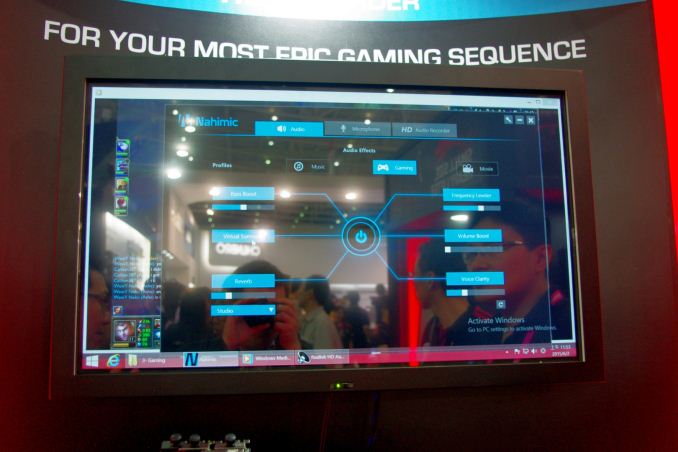 This seems to be a software solution, and the demo they had at the booth used a predefined FPS video with some music in the background. Nahimic also removes the EQ settings in exchange for this control, which raises my suspicions as to exactly how complex (or not) the software is. When we get a product in to test that has the Nahimic features, we'll go through the software in detail for sure.
Another feature (again apologies for the poor lighting images) is the use of protective shields around the PCIe slots: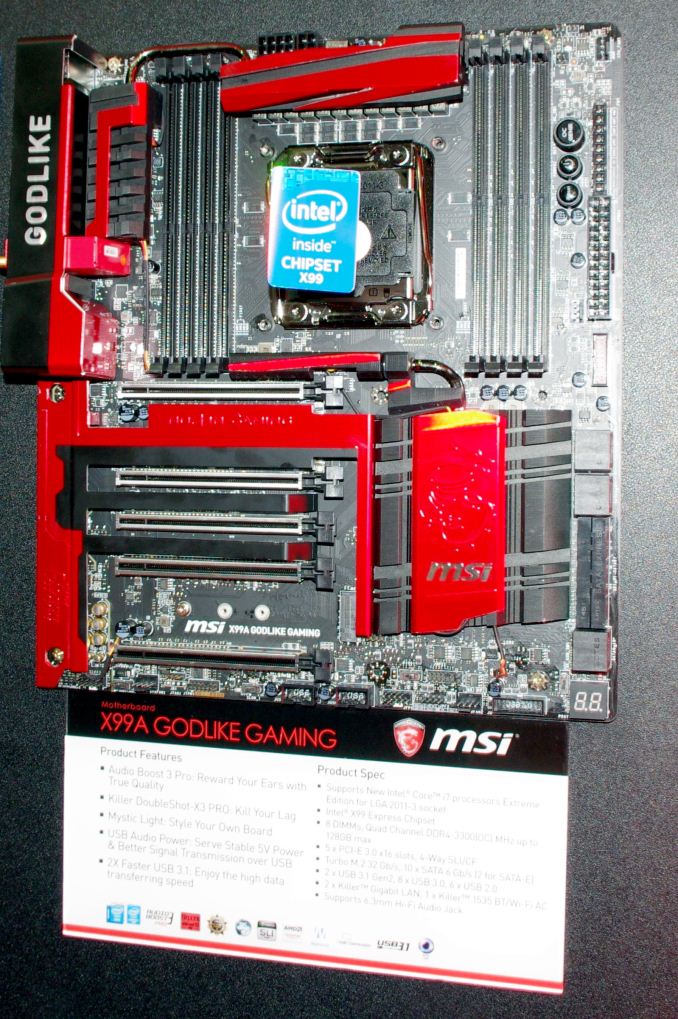 These are fixed to the motherboard in several places each and designed to help protect the PCIe slots. The main reason from MSI (one other manufacturer will have these as well) is that the weight of modern high end graphics cards, particularly those using copper cooling or dual GPU arrangements, is beyond the recommended PCIe limit specification. As a result, during transportation, MSI has seen returns where PCIe slots have been ripped from their mounting and thus this is a way to attempt to avoid those returns. It is perhaps worth noting that this feature will only be on the high end X99A Godlike Gaming for now, but it would seem that MSI is at least testing the waters before bringing it down to a lower price band.
Networking has been a consistent feature of MSI's Gaming brand over the last couple of generations, and the Godlike Gaming is no different. I have posted about using the Killer software package many times over the years, especially in relation to cost and the futility of the software, but nonetheless MSI sees it as a positive marketing tool and the X99A Godlike Gaming comes with dual Killer network ports as well as a Killer 802.11ac 2T2R WiFi card. The idea with this is that users can determine which software goes down which pipe – such as gameplay and streaming over network and VOIP over WiFi. This is despite the fact that outside of the property, that priority setting has no practical advantage. MSI is also promoting the use of the new Killer NIC and WiFi modules, to which one would assume they have paid a premium in order to use.
The Godlike Gaming is still in development, although MSI hopes to have it on the shelves in the next few weeks. Pricing is still unknown.
100-Series Motherboards
Suffice to say, Computex confirmed a few things about Skylake that had appeared in various unconfirmed leaks in recent months. The chipset series will be known as the 100-series, compared to the 9-series for Z97 or the 8-series. The main brackets will be the Z170, H170, B150 and H110 chipset designations, with Q170/Q150 and potentially some others to follow. MSI had a number of these to show off, with the LGA1151 socket for Skylake processors.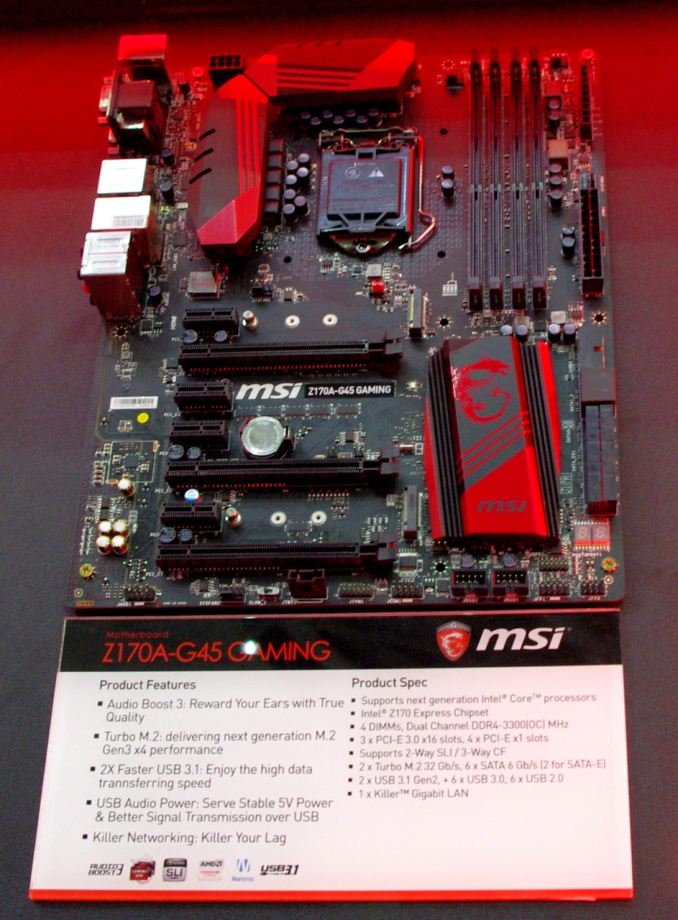 Front and center is the Z170A-G45 Gaming, poised to be MSI's main price-point sensitive gaming model at launch. Astute users might note that the power delivery area has more phases than the equivalent previous Z97 model, and we also get dual PCIe 3.0 based M.2 running at four lanes each as well as SATA Express. Intel hasn't released information regarding the 100 series chipsets yet, although if we are led to believe some of the leaks in the market, the chipset has more PCIe lanes to play with and thus we will see a number of varied M.2/SATAe implementations, particularly those using PCIe 3.0, with the 100-series. This includes USB 3.1 controllers, such as those from ASMedia, and even potential for Thunderbolt 3 without sacrificing other functionality.
More notes to the Z170A-G45 Gaming include Audio Boost 3 (Audio Boost 2 based ALC1150 + Nahimic software), USB 3.1 provided via the ASMedia codec as it isn't native as of yet, Killer networking, support for DDR4 and voltage points for extreme overclockers on a budget. It is worth noting that it seems MSI has done away with the OC Genie button on this model. With any luck the software/BIOS still has auto tools for users, but given previous important battlegrounds, attacking the $160-$200 market is going to be key for all motherboard manufacturers when Skylake is launched.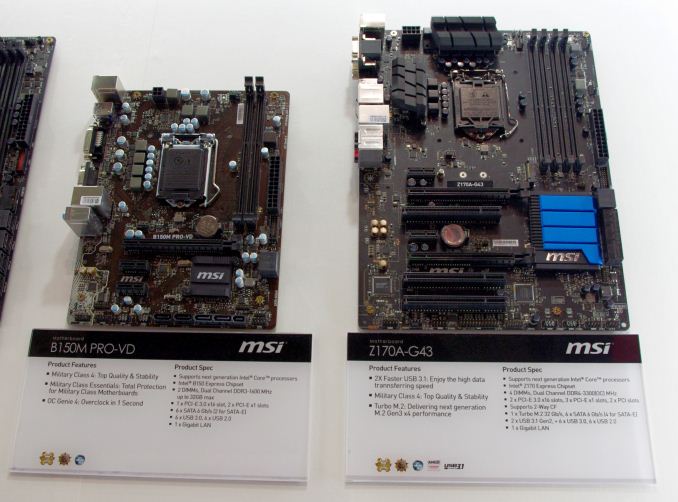 On the regular channel side for the spectrum, and lower down the price ladder, MSI also had a few other motherboards to show. This includes the Z170A-G43 with PCI slots but still with M.2 and the B150M PRO-VD for business oriented customers. COM and LPT ports are still present in this market, and I could imagine that the B150M model here is targeting those mid-to-low end, high volume markets.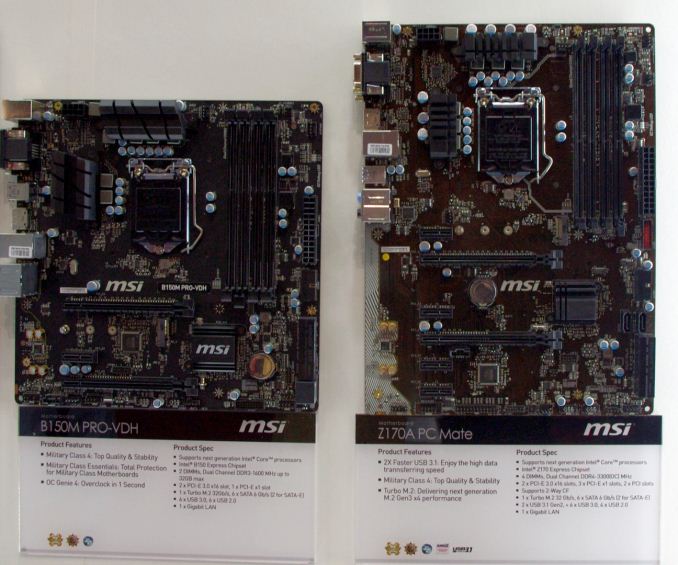 The PC Mate and Café lines are MSI's answer to the internet café question in parts of Asia, Africa and South America. With the potential growth of eSports, users in these regions might head to a gaming café in order to play games with at least a hint of physical interaction with others, rather than sit at home. This is a razor thin profit margin market, as these cafés want capable machines without spending a lot – particularly if 30-50 machines need to be built. The Z170 series also allows for some semblance of overclocking, and it's worth mentioning here that the Z170A PC Mate looks as if it has one PCIe 3.0 x16 and one PCIe 3.0 x8, suggesting that even SLI or Crossfire is a consideration for these markets.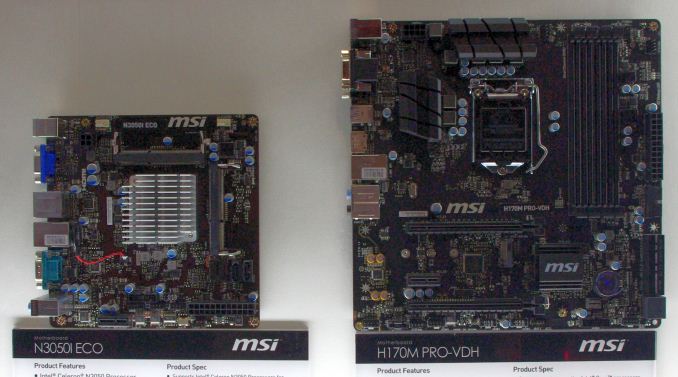 Not to be forgotten the H170 line also gets a PRO-VDH version and sat next to a Braswell based SO-DIMM motherboard in the booth. If the H170 line follows the H97 and older lines, we probably will not expect to see CPU overclocking although some DRAM adjustments might be possible. This is perhaps indicated by the power delivery and the heatsinks in place.