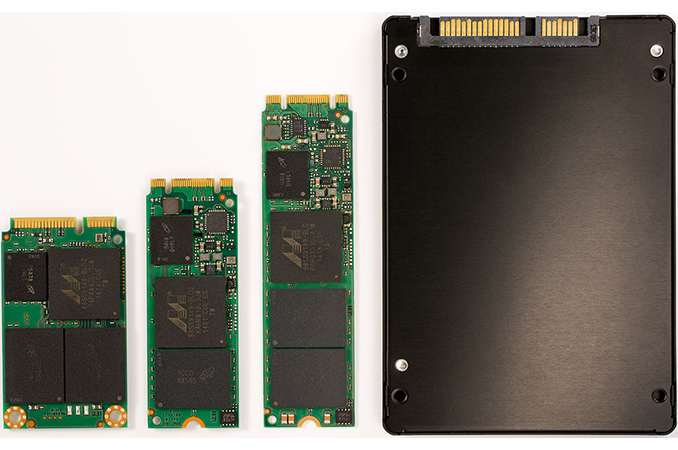 Sales of SSDs in the first quarter of 2016 were up 41.2% year-over-year, based on findings from TrendFocus*, a storage market tracking company. Shipments of all types of SSDs, including drives for client and server systems, were up sequentially and year-over-year, which again proves that NAND-based storage devices are taking the place of traditional hard drives both inside client PCs and enterprise machines.
SSD Sales now above 33.7 Million Units
Shipments of SSDs in the second quarter hit 33.705 million units, which is nearly 10 million units higher than in the same period a year ago and up 9.5% from the previous quarter, according to TrendFocus. According to IDC and Gartner, sales of PCs were also relatively strong in Q2 compared to Q1: the industry sold 62.4-64.3m units, which is flat or slightly up (depending on who you take numbers from). Meanwhile, the SSD market for client PCs and servers has been growing rapidly for many quarters, therefore, and all-time high shipment units in Q2 came as no surprise.
SSD Market at Glance in Q2 2016
Data by TrendFocus
All numbers are millions of units, Exabytes or Gigabytes
Form-Factor
(Units)
Interface
(Units)
Total
Average
Capacity
Drives
2.5"/3.5"
Modules
mSATA/M.2
SATA
SAS
PCIe
Units
Exabytes
Client
16.637
13.0
?
?
?
29.637
8.24
278 GB
Enterprise
3.868
0.2
3.2
0.668
0.2
4.068
4.17
1025 GB
Total
20.505
13.2
3.2
0.668
0.2
33.705
12.41
368 GB
There are multiple industrial trends that help to accelerate adoption of SSDs by both client PCs as well as servers:
Firstly, price. Entry-level SSDs are getting cheaper thanks to rapid per-GB price declines of TLC and 3D TLC NAND flash memory. This is combined through competition among vendors as well as the adoption of multiple module form-factors. In the second quarter, average contract prices of 128 and 256 GB SSDs dropped to $37.20 and $60.80 per unit, respectively, according to DRAMeXchange. For example, 120/128 GB SSDs for $35-$38 are easy to find at Amazon. Moreover, there are plenty of drives with 240 GB or 256 GB capacities that cost less than $60 at Amazon.
Secondly, rapid performance improvements brought by NVMe protocol and new controllers supporting PCIe 3.0 bus stimulate strong demand for newer SSDs by enthusiasts and boutique PC makers.
Thirdly, new technologies (3D NAND, stacking, etc.) enable companies like Samsung and Toshiba to build SSDs that challenge HDDs not only in terms of performance but also in terms of capacities, thus stimulating demand from datacenters.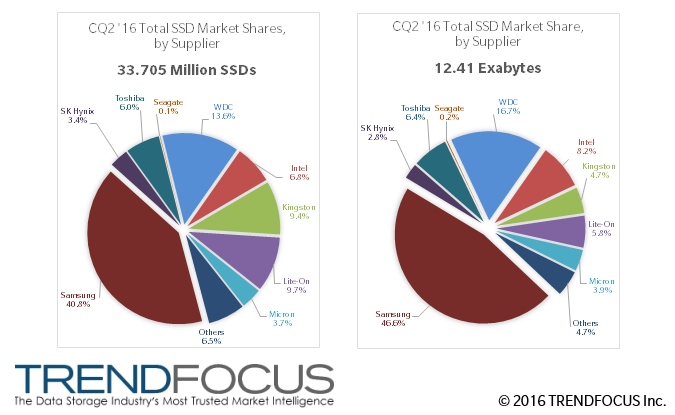 Average SSD Capacity Hits 368 GB
The total capacity of all SSDs sold in the second quarter achieved 12.47 Exabytes, up 93% year-over-year and 24.1% quarter-over-quarter, based on estimations from TrendFocus. The company believes that the whole industry produced 29 EB of NAND flash (up 17% sequentially) and SSDs consumed 42.5% of that output. The major increase of NAND flash bit supply was driven by the ramp up of 3D NAND and TLC NAND memory by leading manufacturers. This is due to the growing demand for non-volatile storage from many applications and industries. While this fast growth of NAND supply looks impressive, several industry insiders are indicating that demand is outpacing supply, which would drive up prices. However larger chips help mitigate this issue, keeping cost/GB down.
Meanwhile, the average capacity of an SSD, combining consumer and enterprise, increased such that:
- 325 GB to 368 GB from Q1 2016 (a 13.2% QoQ growth) and,
- 268 GB to 368 GB from Q2 2015 (a 37.3% YoY growth)
The recent declines of NAND flash memory pricing made SSDs with 240/256 GB and higher capacities considerably more popular than they were a year ago in the PC segment, driving average client SSD capacity to 278 GB. Moreover, companies like Samsung and Toshiba introduced enterprise-class SSDs that can store 8 TB or even 15 TB of data, which helped average capacity of a datacenter-class SSD to increase to just over 1 TB for the first time in Q2 2016.
Average Capacities of SSDs by Top Manufacturers in Q2 2016
Data by TrendFocus
Q2 2016
(av GB per unit)
Q1 2016


(av GB per unit)

Q2 2015


(av GB per unit)

Intel
445.4
288.0
331.6
Kingston
183.0
185.3
141.2
Lite-On
220.2
229.2
255.3
Micron
384.0
398.6
396.8
Samsung
420.4
360.2
283.3
SanDisk/Western Digital
452.0
227.4
243.2
SK Hynix
304.3
231.5
231.9
Toshiba
391.1
282.4
252.7
Others
264.8
281.2
164.6
Overall
368.2

GB/unit

324.9

GB/unit

268.2 GB/unit
Strong demand for high-capacity datacenter-class SSDs in the recent quarters, as well as shift for high-end models, has helped a number of companies increase the average SSD capacity per unit of their sales significantly in the second quarter both sequentially and year-over-year (the combination of HGST and SanDisk shipments under Western Digital brand somewhat distorts the picture, but it still is in line with general trends). Meanwhile, short supply of NAND and focus on unit sales triggered declines of average SSD capacities for companies like Kingston, Lite-On and some others.
Samsung Retains Leadership Amid Slight Drop of Unit Sales
Samsung controlled about 36.3% of the global NAND flash production in Q2 2016 based on revenue, according to DRAMeXchange. Moreover, its NAND bit shipments were up 15% sequentially, the same company reports. Nonetheless, when it comes to SSDs, the quarter was a mixed bag for the company.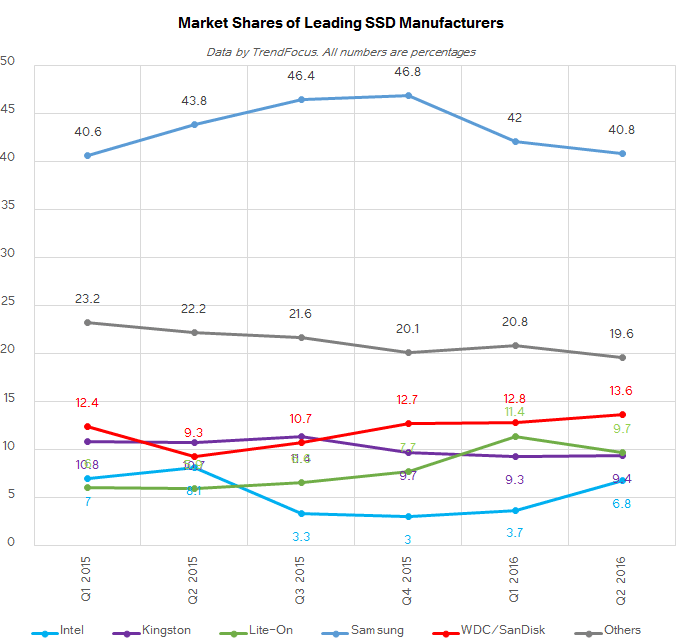 Sales of Samsung SSDs in Q2 totaled 13.75 million units, up from 10.45 million in the same period a year before (an increase of 31.5%), but slightly down from 14.16 million units in Q1 (a decrease of 2.9%). Meanwhile, the total capacity of Samsung's SSDs in the second quarter increased to 5.78 EB, up from 2.96 EB in Q2 2015 (up 51.2%, slower than the industry) and 5.1 EB in Q1 2016 (+12%, slower than the industry).
Due to a slight drop in unit sales, Samsung's market share decreased to 40.2%. While the company is still well ahead of everyone else, its SSD unit shipments and market share have been decreasing for two straight quarters now. The reasons for that are more or less clear: the company is gradually increasing average capacities of its SSDs, boosting their average selling prices (average capacity of a Samsung SSD in Q2 was 420 GB), but the amount of NAND flash it can use for SSDs seems to be somewhat limited (we will discuss this issue below). As a result, Samsung focuses on more lucrative high-capacity drives, sacrificing market share and unit shipments for higher per-unit selling prices.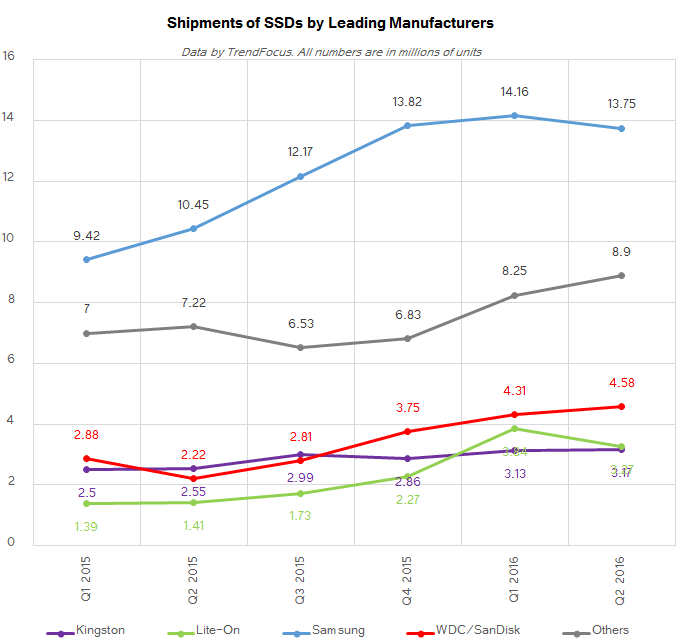 Western Digital's SanDisk retained #2 position in the SSD market for Q2: it shipped 4.58 million drives (up 106% YoY and 6.2% QoQ) and increased its market share to 13.6% in Q2 2016. What is even more important is that the company doubled the amount of NAND flash memory it used for its SSDs from the previous quarter (2.07 EB vs 0.98 EB) and nearly quadrupled it from the same period a year ago (0.54 EB). The average capacity of a SanDisk SSD in the second quarter was 452 GB, according to TrendFocus, the highest in the industry. Despite the fact that SanDisk lost a part of its OEM SSD business lately, its performance on the SSD market in the recent quarters was rather impressive.
Important notice: When analyzing historical data for SanDisk, keep in mind that starting from the second quarter of 2016 sales of SanDisk and HGST are combined under the Western Digital name. HGST does not sell a lot of drives (in 1H 2015 it controlled roughly 1.0%-2.6% of the global SSD market, so its shipments were 200-600 thousand units per quarter at best), but it sells a lot of high-end high-capacity SAS SSDs. Therefore, the addition of HGST's product mix to SanDisk's has a strong impact on average SSD capacities of Western Digital.
Lite-On, which sells SSDs under Lite-On and Plextor trademarks, maintained its third place in the rankings of SSD makers with 9.7% market share, based on data from TrendFocus. The company sold 3.27 million drives (up 131% YoY, but down 14.9% QoQ) with a total capacity of 0.72 EB (up 100% YoY, but down 19% QoQ). Since Lite-On only serves the client PC market, the average capacity of its SSDs was 220 GB, down both sequentially and year-over-year. This happened because in the recent quarters Lite-On introduced a number of inexpensive drives (particularly, under its Plextor brand), which attracted consumers with budget constraints that typically focus on smaller drives anyway. One of the reasons why Lite-On released such Plextor drives was timing (the M8Pe-series high-end SSDs are hitting the market only now), but another was the short supply of NAND in general. As a result, the company managed to increase its unit sales, but at the cost of average capacities and ASPs.
Kingston managed to boost its SSD shipments slightly to 3.17 million units (up 24.3% YoY and 1.2% QoQ) in the second quarter and increased its market share to 9.4%. Its total data (exabyte) shipments remained flat sequentially but are +61% compared to the same period a year ago. Since Kingston serves the entry-level segment of the client PC market, the average capacity of its SSDs is among the lowest in the industry at ~183 GB.
Intel's positions as a supplier of SSDs has not been particularly strong in recent quarters, but in Q2 2016 the company managed to increase sales of its SSDs to 2.29 million units (up 18.6% YoY and 83% QoQ) and overtook Micron and Toshiba. The total capacity of Intel's SSDs shipped in the second quarter was around 1.02 EB, a 59% growth over the same period a year ago and 183% more than in the previous quarter. The average capacity of an Intel SSD also increased to 445 GB, which signals that the company was particularly successful with its high-capacity enterprise-class drives introduced in April.
Toshiba also managed to amplify shipments of its SSDs in Q2 2016. The company sold 2.02 million drives (up 122% YoY and 54.2% QoQ) and its Exabyte shipments totaled 0.79 EB (up 243.4% YoY and 113.5% QoQ). Toshiba's average SSD capacity also increased significantly compared to previous quarters. Keep in mind that Toshiba supplies NAND memory to Phison (who sells it with its controllers) as well as to companies like Lite-On. Therefore, despite the relatively small market share (6%), Toshiba is not an underdog when it comes to SSDs.
Micron and SK Hynix, who both the other NAND flash producing fabs, commanded 3.7% and 3.4% of the SSD market in Q2 2016 with shipments of 1.25 and 1.15 million units respectively. Micron has a strategy to become a vertically integrated maker of NAND-based devices and it expects sales of own-brand SSDs to get higher over time.
Client SSDs: Modules Are Gaining Momentum
Of the 33.7 million SSDs that various manufacturers shipped in Q1 2016, roughly 29.6 million of the solid-state drives sold were aimed at client PCs, compared to ~4 million were designed for servers. Sales of SSDs in the PC space increased 44% year-over-year, outpacing general market trends. The total available market of enterprise-grade SSDs hit 4.068 million units and grew healthy 37% YoY.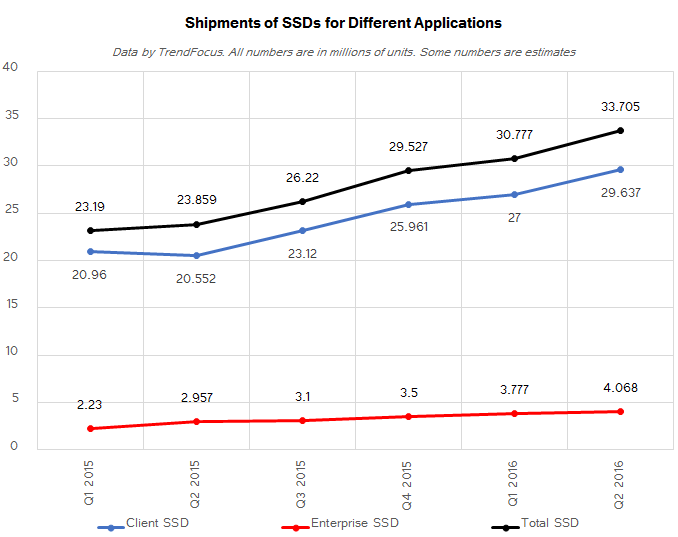 When it comes to SSDs for client computers, it is noteworthy that modules are gaining traction. In Q2, approximately 13 million of SSDs in M.2 or mSATA form factors were shipped, TrendFocus estimates. Growing popularity of SSD modules is conditioned by increasing market share of ultra-thin laptops (which modern 2.5-inch HDDs are reducing in importance) and adoption of PCIe-based drives by higher-end models. Shipments of solid-state drives in module form-factors are still behind sales of SSDs in traditional drive form-factors (i.e., M.2/ vs. 2.5"/7 mm), such that ~13 million M.2/mSATA units compared to 16.637 million units. Nonetheless, as PC form factors continue to shrink and performance of mainstream SSDs is getting higher, it is expected that modules with a PCIe interface will become more widespread in the client PCs. Some people even say that next year PCIe/NVMe SSDs in M.2 form-factor will go beyond module sales for 2.5" drives with a SATA interface.
Enterprise SSDs: SATA Is Still King of the Hill
Various data centers across the globe continued to replace their 10K/15K HDDs for mission-critical applications with SAS or even PCIe SSDs in the second quarter of the year. To hit performance targets (both in terms of IOPS and bandwidth), operators of data centers do not need a lot of such drives, which is why cumulative shipments of SAS and PCIe SSDs only hit ~870 thousand of units (668K SAS, 200K PCIe) in the aforementioned period. By contrast, with 3.2 million units shipped, SSDs with SATA interface remained the choice for the majority of enterprises.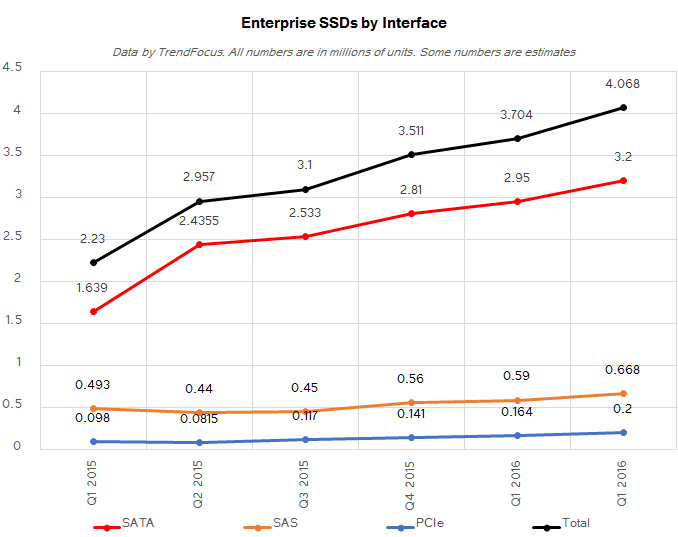 TrendFocus believes that they key suppliers of enterprise-grade SSDs are Samsung, Intel and Western Digital (HGST). All three companies increased average capacities of their SSDs quite tangibly during the quarter, which may be an indicator that sales of their server drives were on rather high levels.
Demand for SSDs Poised to Rise, But Supply of NAND Remains Major Concern
Solid-state drives are becoming more widespread these days and in many cases they capture market share from traditional hard drives. The current demand for SSDs is healthy and shipments are growing, but there is a great concern about supply of NAND flash memory for SSDs. In fact, there are several factors which limit the amount of NAND flash memory available for solid-state drives:
The evolution of planar NAND has stalled at 14 nm or 16 nm nodes and we are hardly going to see any newly designed 2D NAND ICs suitable for SSDs. Manufacturers are not going to build new fabs to produce 2D NAND. Without geometry scaling and new production facilities, supply of 2D NAND will not grow. In fact, companies like Samsung are already mulling over cutting-down 2D capacities, thus reducing supply. There are talks about planar QLC NAND memory, however the feasibility of this technology is currently limited, with manufacturers discussing 'write once, ready many' applications only at this time.
3D NAND yields and manufacturing volumes are gradually improving. In the meantime, demand for non-volatile memory is skyrocketing.
NAND flash makers have long-term supply agreements with large smartphone vendors (Apple, Samsung, etc.), who recently increased storage capacities of their flagship devices. Hence, manufacturers have to meet demand from such partners first.
China-based makers of smartphones now install 64 or 128 GB of NAND flash into their handsets and someone has to supply them the memory. Companies like Huawei, Oppo, Nubia and others sell hundreds of millions of smartphones every quarter and the amount of NAND they consume is gargantuan.
Some readers will notice that both production and consumption-related factors have already impacted Samsung. The company was the first to stop expanding its planar NAND manufacturing facilities and the first to start high-volume shipments of 3D NAND. At present, the company's SSD sales are growing slower than the market due to tight supply of NAND. Other makers are barely expanding 2D production and yet have to transit to 3D NAND. As a result, we would not expect them to improve their output of flash memory significantly in the coming quarters.
The exponential growth of the demand for NAND flash memory amid a linear growth of its supply will ultimately have an impact on NAND and SSD pricing (the pace of depreciation of prices, to be precise). As a result, per-GB prices of SSDs may remain at the current levels for quite some time. In the coming months we are going to find out how stable pricing environment affects demand for SSDs.
*Please note that the numbers mentioned in this news story were determined from a combination of press releases and previous announcements from TrendFocus, or estimates based on previously released numbers and relationships by the company. If you need precise numbers for business decisions, you should acquire the full report from TrendFocus.
Recent Storage Reviews
The Toshiba OCZ VX500 Review: 256GB, 512GB and 1024GB
The Samsung 850 EVO Review: 4TB
Evaluating the Toshiba OCZ RD400 M.2 Drive on a Skylake NUC
The Intel 540s Review: 480GB
The Crucial MX300 Review: 750GB
Source: TrendFocus