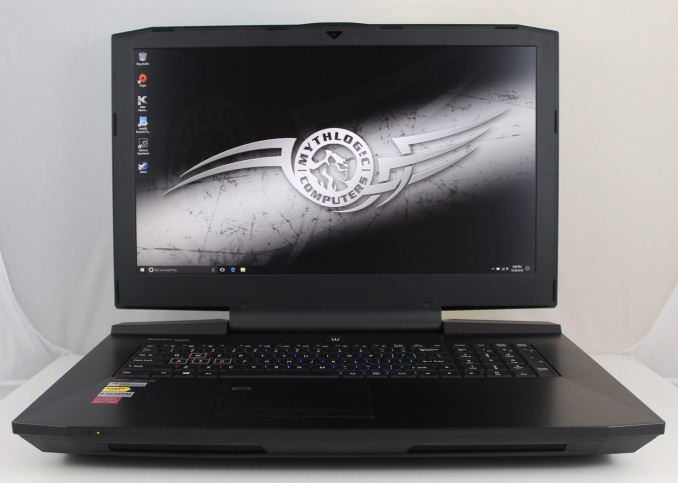 Sometimes there is no substitute for performance. Most of the laptop market is focusing on thin and light designs, with companies attempting to outdo each other by shaving a millimeter or two off of their laptop z-height compared to the competition. But in the Desktop Replacement (DTR) category, there are no such concessions. Clevo is one of the few laptop makers that is in the DTR market, and thanks to the assistance of Mythlogic, we have the Mythlogic Phobos 8716 DTR for review today. As a Clevo, the model would be P870DM2.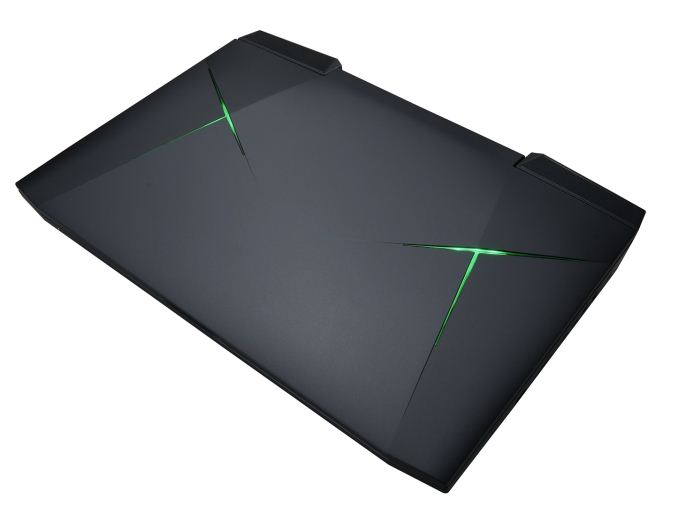 Let's cut right to the chase. The Mythlogic Phobos 8716 is a beast of a laptop, and really should rarely be used in your lap. It is designed for someone who needs the ultimate performance, but still needs something more portable than a full desktop. This is a 17.3-inch display packed into a chassis that is 47.2 mm thick (1.86") and weighs in at 5.5 kg (12.13 lbs) with a single GPU. And yes, you can opt for two GPUs, which ups the weight and moves you into the land of ridiculous.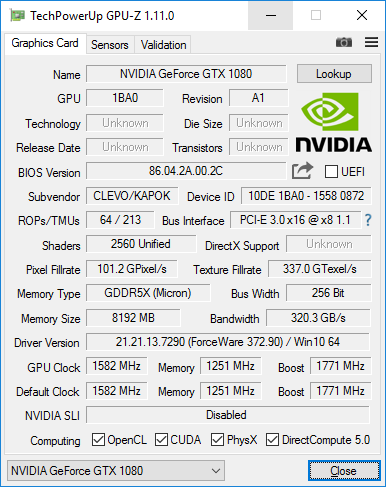 Mythlogic offers a couple of choices of CPU and GPU, but all the CPUs are desktop parts, from the Intel Core i5-6400 65-Watt processor up to the Intel Core i7-6700K 91-Watt processor (as we have in the review unit). This is the same unlocked quad-core as you would find in any high performance desktop. On the GPU side, the base model is a mere GTX 1070, or step up to the GTX 1080, or either card in SLI. If you get dual GTX 1080 GPUs, be prepared to have two AC outlets handy for the dual 330-Watt AC Adapters. Mythlogic also supports overclocking on all of the components. There are four SODIMM slots for up to 64 GB of DDR4 memory as well. This is well and truly a desktop class computer packed into a (somewhat) portable chassis.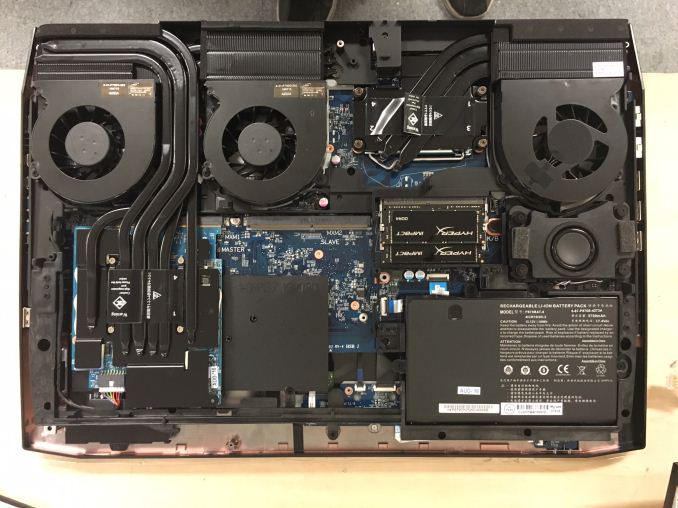 The display options also need mentioning too. The standard panel is a 1920x1080 IPS display with a 120 Hz refresh rate. That should be a very significant upgrade for almost anyone, up from the ubiquitous 60 Hz laptop displays. They are also offering a 2560x1440 AHVA 120 Hz panel with G-SYNC option, and a 3840x2160 60 Hz AVHA panel which also includes G-SYNC.
Mythlogic Phobos 8716 / Clevo P870DM2
As Tested: 6700K, 16GB (2x8) 2400 DDR4,
1x1080, 256GB Samsung 950 Pro m.2, 120Hz FHD, $2980 USD
CPU
Intel Core i5-6400, 4C/4T, 2.7-3.3 GHz, 6MB Cache, 65W TDP
Intel Core i5-6500, 4C/4T, 3.2-3.6 GHz, 6MB Cache, 65W TDP
Intel Core i5-6600, 4C/4T, 3.3-3.9 GHz, 6MB Cache, 65W TDP
Intel Core i5-6600K, 4C/4T, 3.5-3.9 GHz, 6MB Cache, 91W TDP
Intel Core i7-6700, 4C/8T, 3.4-4.0 GHz, 8MB Cache, 65W TDP
Intel Core i7-6700k, 4C/8T, 4.0-4.2 GHz, 8MB Cache, 91W TDP
GPU
NVIDIA GTX 1070 8GB, 2048 CUDA Cores , 1442 - 1645 (Boost) MHz
Also available as 2 x SLI

NVIDIA GTX 1080 8GB,

2560 CUDA Cores, 1556 - 1733 (Boost) MHz




Also available as 2 x SLI

Memory
4 SODIMM Slots, 64 GB Max, up to 3000 MHz
Display
17.3" 1920x1080 IPS 120Hz
Optional 2560x1440 AHVA 120 Hz w/G-SYNC
Optional 3840x2160 AHVA 100% Adobe RGB w/G-SYNC
Storage
2 x 9.5mm 2.5" SATA
2 x m.2 Slot (SATA or 4xPCIE)
I/O
5 x USB 3.0 Ports (1 x powered USB port, AC/DC)
2 x USB 3.1 / Thunderbolt 3 Port (Type-C)
1 x HDMI 2.0 output Port (with HDCP)
2 x DisplayPort 1.3 output Ports
SD Card Slot
1 x Headphone Jack
1 x Microphone Jack
1 x Line-in Jack
1 x S/PDIF (digital) (Shared with headphone jack)
2 x Killer E2400 RJ-45 LAN (10/100/1000Mbps)
Dimensions
428 x 308 x 47.2 mm
16.85 x 12.12 x 1.86 inches
Weight
5.5 kg / 12.13 lbs (single GPU)
Battery
82 Wh, 330W / 230W W AC Adapter
Wireless
Intel Dual Band Wireless-AC8260
2x2:2 with Bluetooth 4.1
Killer Wireless-AC 1535
2x2:2 with Bluetooth 4.1
Price
$2255 - $5000+
There is no shortage of ports, with five USB 3.0 ports, two USB 3.1 Type-C ports with Thunderbolt 3, HDMI 2.0, two DisplayPort 1.3, and separate audio jacks for the headphone, microphone, and line-in. It also features a Killer E2400 Ethernet adapter, and that wired connection can be paired with either the Killer 1535-AC wireless to support Killer's DoubleShot Pro, or Intel's Dual Band Wireless-AC 8260 card if you prefer their solution.
With a starting price of $2255, the Mythlogic Phobos could never be considered inexpensive, but on the performance per dollar metric, there are few laptops that offer this kind of performance period, let alone for the price.