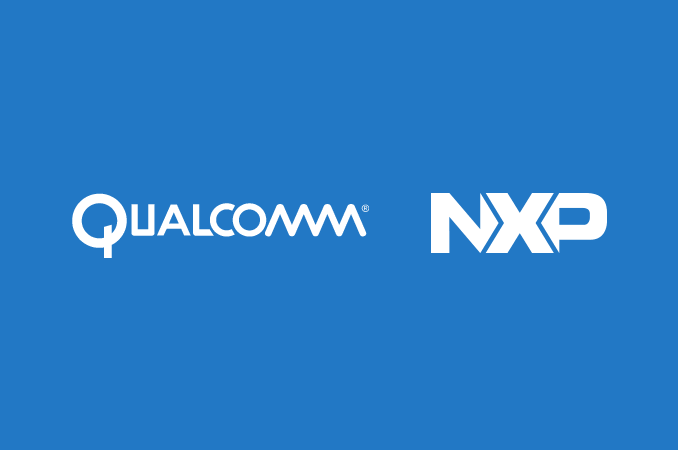 Qualcomm and NXP Semiconductors on Thursday announced that they had signed an agreement, under which Qualcomm will acquire NXP. The boards of both companies have already unanimously approved the all-cash deal representing a total enterprise value of about $47 billion. The new entity will be able to address thousands of devices and the combined expertise of both companies will be particularly important for automotive, mobile and IoT industries, which are poised for growth. The combined company will be one of the world's largest suppliers of semiconductors in general, with revenues comparable to those of Samsung and Intel. However, it is not going to be easy to combine the assets of Qualcomm and NXP under one company.
The Biggest Semiconductor Transaction Ever
Qualcomm intends to pay $110 for every NXP share, or for $37.88 billion (according to estimates by Reuters, based on the company's 344.4 million diluted shares as of early October), which represents around 10% premium compared to the stock price of around $98.66 at close on Wednesday. When NXP's debt is included, the enterprise value goes up to around $47 billion in total. Last week several media outlets reported that the NXP management wanted to get $120 per share, but agreed to $110 proposed by Qualcomm. In fact, given that the NXPI stock was trading in the range between $61.61 and $107.54 in the last 12 months, $110 seems to be a rather fair price.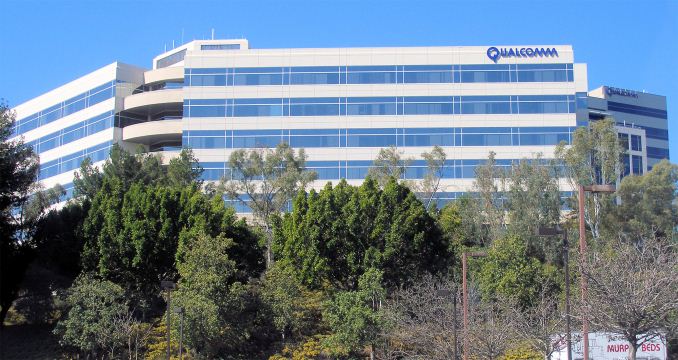 Qualcomm headquarters. Photo by Coolcaesar at en.wikipedia
What is interesting is that Qualcomm intends to buy NXP in an all-cash deal, which means that the company will have to borrow money, as it has around $17 billion in cash and other short-term assets its pockets today (according to U.S. regulators). Even adding in long-term securities only brings Qualcomm's piggy bank to around $30 billion in total. Qualcomm's total debt as of today is $11.77 billion and with a new multi-billion loan (or loans) as well as NXP's debt, its total debt will be well over $20 billion. The company does not reveal the names of its creditors right now, but it admits that it will have to borrow money to pay to NXP shareholders as well as liabilities of the company eventually.
Qualcomm and NXP intend to close the deal by the end of calendar 2017, after regulators in various jurisdictions approve the buyout. What is noteworthy is that the two companies are starting their integration effort today, well before they get all the approvals they need, which shows their confidence in the deal closing, and confirms that it will not be easy to merge the two multi-billion corporations. If everything goes as planned, the transaction valued at approximately $47 billion will be the largest semiconductor takeover ever. Last year Avago paid $37 billion for Broadcom and earlier this year Softbank bought ARM for $32 billion.
From an economics points of view, large chip-related acquisitions in the recent years are not surprising. Electronics get more complex and more expensive to develop. As a result, semiconductor companies need to expand their businesses to gain access to and volume in various existing and emerging devices. Moreover, by taking over other companies, chip developers not only get IP they need, but can also cut down certain costs and/or get rid of competitors. Finally, as companies get bigger, it gets easier for them to negotiate with their suppliers because now they need to get more goods or services.
Qualcomm and NXP: More Than the Sum of All Parts?
Qualcomm will create a rather formidable force in the semiconductor world by combining two very different companies with 72,000 employees in total. However, the giant machine that Qualcomm and NXP are going to create may be worth more than the sum of their capitalizations if everything goes according to plan.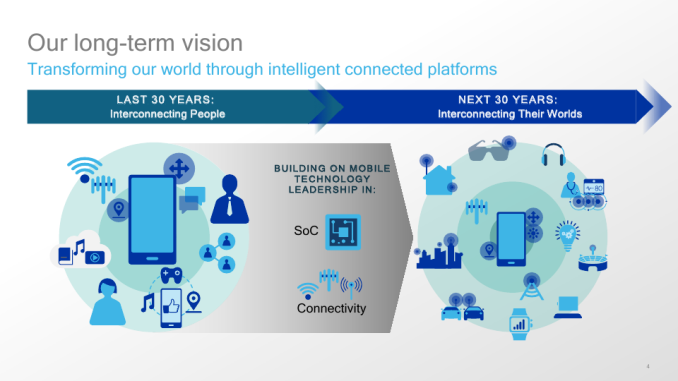 Right now Qualcomm is the world's largest supplier of SoCs for mobile devices and telecom equipment. Last fiscal year the company earned $25 billion in revenue: $17B from selling chips and $8B from technology licensing. In the recent years Qualcomm has been trying to diversify its business and offered various solutions for automotive, IoT, healthcare and even datacenter industries. While the company has been gradually expanding its product portfolio with various solutions, mobile SoCs has remained its bread and butter for products sold. Moreover, some of the markets and products categories hard to break into due factors such as conservative approach of manufacturers, very long development cycles, etc. For example, despite of having CPU, GPU, sensors and other IP, Qualcomm has never made into Top 10 suppliers of automotive semiconductors (according to IHS).
By contrast, NXP has been focusing on mixed-signal semiconductors as well as various specialized microprocessors and microcontrollers. NXPs chips are used inside automobiles, in healthcare equipment, NFC equipment (in fact, NXP was one of the inventors of the technology) and in hundreds of other devices. Based on data from IHS, NXP earned $9.72 billion in revenue last year.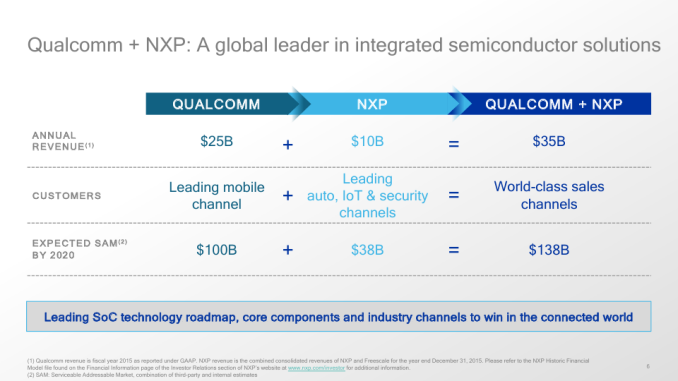 While Qualcomm and NXP overlap in certain areas, they aren't direct rivals in any significant sense of the word; the sum of their revenues come from different markets. Therefore, the acquisition will be complementary for Qualcomm because it greatly expands its addressable markets (potentially up to $138 billion in 2020) and brings thousands of new clients (Qualcomm says that NXP serves 25K direct and indirect customers). The combined company will have revenue of well over $30 billion and will be the world's No. 3 supplier of semiconductors after Intel ($51 billion in 2015) and Samsung ($40 billion), based on rankings from IHS. Keep in mind that Samsung sells tons of commodity DRAM and NAND flash memory, whereas the new Qualcomm will specialize on various general purpose, automotive, IoT and special purpose computing solutions. In fact, the new Qualcomm will be a rather unique company with no direct rivals of comparable sizes, as companies like Avago (together with Broadcom), MediaTek, Texas Instruments, Renesas and other earn considerably less.
During the conference call with investors and financial analysts, the management of Qualcomm and NXP emphasized multiple times that the new company will not only be able to develop unique solutions thanks to massive amount of IP available to leverage (some of which goes back to semi IP from Motorola and Philips), but will be able to address automotive and IoT industries better than its competitors. In the best case scenario, Qualcomm will be able to offer highly-integrated platforms for hundreds of emerging devices from smart wearables to 5G-enabled IoT equipment to self-driving automobiles with wireless charging, in addition to more advanced platforms for hardware we use today, such as smartphones, routers or servers. At the same time, while the management teams accentuate that the transaction is not about cutting costs or synergies, it is inevitable that there will be redundancies and optimizations. Therefore, some existing projects are expected to be cancelled (it will be interesting to see what happens to Freescale's CPUs, for example) and some will be merged. Qualcomm predicts that two years after the two firms merge, the new company will save at least $500 million annually.
The Road Ahead
The acquisition of NXP clearly makes a lot of sense for Qualcomm, but the integration of the two companies is not going to be easy. Firstly, NXP is still integrating Freescale Semiconductor (the deal closed last December). Secondly, NXP has its own semiconductor fabs (all of which are outdated and Qualcomm has never had its own fabs). Thirdly, NXP has more employees than Qualcomm itself (45K vs 27K). Finally, the new company will have to remain very agile to remain competitive on rapidly developing markets, such as smartphones.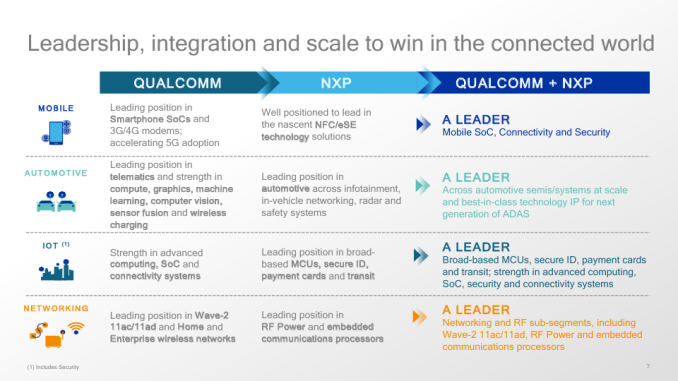 Executives of Qualcomm said on Thursday that the combined company would be managed by execs from both firms, who know how certain businesses work. For example, Qualcomm plans to use NXP's sales teams to sell Qualcomm-branded devices for IoT because these people know the market and know how to address it. In the meantime, Qualcomm does not have immediate plans to get rid of NXP's semiconductor production facilities and NXP's execs will continue to manage them. But in longer term, the company may reconsider its approach to manufacturing as Qualcomm has long based its business around being a fabless semiconductor. Overall, while the integration efforts are underway, there are things that may change between now and late 2017, when the deal is expected to close. Therefore, only time will tell how the combined company will look like and how it will be managed.
No matter how optimistic execs from Qualcomm and NXP sound today about the prospects of the merged company, it will be a very tough job to blend the two firms. Nevertheless, the importance of connected devices will only grow in the coming years (one may call it the 5G era) and therefore having the whole package of IP needed to build different kinds of devices (from water quality sensors to smart cars and smart buildings) is clearly important.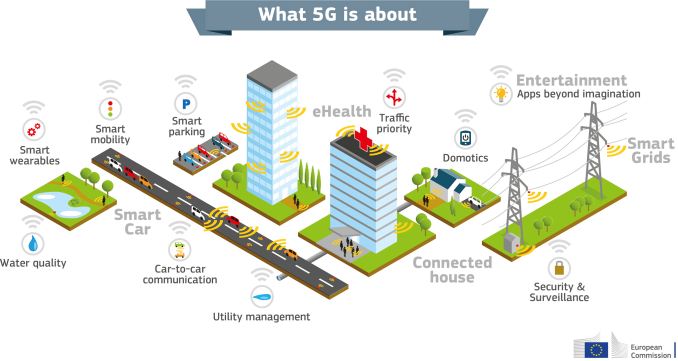 Source: Qualcomm, NXP