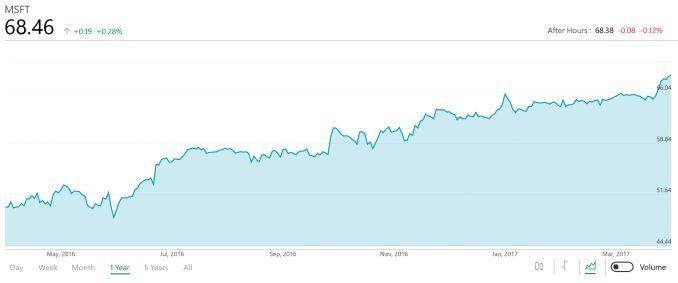 This week, Microsoft announced their earnings for the third quarter of their 2017 fiscal year. Despite missing some expectations in a few segments, Microsoft's revenue was up 8% to $22.1 billion, and gross margin was up 10% to $14 billion, resulting in a gross margin of 64% for the quarter. Operating income was up 6% to $5.6 billion, and net income was up 28% to $4.8 billion, which resulted in earnings-per-share of $0.61, which is up 30% from the same time last year.
Microsoft Q3 2017 Financial Results (GAAP)
Q3'2017
Q2'2017
Q3'2016
Revenue (in Billions USD)
$22.090
$24.090
$20.531
Operating Income (in Billions USD)
$5.594
$6.177
$5.283
Gross Margin (in Billions USD)
$14.030
$14.189
$12.809
Margins
63.5%
58.9%
62.4%
Net Income (in Billions USD)
$4.801
$5.200
$3.756
Basic Earnings per Share (in USD)
$0.61
$0.66
$0.47
Microsoft also reports Non-GAAP results, which report earnings with constant currency reconciliations to equalize the strength or weakness of the USD versus global currencies, as well as Windows 10 revenue deferrals due to it including upgrade rights for the lifetime of the product, so rather than just counting the sale of a Windows license as a lump sum, it is now deferred. Microsoft will be switching to a new revenue standard to count Windows 10 sales up front in the future, but for now their revenue recognition practices require them to defer it. On a Non-GAAP basis, Microsoft earned $23.6 billion in revenue, up 6%, or 7% in constant currency (CC), had a gross margin of $15.5 billion, up 7% or 9% CC, which as a percentage of revenue is 66%, up 1% from a year ago. Operating income for the quarter was $7.1 billion, up 2%, or 5% CC, and net income was $5.7 billion, up 13%, or 16% CC. This resulted in diluted earnings per share of $0.73, up 16%, or 19% CC.
Microsoft returned $4.6 billion to shareholders this quarter, with $1.6 billion in share repurchases, and $3.0 billion in dividends. Microsoft had been buying back shares at an accelerated rate, but in the earnings call, announced they would be moving back to their more historic levels for share buybacks.
This is their first full quarter since the acquisition of LinkedIn, and LinedIn had revenues of $975 million. The cost of the revenue, thanks to amortization of assets from the acquisition, and other costs, was $396 million, and operating expenses from the amortization of assets from the acquisition and other operating expenses for LinkedIn was $965 million, meaning LinkedIn is currently a drag on the operating income of Microsoft at a cost of $386 million this quarter. LinkedIn results will be calculated in the Productivity and Business Process segment, but for now Microsoft is also breaking out the numbers on their own, which isn't something they always do.
Speaking of Productivity and Business Processes, this segment includes not only LinkedIn, but also Office Commercial, Office Consumer, and Dynamics. Revenue for this segment for this quarter was up 22% to $7.96 billion, with LinkedIn revenues adding 15% to the result since they've not been included before. Operating income though dropped for the same reasons, down 7% to $2.78 billion, almost exclusively due to the operating drag of LinkedIn. But despite that, this was still an important quarter for Microsoft, since Office 365 commercial seats grew another 35% year-over-year, and now has over 100 million monthly active users. Microsoft Teams is now a part of this as well, and Microsoft stated they have over 50,000 customers using Teams already, and since it is included with Office 365, that number will likely grow quickly. Office 365 consumer (Personal and Home versions) now has 26.2 million subscribers, which is up 18% year-over-year. Dynamics also had a strong quarter, with revenue up 10% (11% CC), and Dynamics 365 revenue up 81% (82% CC).
Intelligent Cloud, which includes hosted and cloud server products, as well as enterprise services, had $6.76 billion in revenue, up 11% (12% CC) thanks to growth in server products and cloud services, but there was a decline in revenue from Enterprise Services thanks to a drop in Windows Server 2003 support contracts, as more companies finally move off of that version of Windows Server and no longer need to pay for additional support. Operating income for this segment was flat at $2.18 billion (up 3% CC). Azure continues to be a very strong performer for Microsoft, with Azure revenue up 93% year-over-year (94% CC) and Azure compute usage more than doubled in the last year. Server products and cloud services grew 15%, and Enterprise Mobility had its install base grow by over two times for the twelfth consecutive quarter.
More Personal Computing had a revenue decline of 7% to $8.84 billion, due to lowered revenue in phones (which are now at about zero) and a decline in Surface sales. Operating income grew 20% though, to $2.1 billion, and operating expenses declined 11% for this segment driven by lower phone expenses, and Surface launch marketing a year ago.
Surface, as already stated, was down for the quarter, and it was a substantial drop of 26% (25% CC), and Microsoft is attributing this to end-of-lifecycle dynamics, as well as increased price competition from the competition. To put that in plain speak, Surface hasn't seen a substantial refresh since Surface Pro 4 and Surface Book were unveiled in October 2015, and although the Surface Studio was announced in October, that is a very niche device and it would be unfair to think it would play a big part in sales. Also, their competitors have brought competing devices to market to directly compete against Microsoft, especially with the successful Surface Pro 4, and we've seen quite a few direct competitors launched since the SP4 came out. We would expect to see something from Microsoft soon, but the original goal for Surface was to drive the ecosystem to better products, and clearly they've almost succeeded too well.
With phone revenue declining $730 million, the revenue of this entire segment took a big hit, but since Microsoft lost money on every phone sold, they are actually coming out ahead here. Phone revenue was down 99% from a year ago, meaning they should finally be able to stop reporting this result.
Windows did well, with OEM Pro revenue up 10%, and OEM non-Pro declined 1%, which is well ahead of the PC market as a whole. Search revenue was up 8%, and gaming revenue was up 4%, driven by growth in Xbox Live, which now has 52 million active users.
Microsoft Q3 2017 Financial Results (GAAP)
Productivity and Business Processes
Intelligent Cloud
More Personal Computing
Revenue (in Billions USD)
$7.96
$6.76
$8.84
Operating Income (in Billions USD)
$2.78
$2.18
$2.10
Revenue Change YoY
+22%, +23% CC
+11%, +12% CC
-7%, -7% CC
Operating Income Change YoY
-7%, -4% CC
0%, +3% CC
+20%, +23% CC
It was another strong quarter from Microsoft, and although their hopes of being a player in the mobile market have faded, they are still very well positioned for the future in their cloud business, while at the same time their consumer devices and software continue to outperform the declining PC market.
Source: Microsoft