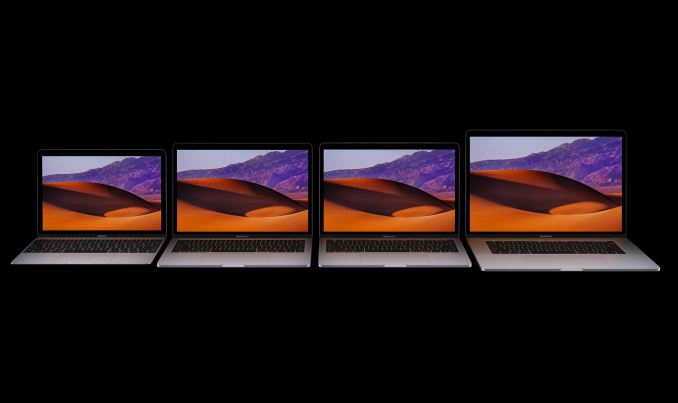 Today at their annual Worldwide Developer Conference, the company announced a slew of hardware updates for their entire range of laptops. Every last laptop, from the mighty MacBook Pro to the humble MacBook Air is getting some sort of CPU or platform update. As a result, Apple has a full family of refreshed laptops for the summer, all of which improve on their predecessor in one or more ways.
We'll start with the MacBook Pro and MacBook, Apple's two modern laptop families. Both of these laptops have received their long-awaited update to Intel's 7th generation Kaby Lake platform. Kaby Lake, for a quick refresher, uses the same Skylake CPU core as Intel's 6th gen Skylake platform, but enjoys a modest frequency boost due to Intel's 14nm+ manufacturing process. Meanwhile on the graphics side of matters, all of these CPUs come with a newer media block that offers full hardware encode and decode of 10-bit HEVC. This is an important distinction since Apple will be supporting HEVC on macOS 10.13 High Sierra. There are no other major changes to the underlying Kaby Lake platform, so other than the clockspeed boost and improved media decoder, Kaby Lake is a conceptually simple update from Skylake.
2017 MacBook Lineup
Model
2016 (Base)
2017 (Base)
Dimensions
0.35 - 1.31 cm x 28.05 cm x 19.65 cm
Weight
2.03 lbs (0.92 kg)
CPU
Intel Core
m3-6Y30 (Skylake), cTDP Up
Base: 1.1GHz
Boost: 2.2GHz
Intel Core
m3-7Y32 (Kaby Lake), cTDP Up
Base: 1.2GHz
Boost: 3.0GHz
GPU
Intel HD Graphics 515
Intel HD Graphics 615
Display
12-inch 2304x1440 IPS LCD
sRGB Gamut
Memory
8GB LPDDR3-1866
8GB LPDDR3-2133
SSD
256GB PCIe SSD
256GB PCIe SSD
(Newer Generation)
I/O
1 x USB 3.1 (Gen 1) Type-C
3.5mm combo jack
Battery Capacity
41.4 Wh
Battery Life
10 Hours
Price
$1299
$1299
Accordingly, Apple has only made minimal other internal changes to these laptops. The MacBook does get a newer SSD – presumably the latest Apple design to replace its existing Apple SSD – which Apple states is up to 50% faster than the previous SSD. Surprisingly, the company is now also offering a 16GB memory option on the laptop, an interesting development since they were already using a full suite of chips to get to 8GB; so a teardown will be necessary to see how they're getting to 16GB.
2017 MacBook Pro Lineup
Model
2016 13"
(non-touch)
2017 13"
(non-touch)
2016 15"
2017 15"
Dimensions
1.49 cm x 30.41 cm x 21.24 cm
1.55 cm x 34.93 cm x 24.07 cm
Weight
3.02 lbs (1.37 kg)
4.02 lbs (1.83 kg)
CPU
2.0GHz Core i5-6360U (Skylake)
2.3GHz i5-7360U (Kaby Lake)
2.6GHz Core i7-6700HQ (Skylake)
2.8GHz Core i7-7700HQ (Kaby Lake)
GPU
Intel Iris Graphics 540
Intel Iris Plus Graphics 640
Intel HD Graphics 530 + AMD Radeon Pro 450 (2GB)
Intel HD Graphics 630 + AMD Radeon Pro 555 (2GB)
Display
13" 2560 x 1600 IPS LCD
DCI-P3 Gamut
15" 2880 x 1800 IPS LCD
DCI-P3 Gamut
Memory
8GB LPDDR3-1866
8GB LPDDR3-2133
16GB LPDDR3-2133
SSD
256GB PCIe SSD
128GB PCIe SSD
256GB PCIe SSD
Touch Bar
No
Yes
I/O
2x Thunderbolt 3 (supports DP1.2 & USB 3.1 Gen 2 modes),
3.5mm Audio
4x Thunderbolt 3 (supports DP1.2 & USB 3.1 Gen 2 modes),
3.5mm Audio
Battery Capacity
54.5 Wh
76 Wh
Battery Life
10 Hours
10 Hours
Price
$1499
$1299
$2399
$2399
Meanwhile the 15" MacBook Pro is receiving a dGPU update. Apple has replaced the AMD Radeon Pro 400 series options with the Radeon Pro 500 series, which is comprised of the Radeon Pro 555 and Radeon Pro 560, Like the previous 400 series, both 500 series parts are based on AMD's Polaris 11 GPU.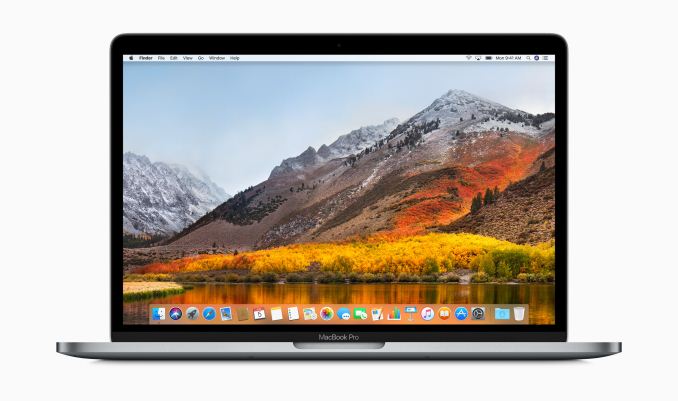 Otherwise, Apple hasn't made any internal or external changes to these laptops. They all have the same screens, same ports, same finishes, etc, as the 2016. And the Touch Bar is still present on all of the 15" SKUs and the higher-end 13" SKUs. So if you want a Touch Bar, you need to buy a more expensive SKU (or alternatively, a lower-end 13" if you don't want the Touch Bar). Finally, Apple has added a second low-end MBP 13" SKU with a smaller 128GB SSD, which has pushed the price of the cheapest model down from $1499 to $1299 as of the refreshed laptops.
All of these updated laptops should be available from Apple on June 7th.
MacBook Air
Meanwhile in a surprising turn of events, Apple has given the 13" MacBook Air a minor speed boost. The laptop has languished without a real update for a couple of years now, still using Intel's 5th generation Broadwell CPUs and a now dated low-DPI TN screen. Nonetheless, it's still one of Apple's more popular laptops due to its sub-$1000 starting price, which seems to be disrupting any plans to actually discontinue the laptop. As a result, Apple has given it a minor, late-lifetime speed boost.
2017 MacBook Air Lineup
Model
2016 (Base)
2017 (Base)
Dimensions
0.30 - 1.70 cm x 32.5 cm x 22.7 cm
Weight
2.96 lbs (1.35 kg)
CPU
1.6GHz Core
i5-5250U
1.8GHz Core
i5-5350U
GPU
Intel HD Graphics 6000
@ 950MHz
Intel HD Graphics 6000
@ 1000MHz
Display
13-inch 1440x900 TN LCD
Memory
8GB LPDDR3-1600
SSD
128GB PCIe SSD
I/O
2x USB 3.0 Type-A
1x Thunderbolt 2
SDXC Card Reader
3.5mm Audio
Battery Capacity
54 Wh
Battery Life
12 Hours
Price
$999
$999
The updated laptop retains the use of Intel's Broadwell processor, but the base configurations now uses a faster chip, Intel's Core i5-5350U, instead of the slower i5-5250U. As hinted at by the minor model number change, this is not a massive difference – both the base and the boost clock are 200MHz faster, for 1.8GHz base and 2.9GHz boost – but it is none the less a tangible performance improvement for Apple's entry-level laptop.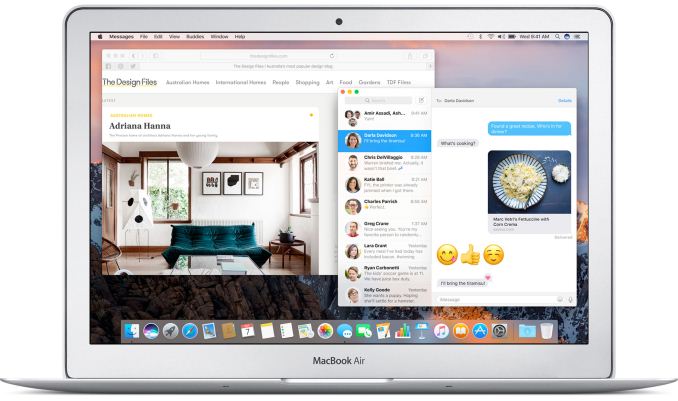 Otherwise, Apple has not made any other changes. It's still the same size with the same panel and the same I/O, including the now dated Thunderbolt 2 port. Still, it buys the laptop a bit more time, at least until Apple can figure out what the future of their entry-level laptop model should be.