AMS is primarily known as a manufacturer of enclosures. Recently, they have begun to diversify by adding Small Form Factor computers to their product line. The very attractive all-aluminum EG65D is their most recent SFF entry and features the Intel 865G chipset.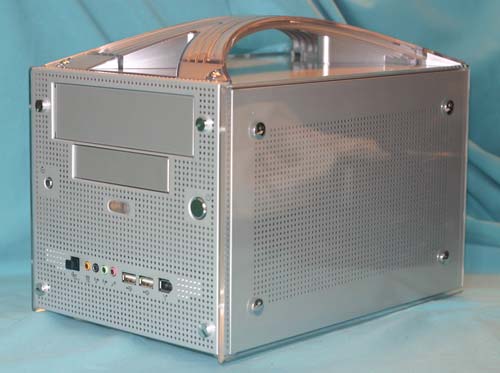 While the eCube is about the same size as the Soltek and Biostar SFF systems, it adds a top handle to make transport easier. The perforated aluminum "shell" also gives the eCube an industrial look favored by some enthusiasts. It is certainly different from what we have seen in other SFF systems, and certainly looks like it is ready to take off with blistering performance. In addition, AMS adds a blue LED fan, so the system has a soft blue glow in the interior when the system is on.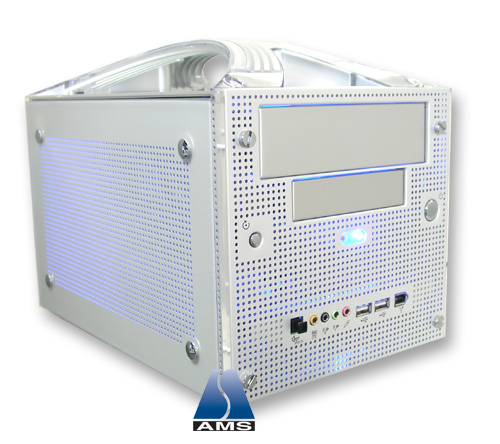 The eCube EG65D, like the
Shuttle
and
Biostar
we recently reviewed, is based on the latest Intel 800FSB Dual-Channel 865 chipset. The AMS eCube uses the onboard graphics of the G version of the 865, but also has an 8X AGP slot for graphics expansion. The AMS supports any current 800FSB C Series Intel processor, as well as earlier 533 and 400FSB socket 478 CPUs. Add to that, 8 USB 2.0 ports, 3 Firewire, Serial ATA, a 220 Watt Power Supply and 5.1 audio, the AMS appears well-equipped to compete with other SFF systems.
System Specifications
 System Specifications
 
 AMS eCube EG65D
 Soltek Qubic EQ3401M
 Biostar iDEQ 200T
 Shuttle SB65G2
Expansion Bays (5.25"/3.5"/Hidden)
1/1/1
2/1/1
1/1/1
1/1/1
Front USB Ports
2
2
2
2
Rear USB Ports
2
4
2
4
Internal USB Ports
4
2
4
2
Front Firewire Ports
1 Standard
1 Standard
1 Standard
1 Mini
Rear Firewire Ports
2 Standard
2 Standard
1 Standard
1 Standard
On-Board Parallel Port
None
Internal Header
Internal Header
Internal Header
On-Board Game Port
None
None
Internal Header
None
On-Board Serial Ports
1 Rear
2 Rear
2 — One Rear & One Internal Header
2 Rear
Front Audio Jacks
4 — Mini Mic and Frt/Back/CtrSub Speakers
2 — Mini Mic & Line-In
2 — Mini Mic & Heaphone
3 Mini
Rear Audio Jacks
3 Mini
3 Mini
3 Mini
3 Mini
SPDIF
TWO — Rear Optical OUT & Front Optical IN
One — Front
Optical Out
Two: Rear Optical Out & Front Optical In
Two: Rear Optical SPDIF In & Out
Number of Fans (including CPU/chipset)
2
2
2
1
Power Supply
220W Chyang Fun
250W Enhance
200W Enhance
220W Enhance