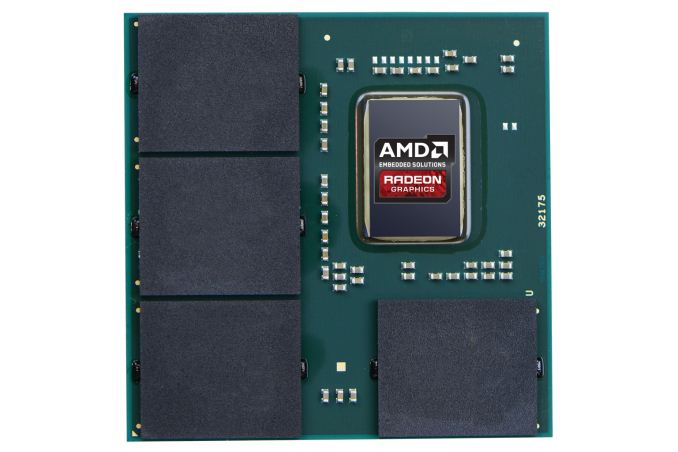 Today AMD is announcing the Polaris-based Radeon E9170 series, the latest entrant to their embedded graphics offerings. Sporting Radeon-class hardware and long-term support, these embedded products look to markets such as digital signage, casino games, medical imaging, and thin clients, as well as military/aerospace and industrial applications. As such, like AMD's other embedded graphics products, the E9170 comes in PCIe (standard and half-height), MXM, and MCM formats, MCM being a first for embedded Polaris.
Where last year's E9260 and E9550 updated AMD's embedded "high performance" and "ultra-high performance" brackets, the E9170 now brings Polaris into the "power-efficient" bracket. With 8 CUs and 1.2 TFLOPS, E9170's specifications match the Polaris 12 based RX 550, but we are still awaiting confirmation from AMD about the precise GPU inside. Presumably, the E9170 will benefit from the new mid-power memory clock state introduced in the revised Polaris of the RX 500 series; power consumption will be reduced in mixed-resolution multi-monitor and video decoding, both use-cases that would be common for embedded parts.
AMD Embedded Radeon Polaris GPUs
E9550
E9260
E9170
Stream Processors
2304 (36 CU)
896 (14 CU)
512 (8 CU)
GPU Base Clock
1.12GHz
?
1124 or 1219MHz
GPU Boost Clock
~1.26GHz
~1.4GHz
N/A
Memory Clock
7Gbps GDDR5
7Gbps GDDR5?
6Gbps GDDR5
Memory Bus Width
256-bit
128-bit
64- or 128-bit
VRAM
8GB
4GB
2 or 4GB
Displays
6
5
5
TDP
Up to 95W
Up to 50W
Up to 50 W
GPU
Polaris 10
Polaris 11
Polaris 12?
Architecture
GCN 4
GCN 4
GCN 4
Form Factor
MXM
MXM & PCIe
MCM, MXM, PCIe
Other than increased performance and 4GB video memory, the E9170 series brings Polaris' updated multimedia, display output, and encoding/decoding feature set to the lower price brackets. In short, this includes support for HDMI 2.0 and DisplayPort 1.4, 4K HEVC/H.265 decode and encode, and up to five 4K displays. AMD compared the E9170 to the Turks based 6 CU E6760 and Caicos based 2 CU E6465, both pre-GCN (TeraScale) parts. The E9170 will join the E6465, announced two years ago, in the "power-efficient" segment. Where the E6465 is available until around 2020, and the other embedded Polaris products until around 2021, the E9170 will be offered for 7 years until 2024, a typical timeframe given the long upgrade cycles of the embedded market.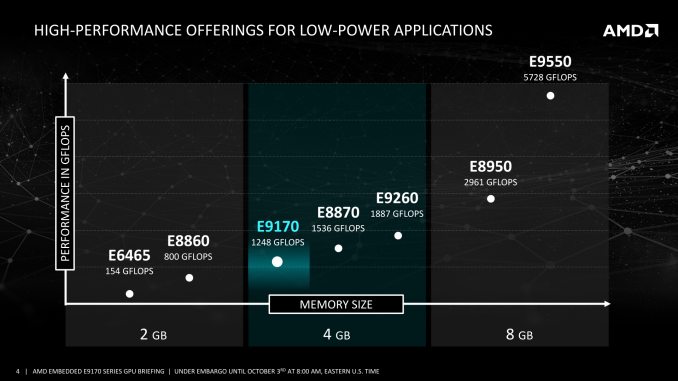 While the E9170 series GPU is the only GPU being announced today, it comes in 8 variants, differing in physical format, power consumption, display outputs, video memories, and thermal solution. Although there are several OPNs for the other physical formats, the MCM part offers extra versatility as it suitable for soldering.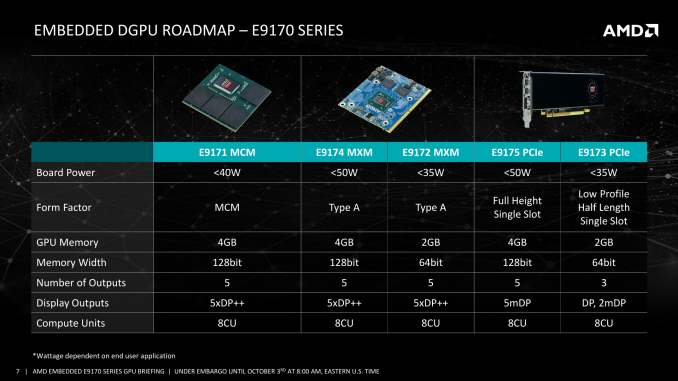 The E9170 PCIe and MXM variants are planned to be available this month (October 2017), while the MCM version is planned for November.
Source: AMD