For several months, Dell had planned a computer that would bring all the latest features together in a new cutting-edge machine targeted at the Gamer. The result of that effort is the Dimension XPS, a 3.2GHz computer in an enhanced case with a 460-watt power supply. While you can order Dimension XPS in many configurations, our unit was equipped with every top-of-the-line option on the list — including the 3.2 Pentium 4 on the Intel 875P chipset motherboard, SATA RAID with a pair of 250GB hard drives, a Radeon 9800 XT, Creative's top Audigy 2 sound card, 8X DVD+RW and 48X CD-RW, Logitech's top Z-680 5.1 speaker system, and a 16ms 20" flat-panel display designed for gaming.
As you can see from the list above, everything about the Dell Dimension XPS that we are evaluating is top-of-the-line. While you can order the system with more modest choices, and prices starting at $1799, we realized many of our readers would want
this
system, so we asked Dell for a price on the system exactly as we tested. Dell provided a price, but they also kindly put together a special offer for AnandTech readers. The Dimension XPS, configured exactly as we are testing it, is available from Dell for $3399. To get this special price of $3399, you need to enter E-Value code 6V411-XPSRPW when you order the system from Dell. The E-Value code is also valid for phone orders.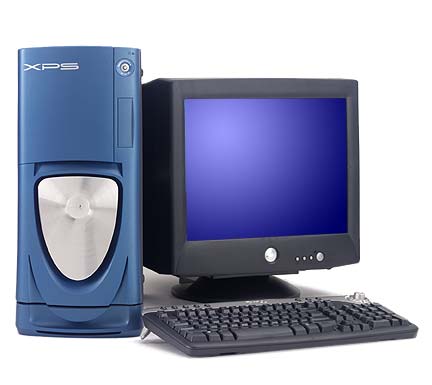 Those who select the CRT option will receive the system as pictured above. Other components pictured are the same as our review system. As we mentioned, our $3399 test system included the 20" 16ms flat panel display pictured below.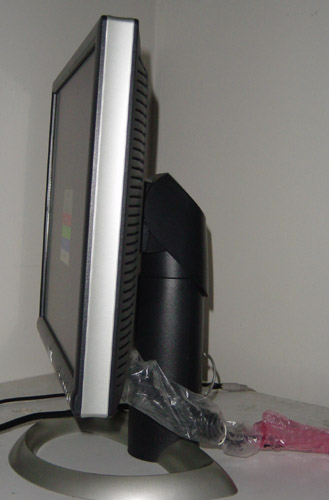 We were so impressed with the 20" display that AnandTech decided to do a separate review of the flat-panel. You can check out Kristopher Kubicki's review of the 20" display at
http://www.anandtech.com/showdoc.html?i=1918
. Kris goes into much more technical detail on this exciting new panel than we could include in a complete system review. Dell considers this new 20" flat-panel their first LCD fast enough to be used for gaming, and after AnandTech's testing, we certainly agree.
It is impossible to review the Dell Dimension XPS without considering the market to which it is targeted. Dell has loaded the XPS with just about every "bragging-rights" feature you could think of if you were putting together a list of components for the ultimate gaming machine. However, Dell has never really targeted the hobbyist or enthusiast who wants to tweak the last bit of performance out of their computer by overclocking or tweaking the memory for the best performance possible. The Dell Dimension XPS is no different in this regard. It is not designed for the hobbyist or overclocker; rather, it is designed and tweaked for the buyers who want their gaming system already set up, already tweaked for best performance, and ready to give great gaming performance right out of the box. As we evaluate the Dell Dimension XPS, this is an important distinction. Overclockers and tweakers will
not
be satisfied with the XPS, but buyers who would never think of overclocking will be thrilled. So will potential buyers who want the best gaming system available with a good warranty, but who wouldn't even think of putting it together themselves. Enthusiasts will find the Dell system somewhat limiting, but the 90% of buyers who don't overclock, don't do their own upgrades, or would never think of assembling a computer themselves will be thrilled with the Dell Dimension XPS.
System Specifications
 Dell Dimension XPS System Specifications
Expansion Bays (5.25"/3.5"/Hidden)
3/1/3
Front USB Ports
2
Rear USB Ports
6
Internal USB Ports
0
Front Firewire Ports
1 Standard
Rear Firewire Ports
1 Standard
On-Board Parallel Port
1 Rear
On-Board Game Port
None
Modem Ports
2 Rear
On-Board Serial Ports
2 Rear
Front Audio Jacks
2 — Headphone
Rear Audio Jacks
6 Mini on Audigy 2
SPDIF
One — Rear
Mini Out
Number of Fans (including CPU/chipset)
4
Power Supply
460W