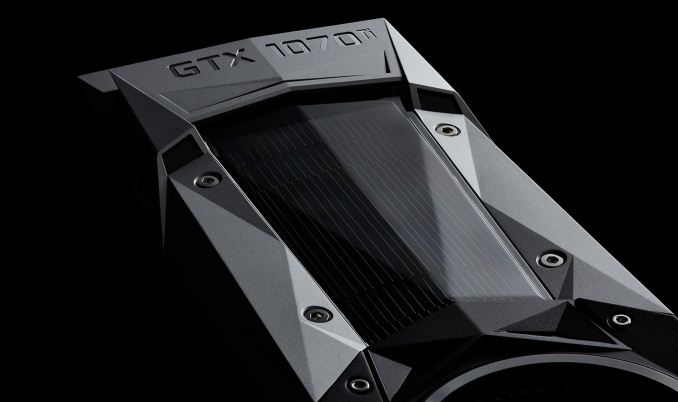 This morning, NVIDIA is finally unveiling the speculation-consumed open secret that is the GeForce GTX 1070 Ti. Based on the same GP104 GPU as its GTX 1080 and 1070 siblings, this Pascal-based card comes late in the year, with NVIDIA's last major consumer card launch in March (GTX 1080 Ti). While the card is not shipping until November 2nd, it is available for preorders from a number of retailers and system builders.
Going right to the specifications, the GTX 1070 Ti truly is a blend of the GTX 1080 and 1070, having only 128 fewer CUDA cores than the GTX 1080, a GTX 1080-like core clock and a GTX 1070-like boost clock, and 8GB of GDDR5 rather than GDDR5X. It appears that this is a new derivative of GP104, which outside of desktop GeForce also comes as a 2048 CUDA core GTX 1070 (Notebook) and 1792 CUDA core Quadro P4000.
NVIDIA GPU Specification Comparison
GTX 1080
GTX 1070 Ti
GTX 1070
CUDA Cores
2560
2432
1920
Texture Units
160
152
120
ROPs
64
64
64
Core Clock
1607MHz
1607MHz
1506MHz
Boost Clock
1733MHz
1683MHz
1683MHz
Memory Clock
10Gbps GDDR5X
8Gbps GDDR5
8Gbps GDDR5
Memory Bus Width
256-bit
256-bit
256-bit
VRAM
8GB
8GB
8GB
FP64
1/32
1/32
1/32
TDP
180W
180W
150W
GPU
GP104
GP104
GP104
Transistor Count
7.2B
7.2B
7.2B
Manufacturing Process
TSMC 16nm
TSMC 16nm
TSMC 16nm
Launch Date
05/27/2016
11/02/2017
06/10/2016
Launch Price
MSRP: $599
Founders: $699
MSRP: $449
Founders: $449
MSRP: $379
Founders: $449
The GTX 1070 Ti represents a tier not present in recent NVIDIA generations, not just in terms of performance but also in terms of timing. The company has very rarely offered a 3 card stack based on the Gx104 GPU - we'd have to go back to the GeForce 600 series for that - and even less often with all 3 cards performing this close together. For the closest parallel we'd probably have to go back to the GeForce GTX 560 Ti w/448 Cores, a similar later-cycle product released near the end of the Fermi generation.
In any case, the GTX 1070 Ti is the most significant enthusiast video card launch from NVIDIA since 2016. GTX 1080 and 1070 were launched in May and June of 2016, with a mild refresh in the form of partner GTX 1080 11Gbps this May. So this is the first new video card NVIDIA has launched into this range in 16 months.
The million dollar question of course is "why now?" and while NVIDIA hasn't said anything about the product - in fact they haven't even briefed the press ahead of today's announcement - the obvious X factor right now is AMD. Specifically, AMD's release of RX Vega64 and Vega56, launched on August 14th and 28th respectively. At launch, AMD chose to target the GTX 1080 and 1070 as the main competitor cards, and by some metrics the RX Vega cards may provide better value. Of the two, RX Vega56 in certain cases can even creep up to near-GTX 1080 performance. With the GTX 1070 Ti, NVIDIA and its partners have a chance to split the difference while taking advantage of the pre-existing GTX 1080 and 1070 board designs and cooling solutions.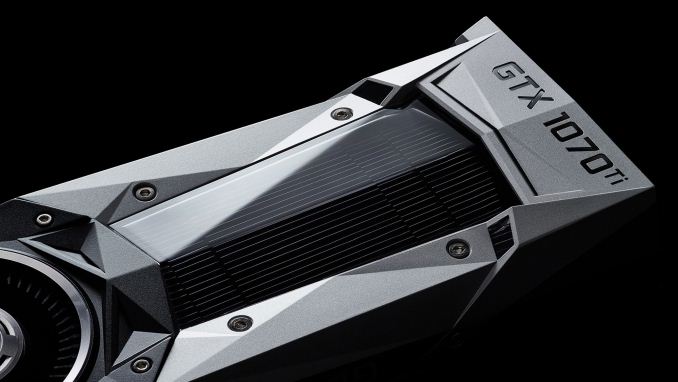 Meanwhile I suspect that chip yields may also play a part. NVIDIA has gained the benefit of 16 months of yield improvements over at TSMC, reaching the point where they've moved on to things like fabbing the massive GV100 GPU on TSMC's 12nm process. So after this long, it may be that NVIDIA is seeing fewer GP104 GPUs with multiple defective SMs.
Otherwise the wildcard factor in the mix is cryptocurrency mining demand, which first affected RX 480 and GTX 1060 supply before engulfing the GTX 1070 for a time. Considering that GDDR5X does not provide as much mining value as GDDR5, the GTX 1070 was NVIDIA's fastest card for mining up until now. However on the flip side of the equation is that current popular cryptocurrencies (e.g. Ethereum) are far more bandwidth sensitive than compute sensitive - being intentionally designed to require large amounts of bandwidth to be ASIC-resistant - so the GTX 1070 Ti will likely be little-to-no faster at the task than the GTX 1070. In which case it will be interesting to see how miners (and the broader market) respond.
In terms of performance, the very limited material NVIDIA has put out on the card is promoting a roughly 15% performance improvement over the GTX 1070. Based on what we've seen with the Pascal architecture thus far, this seems reasonable given the specifications. The extra 4 SMs mean that even if GTX 1070 Ti's clocks are in practice identical to GTX 1070s - and with a higher TDP, I suspect we're going to see GTX 1070 Ti boost a bit better - means that this newer card has 26% more shading, texturing, and geometry resources than GTX 1070, which is a not-insignificant increase. However this is balanced against the fact that there's been no equivalent increase in memory bandwidth or rasterizer/ROP throughput. Games that hit the memory or ROPs especially hard will likely not see the same kind of benefit as compute-bound games.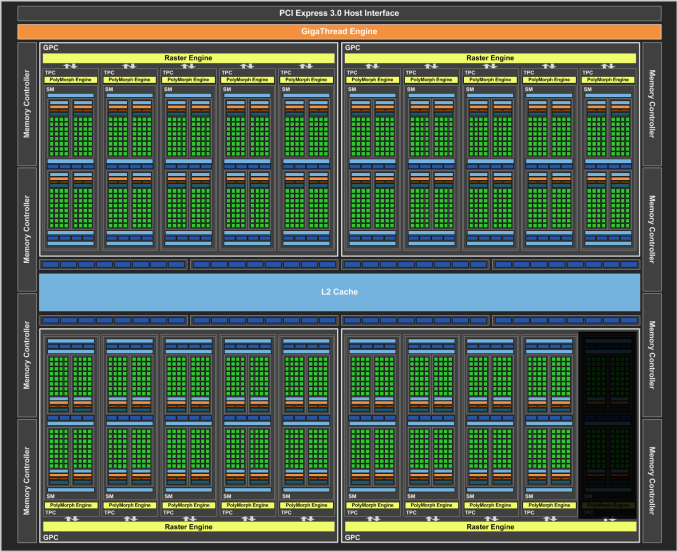 The risk for NVIDIA here is that by minting a new SKU so close to the GTX 1080, they're playing with fire in terms of how much performance separates the cards. Typically the GTX 1070 trails the GTX 1080 by 20% or so. If we take NVIDIA's figures as a reasonable, typical scenario, then the GTX 1070 Ti is going to trail the GTX 1080 by only 8% or so, which is a rather thin margin for a typical GPU product stack. GTX 1080 is still the better card (especially when you're memory bandwidth bound), but GTX 1070 Ti will probably cannibalize GTX 1080 a bit.
I suppose the one drawback for the GTX 1070 Ti is that, on paper, energy efficiency is taking a minor hit. The card has the GTX 1080's 180W TDP, but not its entire performance. So relative to either the GTX 1080 or GTX 1070, the GTX 1070 Ti won't be Pascal with its best foot forward, but still quite fast for the price. And with the higher TDP, despite the fact that the official boost clock is identical to the GTX 1070, I would be surprised if the GTX 1070 Ti didn't boost a bit higher.
Moving on, let's talk about the launch lineup and the competitive landscape. The GTX 1070 Ti will be launching a week from now, on Thursday, November 2nd, with pre-orders starting today. This is going to be a combined reference and custom launch; NVIDIA has built a GTX 1070 Ti Founders Edition model, and their partners will have their own custom cards ready to go for next week's launch as well. Since this is using the existing GP104 GPU, partners can easily take their existing GTX 1080 designs and retool them for use on the TDP-identical GTX 1070 Ti.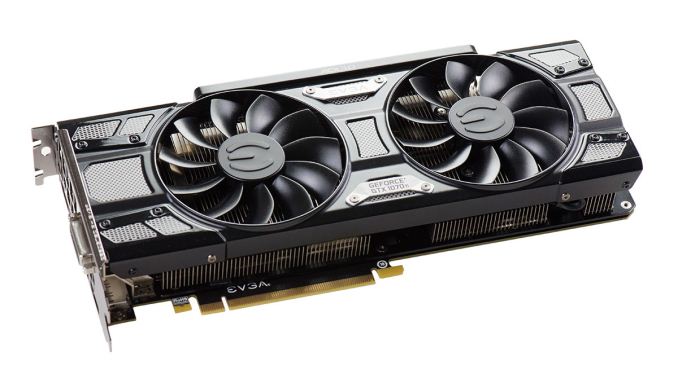 EVGA's GeForce GTX 1070 Ti SC GAMING Black Edition
Pricing is a bit more interesting, however. Marking an odd departure from NVIDIA's other Pascal cards, NVIDIA isn't setting separate prices for vendor cards and the Founders Edition card, which was the case for 1080/1070/1060. Instead there is just a single MSRP: $449, which is what the Founders Edition card is priced at, and is where partner cards are starting. To date, NVIDIA has been charging a premium for the FE cards, and that is going away. This is going to have interesting ramifications for the partner ecosystem, but we'll save that for the review.
As for the competitive landscape, competing with NVIDIA's newest card is of course AMD's Vega lineup. Based on current prices, the GTX 1070 Ti will be going up squarely against the Vega 56. Considering that Vega 56 holds an 8% lead over the vanilla GTX 1070, it's easy to see how NVIDIA and its partners are looking to make sure that there's no point where AMD has the faster card. That said, in terms of gaming competition the RX Vega cards have not been exerting significant pressure on NVIDIA's high-end 10-series cards as it is, at least to the extent that the previous generation R9 Fury cards put on the GTX 980 and 980 Ti. Pricing and availability are a big factor here on both sides, and until recently it's been difficult for AMD encroach on NVIDIA's position.
Overall then, what the GTX 1070 Ti does do competitively, besides performance of course, is target the current external weaknesses of RX Vega: suboptimal availability and pricing, as well as the lack of AIB partner cards. At the expense of segmenting NVIDIA's graphics lineup further, the GTX 1070 Ti also allows room to maneuver for an eventual Vega 11 based card. Additionally, considering that variable sync monitors tend to be matched with high-end cards and vice versa, the market impact could extend into FreeSync and G-Sync ecosystems.
The GTX 1070 Ti is available for preorder today from retailers as well as boutique system builders such as Origin PC. More information and details can be found on NVIDIA's product page and news post.
Source: NVIDIA