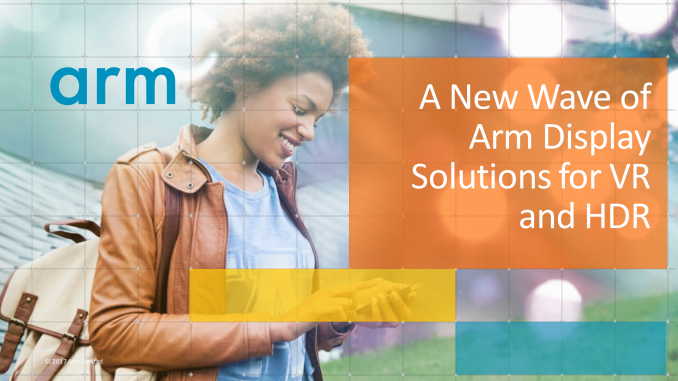 Today, Arm is announcing their Mali-D71 display processor and two closely-related IP blocks, CoreLink MMU-600 and Assertive Display 5, angling for 4K VR and HDR implementations on mobile displays. Previewed earlier in May under the codename Mali-Cetus, the D71 introduces the new Komeda display architecture, and combined with the new memory management unit (MMU) offers up to 4K120fps real-time performance. Meanwhile, Assertive Display 5 brings HDR capabilities and improved color and gamut management, adding onto the sunlight compensation and power-saver featureset of previous Assertive Display technologies.
All three blocks were developed together, and in turn they possess mutual optimizations in order to achieve VR-capable performance and HDR functionality. The D71 and MMU-600 are tightly coupled to target high resolution and frame rates, while Assertive Display 5 enables HDR capabilities and adaptation to panel variety. Whether alone or together, premium smartphones and tablets are the most straightforward application, but previous display processors and IP blocks have been used for VR headsets and TVs/STBs.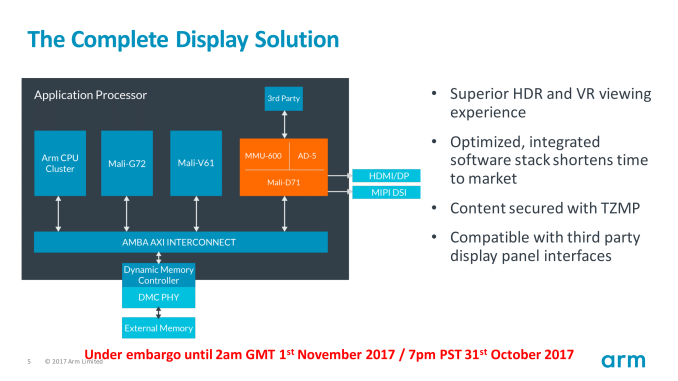 As mentioned in the Mali-Cetus overview, the D71 represents a clean architectural break from the Mali-DP650 and older display processors, which were more targeted for efficient sub-4K performance. In terms of generational uplift, Arm cites double the area efficiency and four times the latency tolerance, with a new side-by-side mode able double DP-650's pixel throughput. The new fixed function hardware, covered in May, offloads work from the GPU and in turn saves power. Of those units, the new composition unit can handle and scale more display layers, functionality that works well in supporting multi-window on Android. For that purpose, the D71 has been optimized for the Android Hardware Composer HAL (HWC) and more for Android multi-window.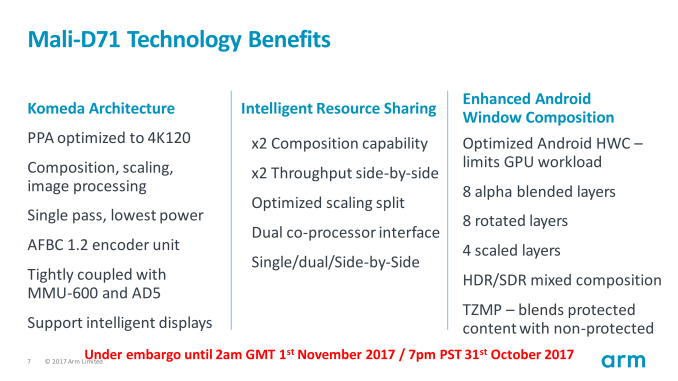 Where the Mali-Cetus was described more in terms of 4K90, Arm commented that due to the improvements of the specialized D71-specific MMU-600, particularly the latency reduction, they were able to "guarantee" 4K120 for the D71 + MMU-600. Area-wise, that combination is 55% smaller than a DP650 + MMU-500. The MMU-600 also includes TrustZone Media Protection (TZMP).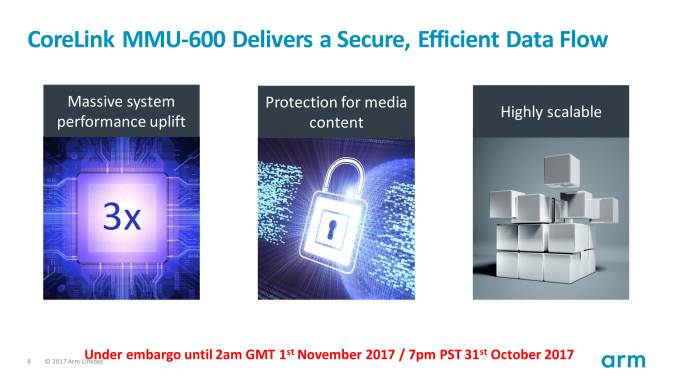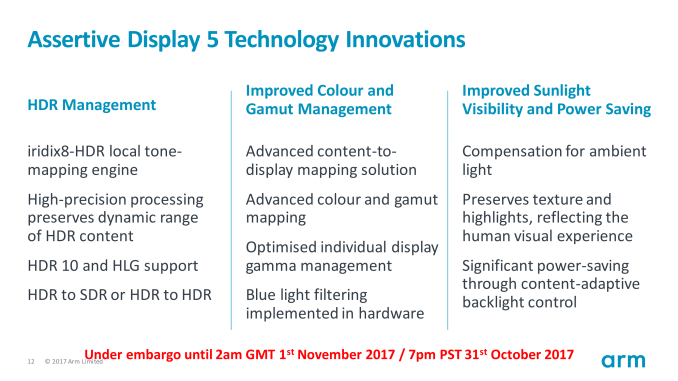 Assertive Display 5 represents the latest iteration of Assertive Display, and the first to be under the Arm umbrella since the acquisition of Apical, the original developers. Previously, Assertive Display revolved around a combination of tone-mapping, pixel processing, and adaptive screen brightness to save power or compensate for outdoor lighting, typically sunlight. These capabilities are extended into the HDR content that Assertive Display 5 supports.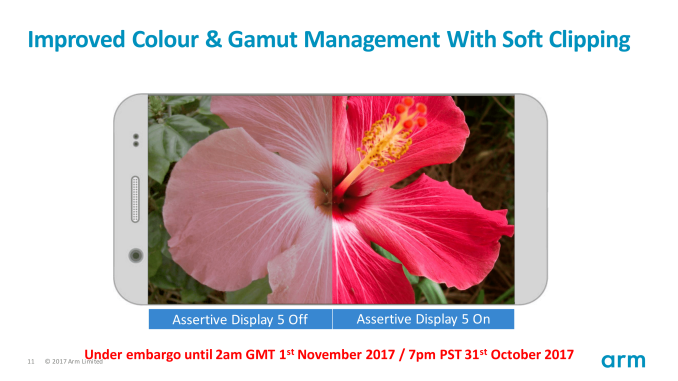 Assertive Display 5 brings HDR10 and Hybrid Log-Gamma (HLG) support, as well as HDR-to-SDR and HDR-to-HDR capabilities. Powered by an iridix8-HDR local tone-mapping engine, Assertive Display 5 can map content for the particular specifications of a display. Assertive Display also includes improved color and gamut management, particularly complementing HDR content.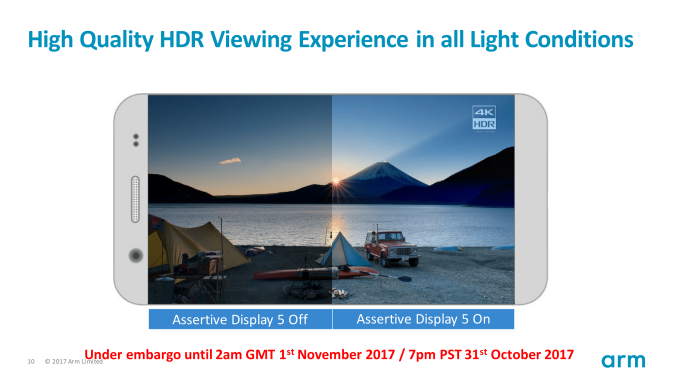 Additionally, Assertive Display 5 has blue light filtering. With all these features, Arm is aiming at keeping uniform color and lighting quality across HDR and SDR panels, and ideally compounding the advantages of HDR.
The D71, MMU-600, and Assertive Display 5 are available now to partners, with the technology expected to appear in devices around early 2019.
Source: Arm