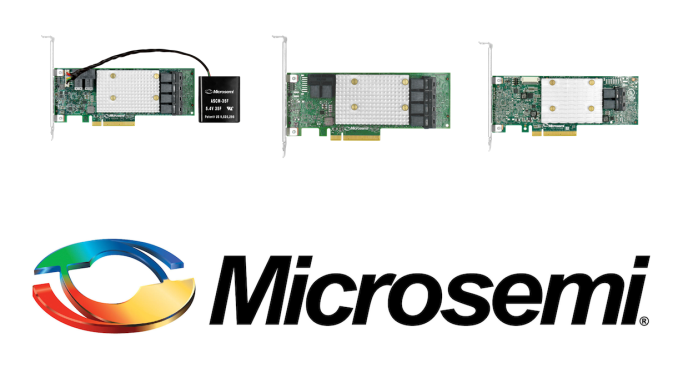 Today Microsemi is announcing the availability of a new generation of SAS/SATA adapters and RAID cards under their Adaptec brand. The new cards are based on the 28nm SmartIOC and SmartROC controller chips that Microsemi announced in May of this year. Those controller ICs are available for third parties to build products around, but Microsemi is now also selling their own branded solutions. The new adapters and RAID cards all use a PCIe 3 x8 host interface and support between 4 and 24 SAS/SATA ports.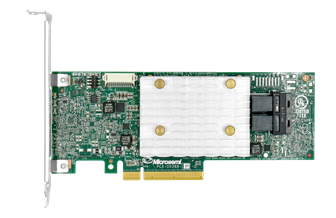 The Microsemi Adaptec HBA 1100 family is the entry-level tier implementing basic host bus adapter functionality using the SmartIOC 2100 controller. Microsemi claims aggregate performance can reach up to 6.6 GB/s sequential and 1.7M 4kB IOPS, a substantial improvement over the 1.3M IOPS from the previous-generation HBA 1000 series. (1100 series HBAs with 8 ports or fewer are rated for only 1.5M IOPS.) With the switch from a 40nm controller fabrication process to 28nm, Microsemi also claims these are the lowest-power 12Gb/s SAS adapters on the market. All the expected features of a SAS controller are present, including support for enclosure management, multi-initiator support for high-availability clustering, and support for port multipliers allowing up to 238 drives to be connected to each HBA. Microsemi has added support for the command set extensions used by host-aware and host-managed Shingled Magnetic Recording (SMR) hard drives.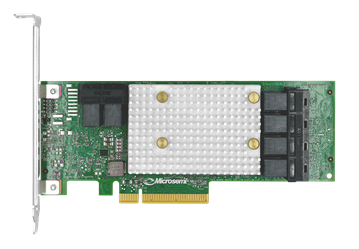 The Microsemi Adaptec SmartHBA 2100 family expands upon the features of the HBA 1100 family by enabling basic hardware RAID functionality, including RAID 0,1,10 and 5 modes. RAID arrays can span up to 32 drives, and drives not configured in a RAID array can continue to be accessed individually.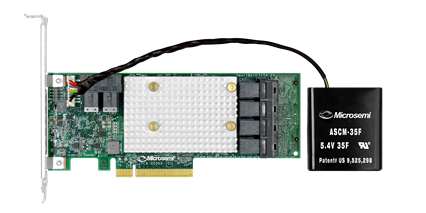 The Microsemi Adaptec SmartRAID 3100 family includes all the features of the 1100 and 2100 families, including compatibility with the RAID metadata format of the 2100 series. The 3100 series adds DDR4 caches ranging from 1GB to 4GB, with optional power loss protection support on most models through the addition of an external capacitor module to power the card long enough to save the contents of its DRAM to the card's flash memory. With the availability of a DRAM cache, the 3100 series can offer higher RAID 5 performance than the 2100 series plus support for more advanced RAID modes including RAID 6, 50 and 60. Models with power loss protection also support Microsemi's maxCache SSD caching feature, allowing up to 1TB of SSD cache in front of hard drive arrays, with write-through and write-back caching modes supported and mirroring supported for the cache drives. Microsemi claims a 40% power reduction compared to their older Series 8 12Gb/s RAID adapters.
Most models of the new generation of Microsemi HBAs and RAID controller cards are available now. Models with a mix of internal and external ports, and models with 16 external SAS ports will be available in early 2018. Pricing has not been annnounced.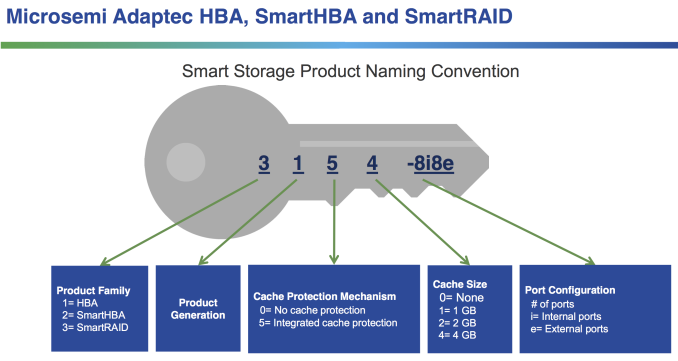 Next year, Microsemi plans to add models supporting controller-based drive encryption, offering an alternative to the use of self-encrypting drives or host-based software managed encryption.
Source: Microsemi