Around the time of the Athlon64 and Athlon64 FX launch on September 23rd, we were talking with Elite PC about evaluating a full-blown gaming system that they were planning to build around the Athlon64 FX. There were several delays due to Elite PC's desire to use a Dual Socket 940 board and the new ATI Radeon XT. There were some difficulties with their early Dual boards and they wanted everything to be right before sending us a review system. When the system was finally shipped to AnandTech, there were several miscues as well. We really expected the Elite PC Titan FX to be the first full-size system review at AnandTech, but events conspired to delay it for a while. We do think, however, that you will agree that this is a system worth waiting for.
Elite PC is a web-based reseller that maintains a storefront in Tempe, Arizona. You can see, configure, and order systems at their website at
www.elitepc.com
. The System we are evaluating is their top gaming system, the Titan FX, and you can see the available options and prices at
the Titan FX page
. Since Elite PC also maintains a 20-station LAN Center that is open 7 days a week for LAN Gaming, it is clear that they have a very good idea of what most gamers want in a gaming PC.
The Titan FX is built around the Dual Processor version of the MSI K8T Master motherboard. While Elite PC normally ships the system with one Athlon64 FX CPU, they wanted to give gamers the option for a future upgrade to Dual Opteron chips. In addition, the rest of the top-of-the-line features include 1GB of high-speed Registered DDR400 memory, SATA RAID 0 with 2 Western Digital Raptor 10,000RPM hard drives, ATI Radeon XT 256Mb, Sound Blaster Audigy 2 6.1, MSI TV@nywhere card with Remote Control, Sony DVD +/- burner, 16X DVD, USB Multi-flash reader, 120mm Case fan, blue case lighting, and Windows XP Professional, all wrapped in a silver and black Chenbro Xpider case with a 460-watt power supply and a 3-year onsite warranty.
UPDATE 12/01/2003:
Elite PC has provided an update on Dual Processor usage.
"The only AMD processors that can be run in DUAL mode are the 200 and 800 series Opteron processors. The motherboard in the Titan FX machine will run all 940 pin processors, however only the 200 and 800 series Opteron processors will run as Dual processors."
AnandTech just tried to benchmark the Titan FX system with 2 FX51, and while the system worked, the boot screen only identified ONE CPU even though two were installed. Oddly, the few benchmarks we ran were higher than single CPU, but not at the levels we would expect with Dual Opteron chips. Elite PC recommends the 200 or 800 Opterons for Dual CPU operation.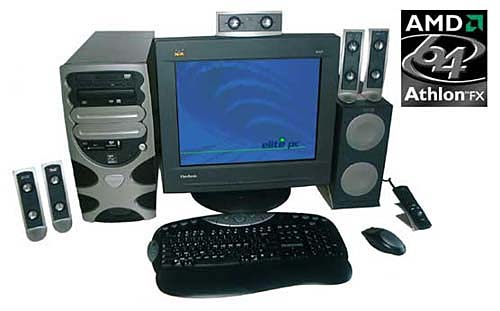 We asked Elite PC to ship us the system without a monitor and speakers for our testing. Gamers often already have a monitor and speaker system, but they can also choose from a wide array of CRTs or flat panel monitors, and select whatever they prefer for speakers. All the peripherals are in black to complement the silver and black chassis. While this was written, the price for the Titan FX, exactly as reviewed is $2999.99. This is for the base tower, and does not include monitor, speakers, keyboard, or pointing device. It does include a 3-year Warranty with On-Site Service.
In keeping with the AnandTech policy regarding complete systems, we evaluated the Elite PC Titan FX as it is received. While we do make driver and minor OS adjustments to be consistent with other testing done at Anandtech, we test the actual system, video card, and hard drives as received. This gives readers results that truly reflect performance of the system. We compare results to other similar systems that we have tested, and also compare results to the best components (motherboards) we have tested that use similar components. This differs from our test procedures with barebone SFF systems. Small Form Factor systems are usually sold as basic barebones, and we use the same standardized components in their build to allow better performance and noise-level comparisons.
System Specifications
 System Specifications
 
 Elite PC Titan FX
 Dell Dimension XPS
Expansion Bays (5.25"/3.5"/Hidden)
4/1/6
3/1/3
Front USB Ports
3
2
Rear USB Ports
2
6
Internal USB Ports
0
0
Front Firewire Ports
1 Standard
1 Standard
Rear Firewire Ports
1 Standard
1 Standard
On-Board Parallel Port
1 Rear
1 Rear
On-Board Game Port
1 Rear
None
Modem Ports
None
2 Rear
Video Ports
ATI XT Analog/Digital/SVGA
MSI @nywhere TV card Rear SVGA, Coax, 2 Mini Jacks
ATI XT Analog/Digital/SVGA
On-Board Serial Ports
2 Rear
2 Rear
Front Audio Jacks
2 — Headphone and Mic
2 — Headphone
Rear Audio Jacks
6 Mini on Audigy 2
6 Mini on Audigy 2
SPDIF
One — Rear
Mini Out
One — Rear
Mini Out
Number of Fans (including CPU/chipset)
3 — 70mm CPU, 80mm intake, 120mm out
4
Power Supply
460W
460W