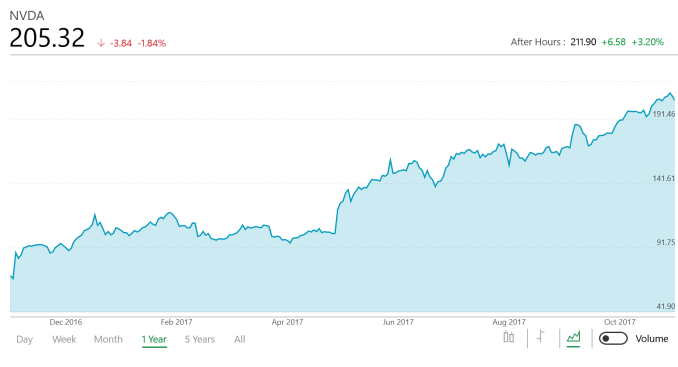 This afternoon, NVIDIA announced its earnings for their 2018 fiscal year's third quarter, which spans July 31 to October 29, 2017 (and not to be confused with the 2017 calendar year third quarter). Driven largely by sales of Pascal based gaming graphics cards and Volta based datacenter products, NVIDIA posted a record revenue of $2.636 billion, up 32% from a year ago. Gross margin increased by half a percent year-over-year to 59.5% as well. Similar to last quarter, the increase in revenue and gross margin were accompanied with an increase in operating income to $895 million, up 40% from Q3 2017. Overall, net income was reported at $838 million, up 55% year-over-year, with diluted earnings per share at a record $1.33, up 60% year-over-year.
Bringing it together, Q3 2018 is another record quarter for NVIDIA, fueled in part by the seasonally strongest quarter (July to September) for GPU shipments and the PC market as a whole.
NVIDIA Q3 2018 Financial Results (GAAP)
Q3'2018
Q2'2018
Q3'2017
Q/Q
Y/Y
Revenue
$2636M
$2230M
$2004M
+18%
+32%
Gross Margin
59.5%
58.4%
59.0%
+1.1%
+0.5%
Operating Income
$895M
$688M
$639M
+30%
+40%
Net Income
$838M
$583M
$542M
+44%
+55%
EPS
$1.33
$0.92
$0.83
+45%
+60%
As usual, NVIDIA's gaming segment provides the lion's share – around 59% – of the company's Q3 revenue, riding on PC gaming. Up 25% year-over-year, gaming revenue was reported at $1.561 billion, a figure not to be taken lightly: NVIDIA's Q3 2018 gaming segment alone earned around 95% of AMD's total revenue of their positive Q3 2017. Put another way, NVIDIA's gaming segment earned more than NVIDIA as a whole did back in August 2016 at the end of their Q2 2017. As all GeForce sales are counted in the gaming segment, this growth includes some waning cryptocurrency mining demand that spiked in the second calendar year quarter; as for crypto-specific boards, they are categorized into the OEM and IP segment.
Officially, NVIDIA attributes the gaming revenue growth to continued sales of Pascal based gaming GPUs. While NVIDIA did launch the GTX 1070 Ti last week, with preorders opening in late October, this occurred at the very tail end of their fiscal quarter, and so related revenue would be seen in their Q4 fiscal report.
NVIDIA Quarterly Revenue Comparison (GAAP)
($ in millions)
In millions
Q3'2018
Q2'2018
Q3'2017
Q/Q
Y/Y
Gaming
$1561
$1186
$1244
+32%
+25%
Professional Visualization
$239
$235
$207
+2.0%
+15%
Datacenter
$501
$416
$240
+20%
+109%
Automotive
$144
$142
$127
+1.0%
+13%
OEM & IP
$191
$251
$186
-24%
+3.0%
On the Quadro side of matters, NVIDIA's professional visualization segment also saw an increase, up 15% year-over-year to $239 million, driven by high-end mobile platforms. While this segment has not grown by the same leaps-and-strides as gaming or datacenter, $239 million is still record quarterly revenue for NVIDIA's very high margin professional visualization segment.
In light of NVIDIA's continued AI and high-performance computing (HPC) efforts, shipping their first Volta-based DGX system in September, datacenter continues to be NVIDIA's second largest market by revenue. Up 109% year-over-year, datacenter revenue was reported at a record $501 million, breaking the half-billion dollar mark. NVIDIA stated that the growth reflected shipments of Volta based GPUs, as well as increased hyperscale and cloud demand for deep learning training and GPU compute. Volta continues to ramp up, having started the previous quarter. Comparable to last quarter, this puts datacenter at just above 19% of their total revenue. Though still far from NVIDIA's gaming revenues, the datacenter business is at this point the darling of the company, as the massive growth potential for this market and its high margin outlook is what's been fueling NVIDIA's own growth for the past two years.
The OEM and IP segment reported the most modest gains, up 3% year-over-year and down 24% sequentially. The quarter-to-quarter sequential decrease is largely due to lessening mining demand, and NVIDIA commented that cryptomining boards accounted for $70 million in Q3 as opposed to $150 million in Q2.
Last, and for this quarter the least, automotive revenue was up 13% year-over-year to total at a record $144 million, primarily infotainment modules, but also including production DRIVE PX platforms and self-driving car development agreements. Along with revenue from Nintendo Switch SoC modules, this contributed to a 26% sequential and 74% year-over-year increase for Tegra revenue.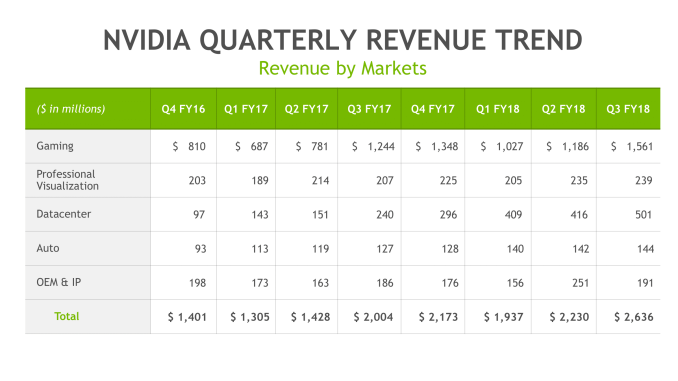 Taking a step back, the past two years have seen the gaming and datacenter segments act as the main drivers for this kind of quarterly growth. That being said, this fiscal year quarter has seen that rapid increase slow down compared to recent quarters.
Q3 2018 also saw NVIDIA put $462 million to research and development, up from $373 million in Q3 2017.
For Q4 2018, NVIDIA looks to set a record year in 2017, expecting total Q4 revenue between $2.59 and $2.70 billion, coupled with gross margins between 59.2% and 60.2%.
Source: NVIDIA