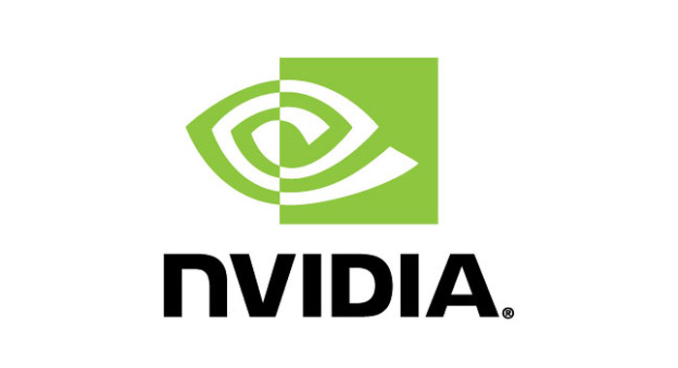 Ahead of Friday's Star Wars Battlefront II (2017) release, today NVIDIA has released driver version 388.31, featuring Game Ready support for the aforementioned Battlefront II, as well as the recently launched Injustice 2 (Steam). 388.31 also features Destiny 2 specific performance improvements, with NVIDIA citing 1440p and 4K gains on Pascal based cards. This update serves as another game-focused update, with a few included bug fixes and no new features.
Officially launching on November 17, Battlefront II is the much awaited sequel to EA DICE's 2015 Star Wars Battlefront (and named nearly identically to 2005's Battlefront II). Once again built off of the Frostbite 3 engine, Battlefront II was playable for 10 hours starting last week, applicable to gamers part of EA's Play First Trial early access program. Not long after, EA faced significant player criticism over their implementations of Battlefront II's microtransaction and character progression systems.
For Battlefront II, NVIDIA has brought an appropriate SLI profile to 388.31, along with a profile for EVE Valkyrie – Warzone. Targeting 60 FPS at high settings, NVIDIA taps the GTX 1060 for 1080p, GTX 1070 for 1440p, and GTX 1080 Ti for 4K. To note, while Battlefront II is a 388.31 Game Ready title, NVIDIA does document an open issue with system hangs upon launching the game in DX12 mode on Kepler based GPUs (most GeForce 600 and 700 series cards).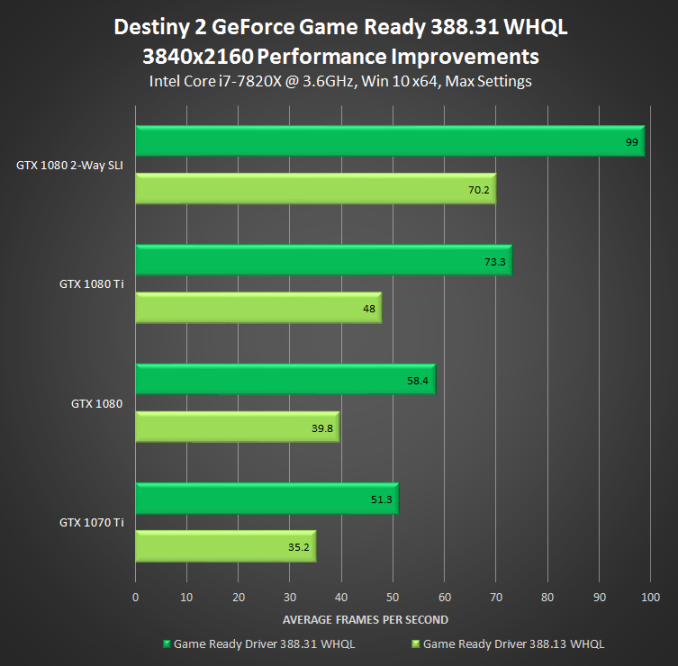 388.31 also puts particular focus on Destiny 2 performance improvements. NVIDIA is citing a 28 – 53% performance increase at 1440p and 4K compared to 388.13, looking at a number of GeForce cards from the 1152 CUDA core GTX 1060 (3GB) to the GTX 1080 Ti. Overall, NVIDIA noted that their higher-end configurations saw greater 4K improvement than at 1440p.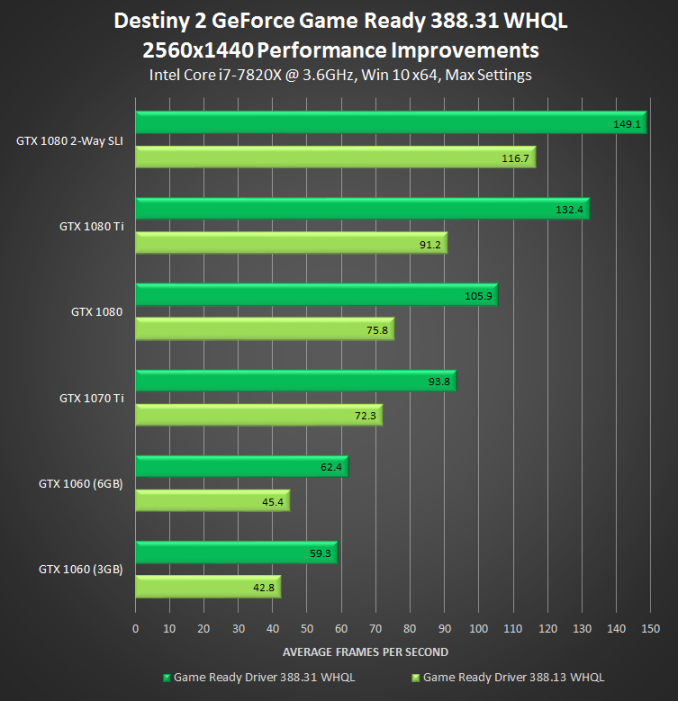 As a reminder, the current NVIDIA Destiny 2 bundle is still active until November 29th, where qualifying GeForce GTX 1080 and 1080 Ti cards and systems will come with a copy of the game. More information can be found on the bundle landing page.
For bug fixes in 388.31, NVIDIA has resolved several issues unrelated to specific games:
In-game micro-stuttering when GPU power monitoring is enabled in monitoring tools
Errors on notebooks where NVIDIA driver could not find compatible graphics hardware on the Alienware Amplifier for the GTX 1080
For 3D Vision Notebook, no "Set stereoscopic 3D" link available in the NVIDIA Control Panel
For notebooks with the GTX 970M, objects drawn in the Pattern Design Software application are not visible.
For Windows 10 users who have updated to the recent Fall Creators Update, NVIDIA is still noting an open issue related to NVIDIA Control Panel color settings, where color settings are not preserved across system reboots or restarts.
The updated drivers are available through the GeForce Experience Drivers tab or online at the NVIDIA driver download page. More information on this update and further issues can be found in the 388.31 release notes.
Source: NVIDIA