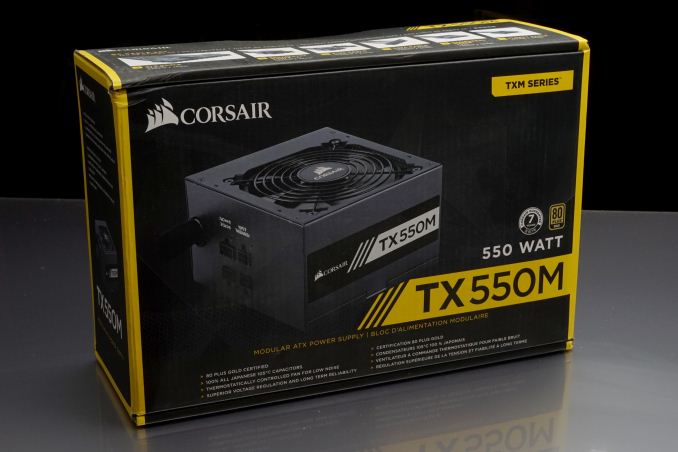 Corsair started off as a high-performance computer memory manufacturer, but they evolved into one of the largest and most recognizable companies in the consumer PC market. Today the company markets an immense variety of products, including practically everything short of motherboards and processors. One of their most popular product ranges is that of power supply units (PSUs). The company released their first few PSUs back in 2006 but today they are offering a vast variety of products for every kind of user and application.
A few weeks ago we had a look at the HX850, one of Corsair's better PSUs, a product designed for advanced gaming/workstation systems. Impressive as it was, its power output (and price tag) undoubtedly was excessive for the average home user and casual gamer. With PSUs, bigger is not better; using a PSU that is excessively overpowered will force it to operate well outside its optimal loading range, effectively reducing its efficiency and performance.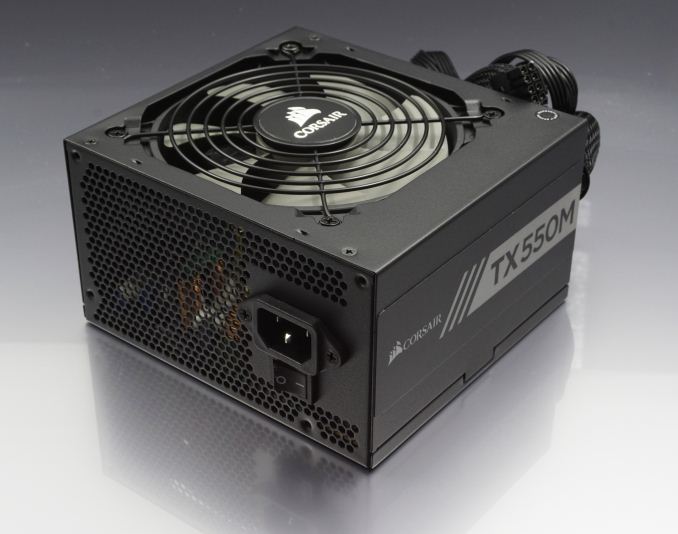 The optimal power range for a typical home entertainment/gaming system usually is within 400-600 Watts. To that end, Corsair supplied us with the TX550M, a PSU that the company feels it is ideal for the mainstream gamer.
Power specifications ( Rated @ 50 °C )
AC INPUT
100 - 240 VAC, 50 - 60 Hz
RAIL
+3.3V
+5V
+12V
+5Vsb
-12V
MAX OUTPUT
25A
20A
43A
3A
0.8A
120W
516W
15W
9.6W
TOTAL
550W
On paper, it certainly does look that way - it has the ideal power output for a single-GPU card gaming system, impressive performance specifications, a 7-year warranty, and a very reasonable ($80) price tag.
Packaging and Bundle
We received the TX550M in a cardboard box that was peculiarly small in comparison to that of other Corsair products. Still, the cardboard box is strong enough to protect the PSU during shipping. The artwork is based on the same yellow/black that Corsair has been using for the past several years, with a picture of the PSU being the focus of it at the front of the package. A lot of information is printed on the sides and rear of the box.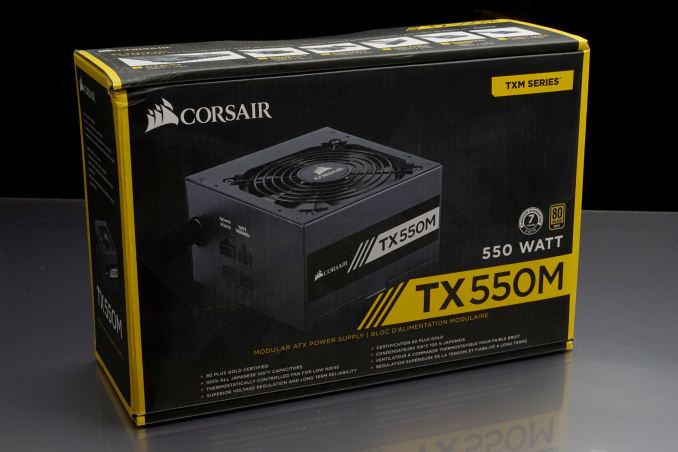 The bundle of the TX550M is unsurprisingly simple. Inside the box we found only the typical AC power cable, black 3M mounting screws, a standard manual, a case badge, and a few short cable ties. Corsair does not supply any thumbscrews, cable straps, or other accessories.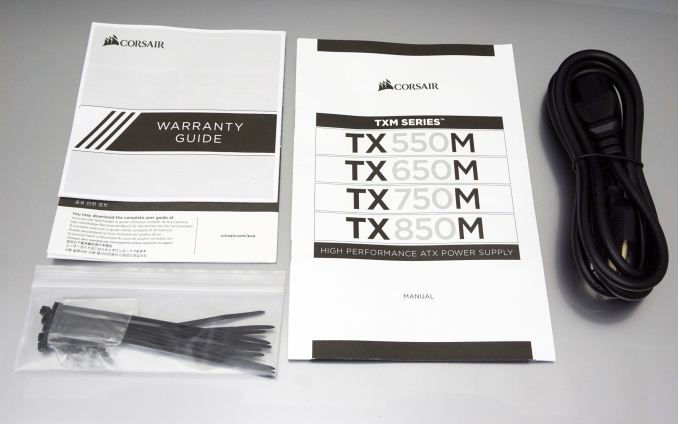 The TX550M is a semi-modular PSU, meaning that the basic 24-pin ATX and 4+4 pin CPU power cables are hardwired to the unit but the rest of the cables are removable. All of the modular cables are flat, ribbon-like, with all-black wires and connectors. The same goes for the 4+4 pin CPU power cable that is hardwired to the unit. The 24-pin ATX cable is an exception, with all-black wires that are wrapped inside a classic black nylon sleeve.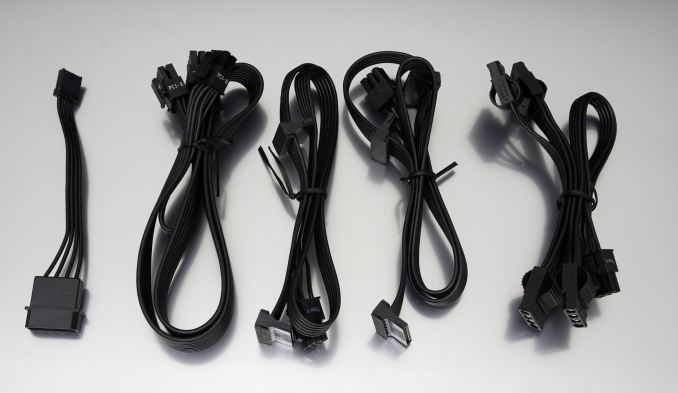 Corsair TX550M
Connector type
Hardwired
Modular
ATX 24 Pin
1
-
EPS 4+4 Pin
1
-
EPS 8 Pin
-
-
PCI-E 6+2 Pin
-
2
PCI-E 8 Pin
-
-
SATA
-
5
Molex
-
4
Floppy
-
1
Recent Power Supply Reviews
AnandTech tests a good number of power supplies each year, mostly in the popular power ranges (650-850W) with a few reviews now-and-again for small form factor parts or larger behemoths. Here are the power supplies we have reviewed in the last twelve to eighteen months.