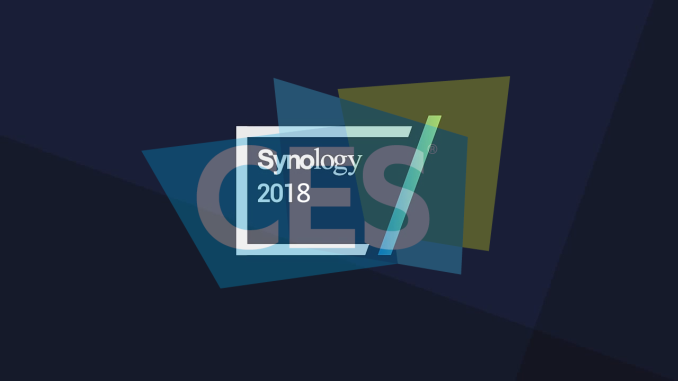 CES provides us the opportunity to look at the latest and greatest products in each technology vertical. Our NAS coverage started with Asustor's AS4000 series last week. Today, we will take a look at the updates from Synology. While there was only one 'new' hardware product introduced during the course of CES (the Rangeley-based 1U 4-bay RS818+/RS818RP+, along with a 4-bay RX418 expansion unit), the software updates turned out to be much more interesting. Synology demonstrated three major packages.
Moments
Synology already has a great photo backup and viewing package in Photo Station. By combining it with the traditional PC backup process and the DS Photo mobile app, it became an effective tool to manage albums. Synology is adding Moments, a completely new application, that allows users to backup, organize, and sort their photographs. Synology claims that the deep learning and automatic organization tools that are part of Moments allow it to identify various aspects of the photos and sort them into albums automatically during the indexing process. Moments will also come with a separate mobile app to enable easy backup of daily photos.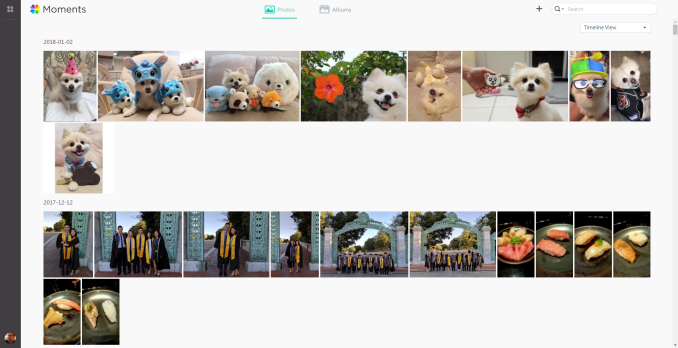 I have found this aspect of Google Photos to be incredibly useful, and it is exciting to see something similar come without any associated privacy concerns. Synology's official page for the Moments feature indicates that some of the deep learning features are available only on models with powerful CPUs.
Drive
Synology is launching Drive as a revamped version of the existing Cloud Station suite. It would not be wrong to say that the multitude of 'Cloud' packages such as Cloud Station Server, Cloud Station ShareSync, Cloud Station Backup, and Cloud Sync only ended up confusing the average user. Synology is betting on the new Drive package to act as a single portal for all of the file management and syncing needs.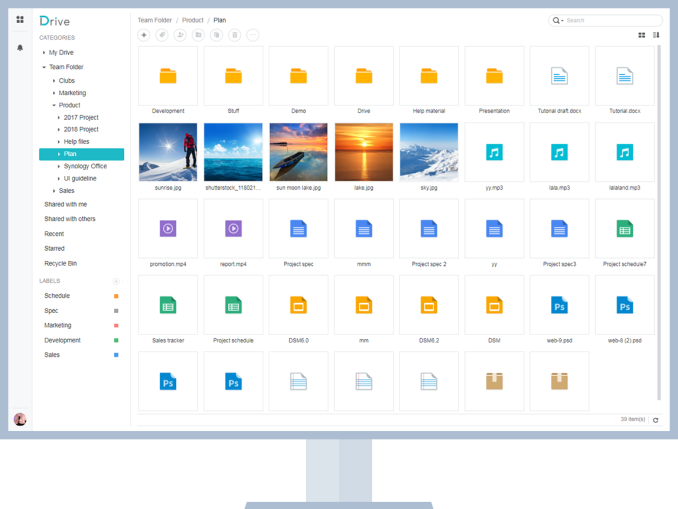 There is an emphasis on team collaboration, with the Office feature (discussed below) using the Drive as the hub. Desktop and mobile clients ensure that users / teams can have access to the files in an organized manner from any device. It also has basic synchronization functionality (in effect, a private Dropbox-like feature). The universal search feature helps users to quickly find relevant documents and files.
Office
Synology has been making an effort to extend the functionality of their NAS models by providing typical business productivity applications with a multi-user focus. Synology users had two packages - Documents and Spreadsheets - to replicate the functionality of online browser-based real-time collaborative office tools. A presentations package, Slides, is being added now.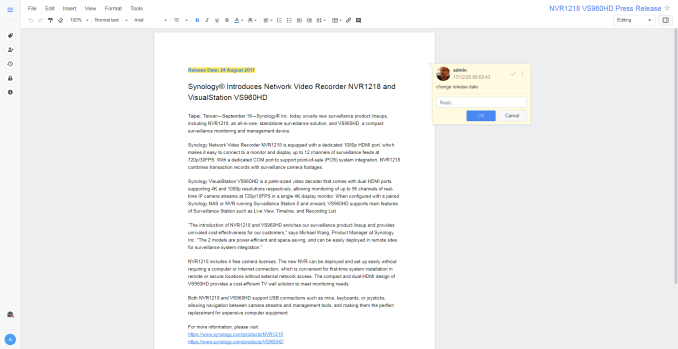 The Drive package is used as the management front-end for all the Office tools.
Before looking at the hardware on show at CES, a quick mention of the Synology OS (DiskStation Manager) 6.2 beta release is in order. It includes updates to the Storage Manager (adds a data scrubbing feature) and the iSCSI Manager (new LUN with btrfs that enables almost instantaneous snapshotting regardless of LUN size), along with some new snapshot and replication features. Synology showed the following recently introduced hardware at the show:
DS218 (PDF): Based on the Realtek RTD1296 with a quad-core Cortex-A53, this 2-bay value-series member allows 4K transcoding on-the-fly. It also supports snapshots (a first for the ARM-based Synology value series).
DS3018xs (PDF): Based on the Intel Pentium D1508 Broadwell-DE SoC (dual-core), this 6-bay desktop NAS can be scaled up to 30 bays. It also has two internal M.2 slots, 4x GbE ports, and supports an optional 10GbE card.
FS1018 (PDF): Simlar to the DS3018xs, the FS1018 is also based on a Pentium D1508 SoC, has four GbE ports, and supports an optional 10GbE (or M.2) PCIe card. However, it is a 12-bay unit (scalable to 36 drives) and supports 2.5" drives only. It is meant to be used with SSDs - targeting applications that require very high performance. In addition to traditional RAID modes, the FS1018 also supports RAID F1 (PDF) - a scheme that distributes parity blocks unevenly so that all the SSDs in the NAS do not get worn out at the same time.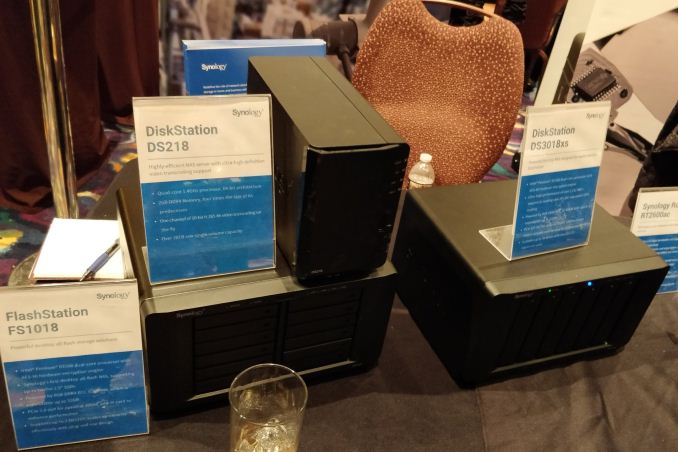 Synology at CES 2018 (Picture Courtesy: MissingRemote)
Overall, the software updates (both packages and core features in DSM 6.2) are very interesting and useful, with RAID F1 being an interesting approach to an all-flash NAS. On the hardware side, we are surprised to see Synology still introducing models with 4-year old SoCs from Intel. While we did see Intel's Apollo Lake in models such as the DS218+ and DS418play, the SMB / SME market is still being served by Rangeley (Atom C2538 in the RS818+) and dual-core Broadwell-DE SKUs (Pentium D1508 in the DS3018xs / FS1018). With the official release of Virtual Machine Manager, it would make more sense for Synology to release more powerful hardware for SMBs / SMEs in order to enable running of resource-intensive guest operating systems.
Finally, we asked Synology about their response to the Meltdown / Spectre security issues. They already have a security advisory page, and categorize the risk as moderate. Given the relatively closed nature of DSM, we believe that users should not be at risk as long as they are running trusted packages only, and steps have been taken to ensure no unauthorized access to the NAS.
Source: Synology